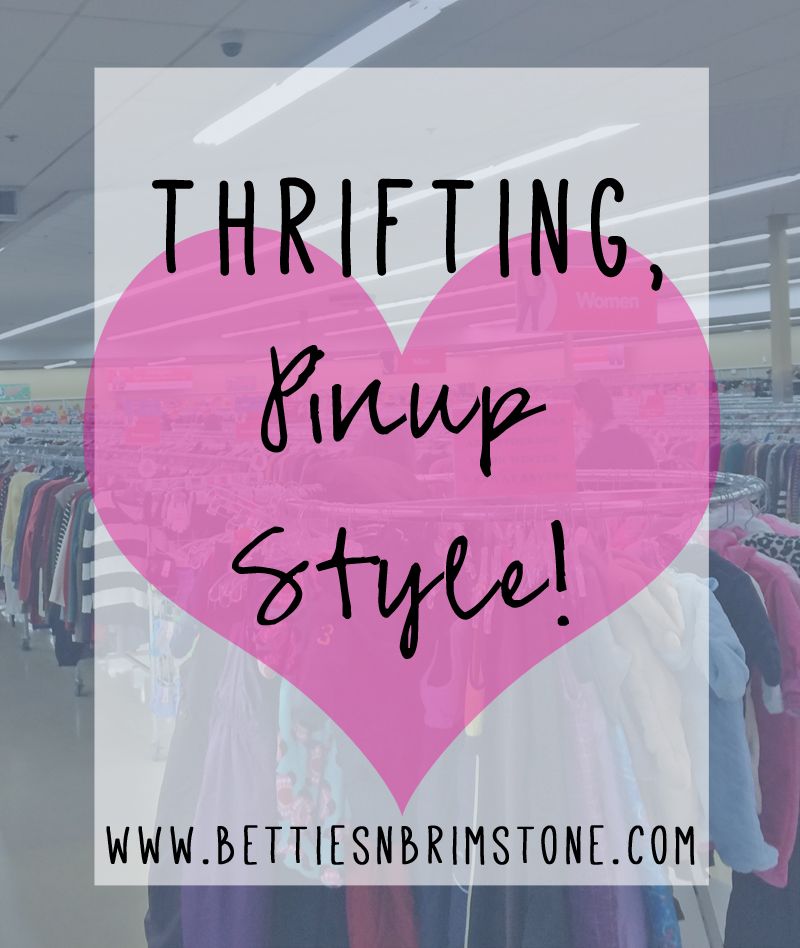 So many people tell me that they never find anything when they go thrifting… but you have to know WHERE and HOW to look! It also doesn't hurt to go regularly. Some days I score big time, and other times I may walk out with nothing. I thought it would be fun to have you virtually "walk through" the store with me, and see where I like to stop and look, and what I specifically look for.

Here's a typical trip through the thrift store with me:


I start at housewares. I collect Pyrex, so I buzz past there first, just in case… on this particular day, there were two pieces of Pyrex, but they were so dishwasher-damaged that it wasn't worth it. Pass. I haven't had a ton of luck as of late with Pyrex, but I always look. You never know.
Then, I head over to pictures and frames.
I collect religious art
, so I sometimes find an awesome unexpected gaudy piece for my collection. No such luck today, but there are always a bunch of chunky frames (you can buy these and just pop out the artwork and glass!) that are super cool for
brooch display boards
and other DIY projects.
Speaking of brooches, I like to wander by the jewelry display case to see what kind of cute brooches or other accessories are available:
At the time, there were a ton of cute holiday brooches available. I already have a couple of super cute Christmas brooches, so I passed. I dream of one day spotting a Bakelite bangle… but it hasn't happened yet!
Next, I wander through the other housewares and decorative items. Today I found an awesome black cat sculptural ceramic piece that I think I'll use to hold business cards at art fairs. Score! Keep your eyes open for cute vintage-y vases and candle holders in this section, too. I once found a pair of super awesome wall-hanging gothic candle sconces in this department, so expect the unexpected!
Next, I stroll past the skirts, just in case. Savers organizes all of their clothing by size, so I've developed a pretty good scanning eye for specific fabrics (I once snagged
a Hell Bunny dress for $9.99!
), and I seem to have pretty good success at finding pencil skirts in vintage-y wool plaid fabrics. I'm always looking for swing or circle skirts, too. Because I can find skirts at such a low price, I'm not afraid to practice my hemming skills on them. Even if I mess it up, it's much less daunting on a skirt that you only paid a few bucks for.
One of my favorite sections as of late is cardigans! I have discovered that it is best not to put yourself in just one size. I've found awesome sweaters tagged large, medium, AND small, so you never know. If you have the patience, flip through all of them, and pull out anything that catches your eye. You can try them on later and weed out your faves. It's amazing how many designer brands you can find on the rack!
Ann Taylor LOFT?!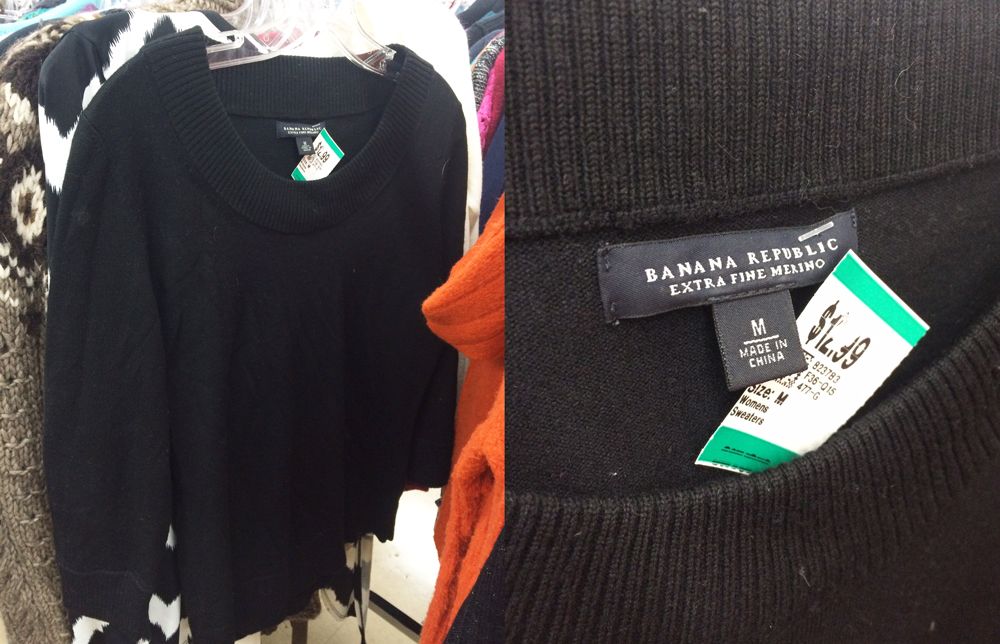 Banana Republic!
I always look for pin-up-ish cardigans, which means that they have a slightly fitted style to them, which often means sizing down. Lately, I've been scouring for cropped cardigans, as I'm only 5'1" and the cropped style works really great over my vintage repro dresses. Be open minded! I'm always surprised at what works and what doesn't prior to trying them on! Today I found four possible winners that I threw into my cart:
I tried them on, and ended up keeping the black cropped cardigan (always a staple piece that one can use - and I ended up
wearing this sweater
ALL the time!) and the striped tie-style cardigan: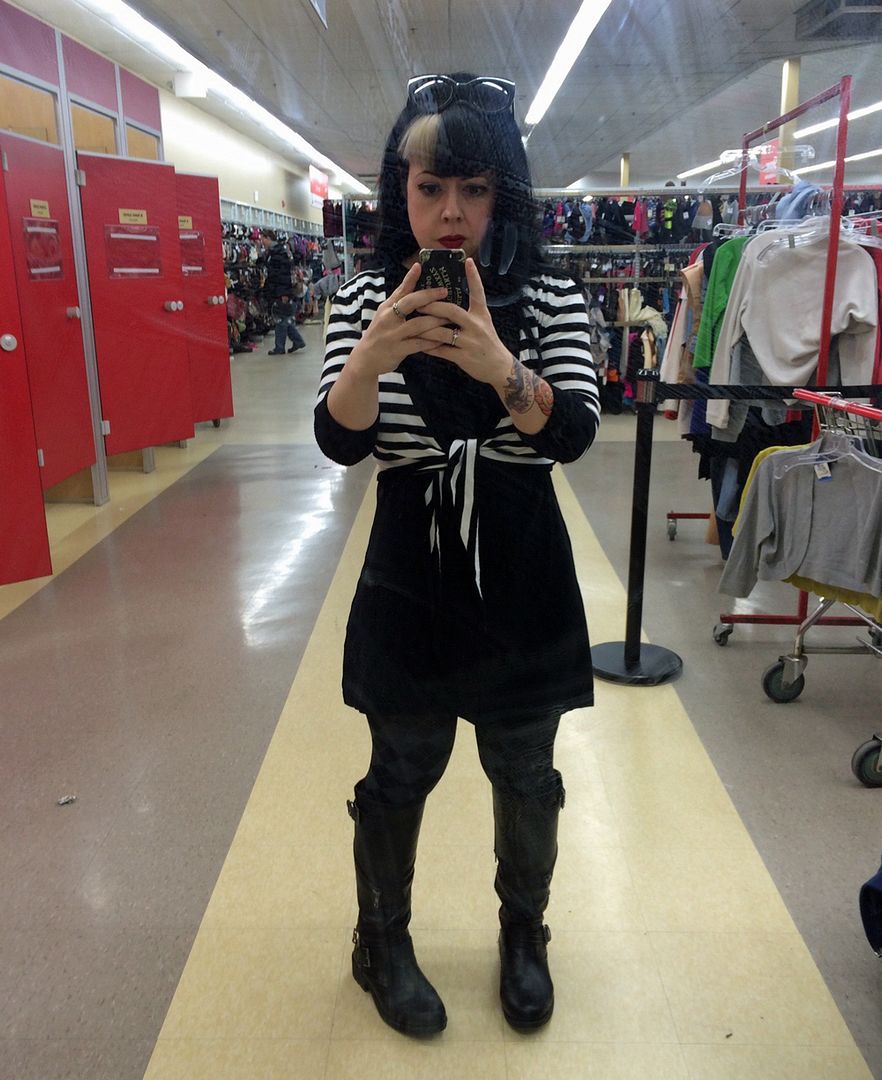 Normally, I don't go for tie-style cardigans, but I do love me some black and white stripes! I have
a black Jenny dress from Pinup Girl Clothing
that would be so cute with this! Score!
I have actually built up quite a collection of cardigans from thrifting, both cropped and longer length:
I keep a running list of what colors I have, so that when I'm out, I can look specifically for colors that I don't have, and don't accidentally re-buy a piece I already own! The best part about thrifting for cardigans is that I typically spend only $5-$10 per sweater, sometimes less if there's a sale or I have a coupon!
Next, I head across the aisle to long-sleeve knits. This section is newer for me. I used to skip over it, until I realized how many awesome boat-neck-style tops I could find for my circle skirts for awesome prices! I usually hunt for specific colors that my wardrobe is lacking, which makes hunting a bit easier. Check out these four options I spotted right away!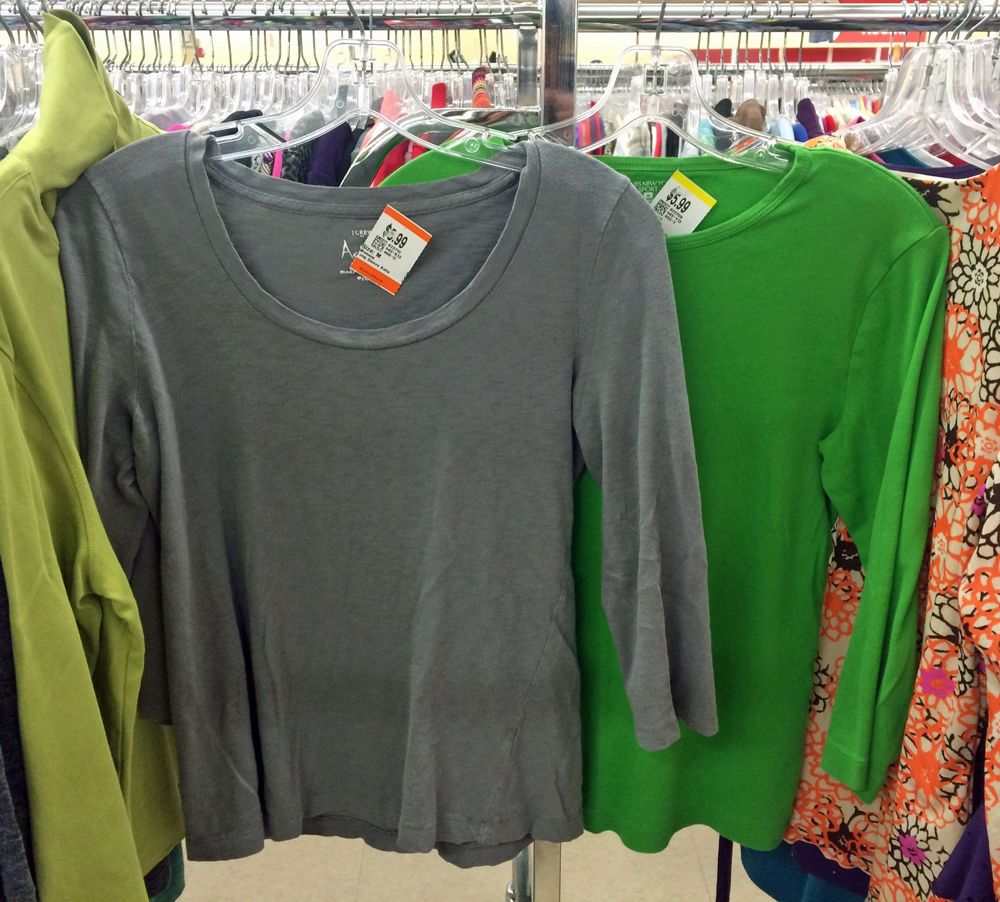 On the way to the next section, I pass by coats and skim the options. Today there was a super cool faux fur coat that'd be great for a pinup style! I don't currently need a winter coat, so I passed, but how cool is this?
After that, I head over to my new favorite section: lingerie and nightgowns! I'm on the hunt for awesome vintage nighties and glamorous robes...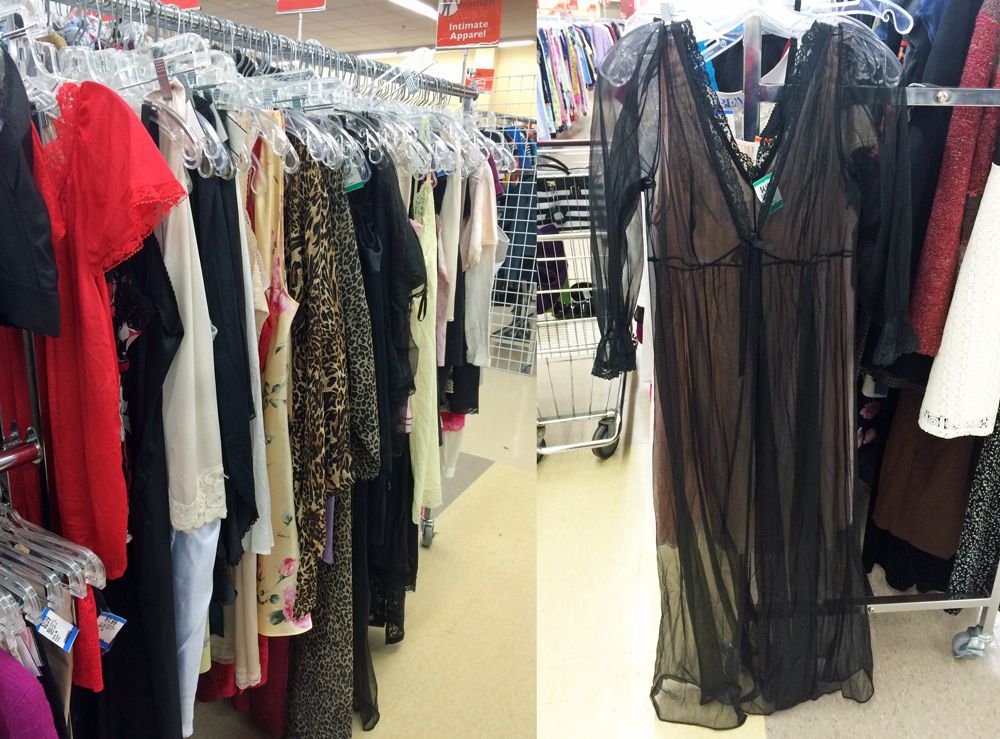 So far my collection is quite small. Only two vintage nightgowns. But today I found this awesome long sheer black robe/dressing gown that I am so psyched about! I think I'm going to start lounging around the house in this and pretend I'm Dita Von Teese. :) All I need now are some maribou slippers...
My final stop on the thrifting rounds is belts and accessories. This is a great place to find vintage hair scarves! I have a ridiculous collection right now though, so I instead focus on belts.
Just like cardigans, I'm kind of collecting a whole rainbow of options at the moment. The best part about thrifted belts is that I typically pay $1-2 dollars each, so if they don't hold up, I'm not too sad about it, and I can usually find a replacement fairly easily. Today I spotted three potential options:
But when I tried them on, one was just too worn out, and the other two were too big. Whomp whomp. Even though I didn't get any belts today, I have actually had a LOT of luck finding them in the past!
Check out this collection:
Every single belt in this photo was thrifted!
In the end, I purchased six items: two cardigans (one black cropped, one striped tie-style cropped), a vintage Tupperware canister in green, a ceramic black cat sculpture, the long black sheer robe, and a pale pink nightie. My total was $21. Seriously! Awesome!
...and all of this was
just one trip on one week
to the thrift store. Every week is different from the rest. You just have to keep going and looking, and you never know what treasures you'll end up with! Some weeks I bring home absolutely nothing, and others are a thrifting vintage-lover's dream!
Let me know what awesome items you've scored while thrifting!
Rock On,
Jen @ Hell Razor