shirt - Motorhead (Amazon) / skirt - thrifted / shoes - Dr Scholl's via Zappos
I found this really great skirt while out thrifting a couple of weeks ago, and I thought I'd share not only how I styled it for a casual summer look, but how I go about looking for and selecting "staple" pieces while thrifting.
This maxi skirt was perfect for me for many reasons:
It had a fold-over "yoga" style waistband, which allowed me to customize the length for my shortness.
It had a black and white color scheme, which coordinates with pretty much anything in my closet.
It is a super comfortable option for summer months/heat (a maxi skirt is one of my no-shorts summer wardrobe options!)
It was $5.
It's made from stretchy t-shirt material, which is super easy to care for.
It has a grungy, goth feel to it. Reminded me of this dress from Disturbia.
A skirt like this is super easy to style. In this case, I paired it with a black band t-shirt (
hey favorite Motorhead shirt
!), but I could also pair this skirt with a plain black tank or tee and a long necklace for a fancier look with equal comfortable-ness.
It's a black-and-white tye-dye, but it also reminds me of ink blots or ombre black ink bleeding dye, which is an aesthetic that I've been fascinated with for some time:
Although it is thrifted, the tag on this skirt says "Mossimo Supply Co," so I know that it originally was from Target, although heck if I know how long ago. I don't remember ever seeing it. If I saw this on someone else though and wanted my own, I'd probably start searching Poshmark and Depop to find something similar. Of course, you could also scour your own thrift stores and hope to get lucky, too!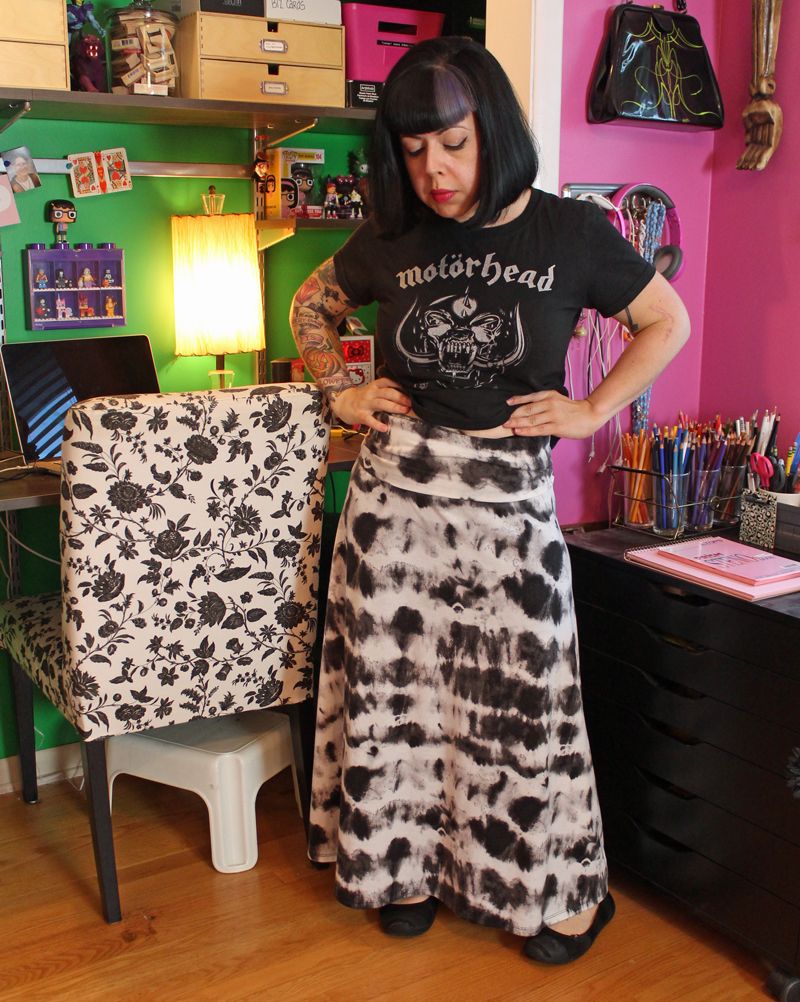 Thankfully, my local Savers has dressing rooms so that I can try on stuff. You might think "ew" for trying on stuff at the thrift store (especially since I immediately wash everything I buy from there upon getting home), but it's really a good idea to just suck it up and try on stuff because sizing is weird. I own stuff labeled size small, and other things labeled L/XL. So it's best not to just use the size tag as your guide, but to just try the darn things on! In this case, I was worried about the length, but you can see in the photo above, by adjusting the rollover waistband, the length is definitely not a problem. The other bonus part about thrifted items is that they've often been washed/worn/pre-shrunk, so you don't need to worry about your cotton item changing shape or suddenly becoming too short after the first wash!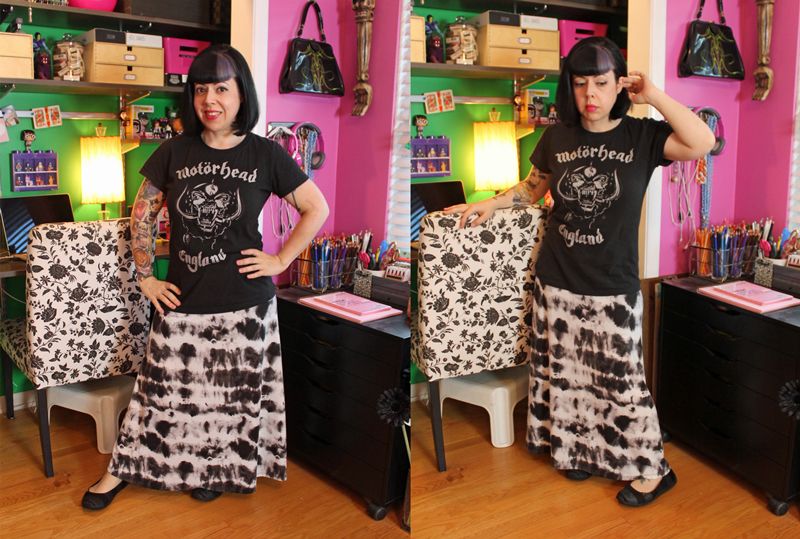 This outfit was kind of like wearing pajama pants all day! I wore my usual stretchy "bike" shorts underneath, but this was a great way to beat the heat and stay comfortable.
In the past, I've discussed thrifting for sweaters, cardigans, and belts, which are some of my all-time favorite wardrobe staple items. A maxi skirt is definitely another versatile staple item that I think everyone could use in their wardrobe. What other "staple" wardrobe items do you look out for when thrifting?
Rock On,
Jen @ Hell Razor