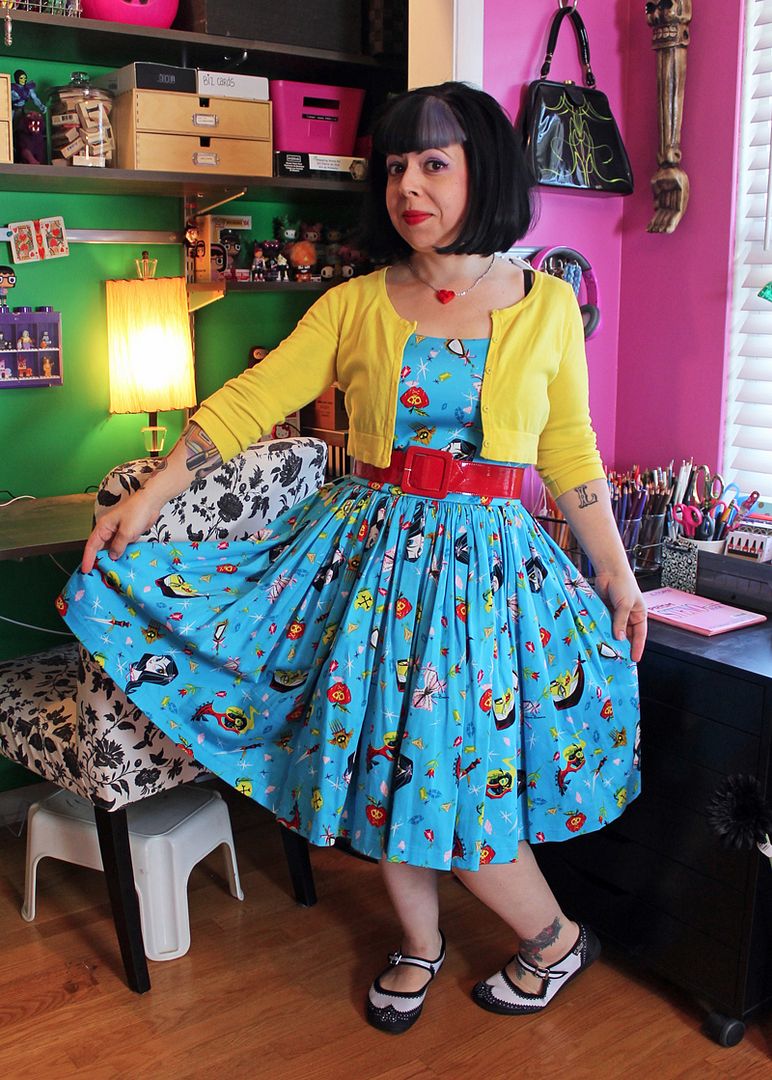 dress - Pinup Girl Clothing / shoes - Hot Chocolate Designs / belt - thrifted / sweater - thrifted / lego heart necklace - etsy
Way back when I posted
this OOTD in all-purple
, I mentioned that this particular dress (the Jenny dress from Pinup Girl Clothing) was one that I really loved, and therefore owned in several different patterns/colors. I mentioned my Snow White version, and realized that I'd never shot photos in it, so here we go.
The dress is a very lovely shade of blue, which is a color that I like, but I don't really wear too often. It has a super fun Snow White-themed print by
Stephanie Buscema
, who makes really cool artwork, much of it Halloween-y themed.
As much as I love the Jenny dress, I always have to get them shortened, and the bodice then is just a tad too long for me, which I solve/disguise by wearing a belt over my dresses. In this case today, I chose a red patent belt I found while thrifting.
Here's a close-up of this awesome Snow White print:
Originally, I was going to go with a red theme and wear a red sweater with this dress. You know, to go with the red belt and red heart necklace. But when I put it on, the reds didn't quite match and it bothered me. Sometimes if colors don't match but they're "close enough," you can get away with it. Or, if the shades are different enough to look purposeful, you can still wear the same color. But in this case, it was a definite no.
So... I decided to pair my yellow cropped cardigan (also a thrift shopping find!) with my blue dress and red accents. You might be wondering why, especially if you saw this print in person. Those yellow elements on the pattern are actually more yellow-green. So I wasn't trying to match...
It's because my color scheme is a primary color scheme. Let's take a look at the color wheel:
Red, yellow, and blue are the three "primary" colors. That means that these colors cannot be made by mixing other colors, but you can mix them together to get other colors. That's what makes them special. Wearing a primary color scheme is one way to ensure that your colors all "go" together... although you would need to pay careful attention in order to avoid looking like a kindergarten classroom.
I've talked before on the blog about how the color wheel can help you make color decisions (in
this post I talk about complementary color pairings
), and feel more confident in your fashion choices. Using color families (like the primary colors) is yet another option. Another scheme I've featured in the past is
the monochromatic theme
.
Let's talk about my cute little heart-shaped LEGO necklace! I've had it for a while, and it's actually made an appearance on the blog before! The etsy shop that made this is
still offering it up for purchase, if you're interested in snagging one for yourself
. I think it's super clever, and I'm a big LEGO fan (as is my immediate family), so it's totally appropriate for me.
I also like the tiny pop of red it gives to the overall outfit, helping move the eyes up and across from the red belt and tiny bits of red on the dress pattern. (Have you noticed that I talk about an outfit the way you'd discuss a painting at the Art Institute? LOL The art teacher in me will never die...!)
So, the only inconsistency here in this OOTD is my petticoat. I totally own a red one, and now looking back on these photos, I really wish I would have worn it with this dress, but instead I decided to go pink with it. Must've been when I was deciding on the red sweater or not and I probably thought it would've been "too much." Which is funny when you consider that the rest of the outfit didn't make me think "too much," but a red petticoat would.
Also, I feel like this primary color scheme makes me channel Snow White regardless of whether or not my dress had a Snow White themed pattern on it or not. What do you think?
Rock On,
Jen @ Hell Razor