dress - Hell Bunny via Cats Like Us / shoes - Dr. Scholl's via Zappos / purse - Amazon / sunglasses - SunglassSpot.com
We've had a couple of really hot days (and some really awesome nice weather days!) in the last couple of weeks, and getting dressed on really hot days feels like such a chore. I hate feeling uncomfortable, and many of my clothes are longer puffy skirts that I know will stick to my legs if I'm all sweaty, making me even more uncomfortable. I know, I know, first world problems.
So for today's OOTD I thought I'd show you a dress I actually hadn't featured on the blog before, but that I do really love and is a good option for hot days because it doesn't have a heavy skirt and lets me leave a lot of my pasty pale white skin to be exposed to the elements - which is often then covered in high SPF sunblock spray. Ha!
This dress is from Hell Bunny and is called the Agnes Doll Dress. I first saw it
on Coffin Kitsch
a way way while back and I immediately had to order it because I loved it. It's like Wednesday-Addams-meets-creepy-doll-awesomeness. That's kind of my life aesthetic, isn't it? So I bought it and I've had it for a while now, and I've actually worn it a bunch but just never photographed it for the blog!
In the winter, I had tights + cardigan over/under this dress (I think I even did black leggings under this dress, too), but the style is perfect for summer to just throw on and go. I do wear shorts under my dresses, though, so to me wearing a dress in the summer = shorts for anyone else. I actually own ONE pair of shorts (outside of my roller derby clothes) but I'm not sure they'll ever see the light of day this summer. I seriously feel out of sorts in them.
So you'll notice that I actually took my photos outside today! But Iggy was with me so he cannot stand to have me take photos without him being in several of them, plus a few individual photos. I always indulge him in this, but only used one here on this post. His hair is super shaggy and we actually got it cut the very next day, but he's four years old and he doesn't care either way. :)
I wore
my SuglassSpot.com sunglasses
on this day. Actually, most days that I wear sunglasses, they're one of my SunglassSpot.com pairs. $5! I think I might need to place another order soon, they have these awesome ones that are
cat eye with rhinestones
. Oooooohhhhh...
And my purse is one that Todd bought for me, I think via my Amazon wishlist, for Mother's Day. I had been online window shopping for a purse in this style, and I'm pretty sure I had bookmarked this one. It's inspired by the looks of a
Jump From Paper
design, but this one is an inexpensive alternative, I'm sure not nearly as nice. But I like it.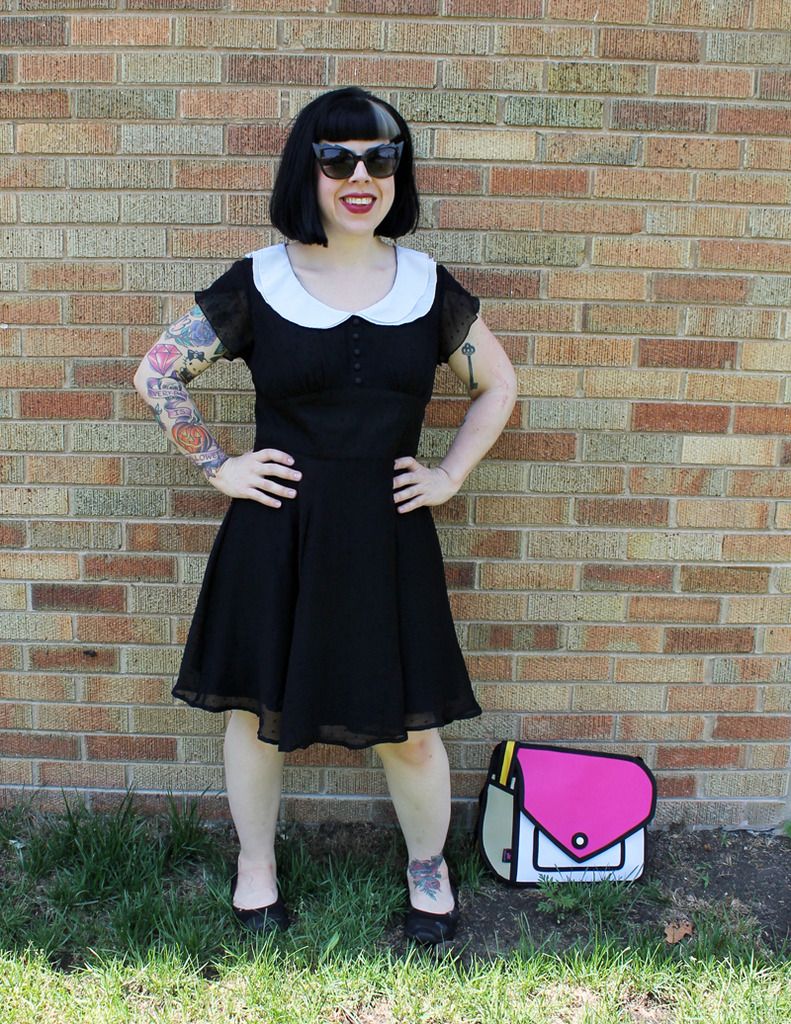 I feel like summer break is a good opportunity to do more OOTD challenges for the summer weather, since during the school year I can wear pretty much whatever since I'm trapped down in my basement classroom (with no windows, ha!) all day, but now I have to actually put up with weather and going out and about in real life for the next two months. Expect to see more jeans. :)
Rock On,
Jen @ Hell Razor