I used to own this Hell Bunny bat dress. I wore it to
my wedding vow renewal on my 5th anniversary in Las Vegas two years ago
. Then, a month and a half later,
I had weight loss surgery
. I wore this dress again for
my first pinup photo shoot
, and we had to use industrial clips to stretch and hold the material back behind me for the photos. I never even brought the dress home. I left it at the shoot in exchange for additional prints.
I've always missed that dress.
So I re-bought it, but now many sizes smaller than before! To celebrate, and honor our wedding vow renewal (it was with Elvis, of course!), I wore this dress again on my wedding anniversary this year.
June 13th, 2014 - My husband has quite literally stuck with me through thick and thin. He's the coolest.
Not that I needed
yet another bat-themed item
, and the print actually looks very much like the material from
my pink bat skirt
... but this dress has sentimental value, and therefore, it needed to happen. You understand.
I do feel like it's a little bit long, so I may take it to the tailor's to have it shortened an inch or two. I know that the original dress was indeed taken up quite a bit, which makes sense but sucks when you're a short girl because the larger the dress, the longer it is. Therefore, more tailoring.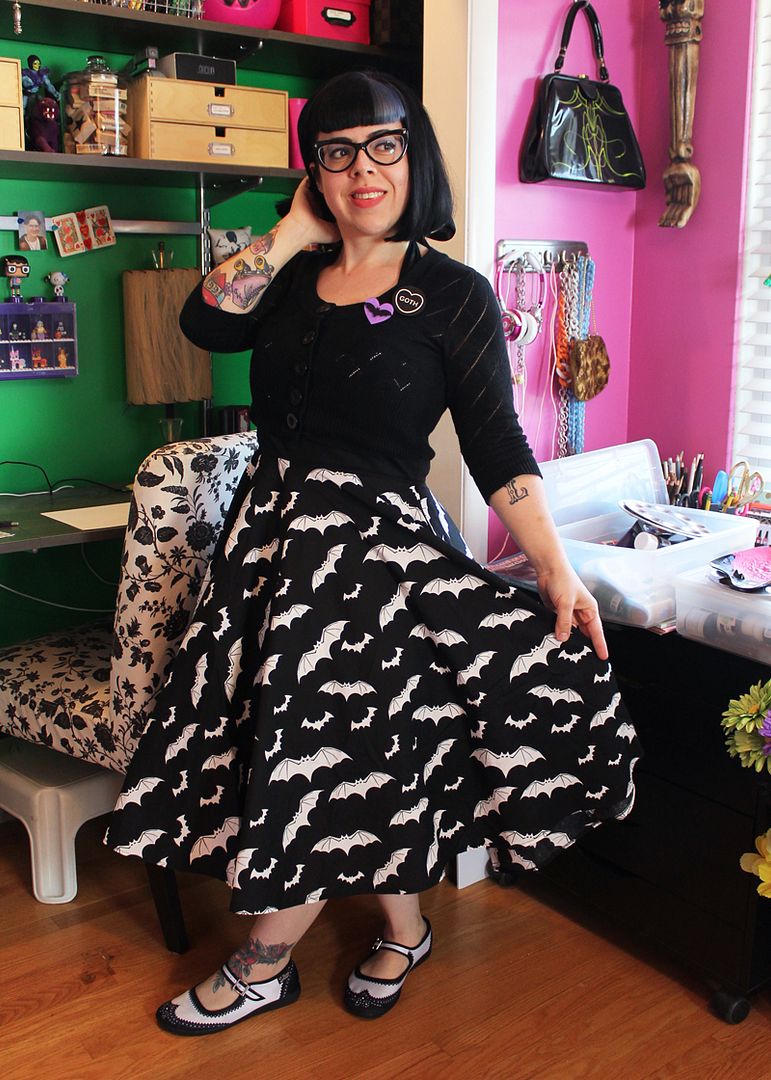 Oh yeah, and this dress is a halter style, which means that unless I do something with the straps (I'm currently brainstorming on that front...), I'll always be wearing a sweater over it because bra straps. Also, halter tops are uncomfortable! Hey dress designers, knock it off with the halter nonsense! My neck hurts!
Detail of this sweet sweet bat print:
Hey, I just remembered that I wore this dress (the original one) to Lisa's wedding in New York, too. Because Halloween. It was awesome. The dress and the wedding.
Accessory details: favorite glasses = Derek Cardigan via Coastal.com, and brooches via For The Love of Vintage and Kira's Lil Shop of Horror on Etsy.
BECAUSE MOAR BATS, THAT'S WHY.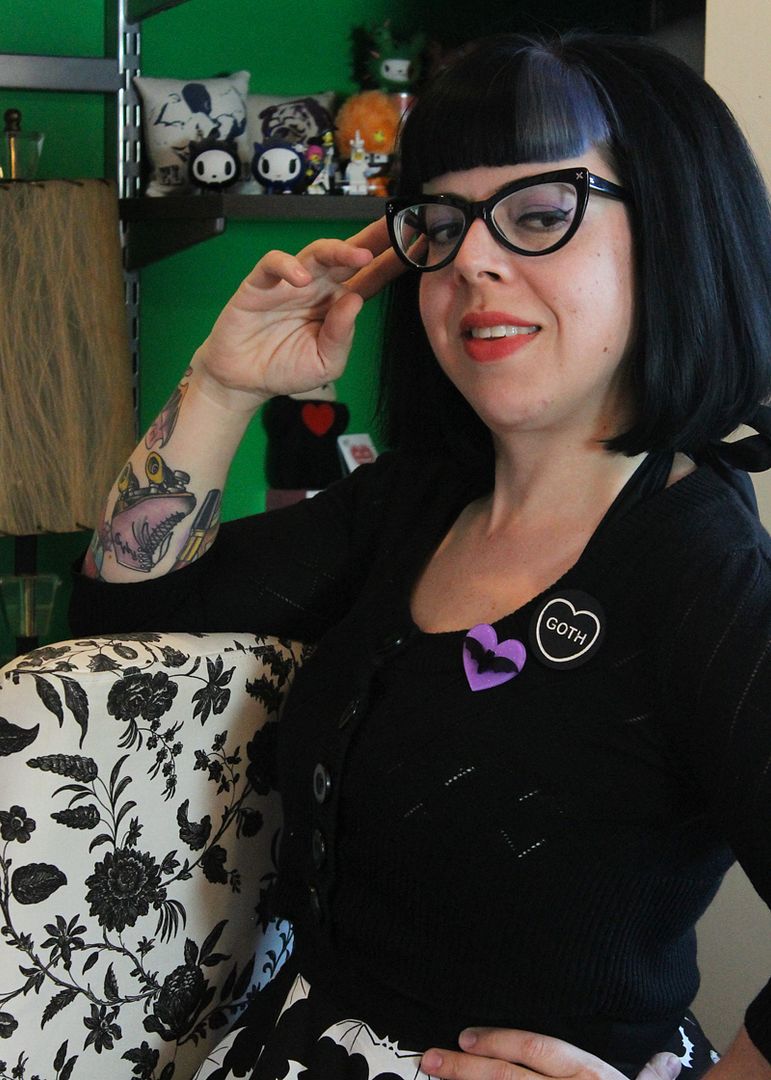 We celebrated our actual anniversary this year by going to the movies and seeing Captain America: Civil War. We took Iggy with, too, and he was really well-behaved and seemed to enjoy it and it wasn't too scary for him so everything worked out quite nicely.
I like swingy dresses and since this one is kind of extra long it was extra swingy:
Have you ever re-bought a clothing item that you especially loved (and lost) in the past?
Rock On,
Jen @ Hell Razor