top - Target / belt - Pinup Girl Clothing / skirt - Restyle (via eBay) / glasses - Derek Cardigan (Coastal.com) / creepers - Demonia / socks - Target / petticoat - Malco Modes (via eBay)
One of my favorite new-to-me brands is
Restyle
- I mentioned them in my
shopping guide post
, and I've been drooling over so many of their designs for a bit now. The
cemetery skirt
is a design that's been unavailable for a while, so I was using my shopper-hunter skills to see if I could track one down at a reasonable price (you can find it on eBay new, but it'll cost you around $100 with international shipping from 3rd party sellers... no thank you). It comes in both gray and purple; and while I would prefer the purple, this gray one came up on eBay (from a US seller) in my size and at a totally reasonable price, so I snapped it up right away!
(Not only was I watching eBay, but I also searched Poshmark and Depop in case someone posted one for sale. This is also after searching other online retailers that carry Restyle and may have had one in stock and/or on sale.)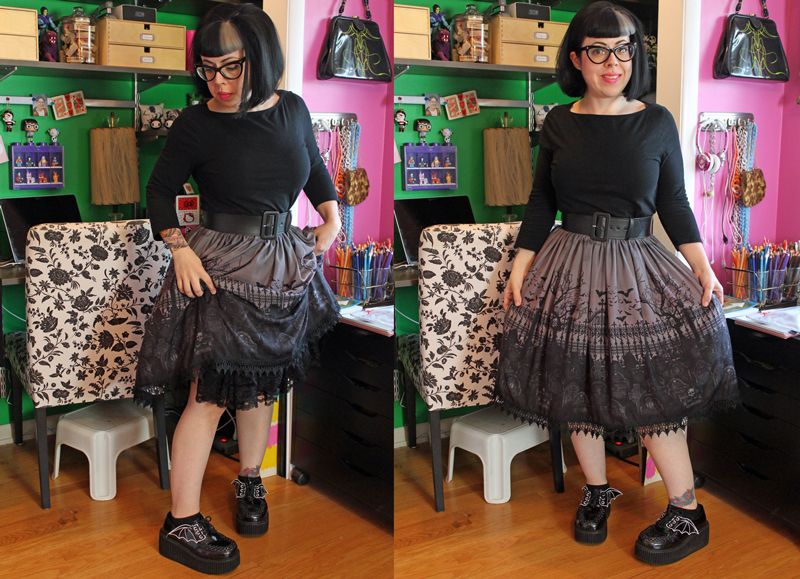 I actually own one other Restyle skirt (the
gothic windows skirt
) and I really like it, so I knew what size I'd be needing and I was pretty confident that this one would be just as awesome as my other one, and I was right! The fabric on this cemetery skirt is more silky in material, where the gothic windows skirt is a stiffer cotton, so that was surprising, but not a problem.
Come to think of it, I don't believe I've posted an OOTD with my other Restyle skirt? I'll add it to my to-do list. It's one of my favorite goth/pinup/lolita style pieces in my closet. Proof that I might sort of own too many clothing items.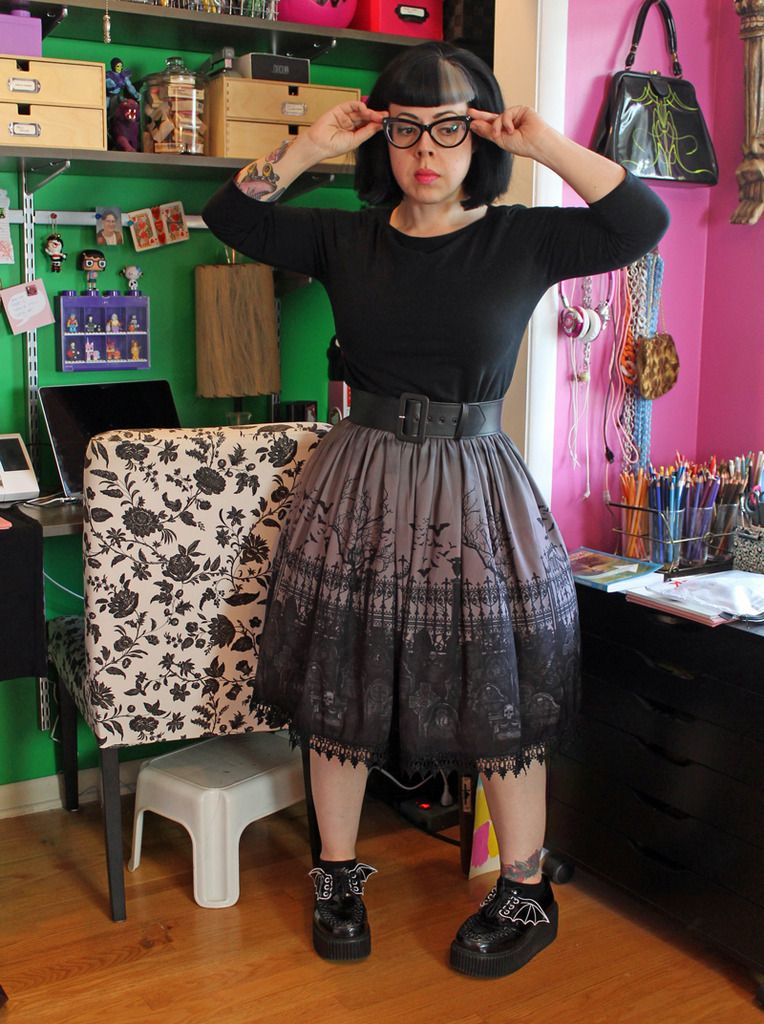 I'm still struggling with summer footwear (I'd like a few more options than my black ballet flats and my
Hot Chocolate Mary Janes
), so I wore my creepers today just to see how it went. It's not bad, but I'm not 100% happy with how they look. They cut off my legs at the ankle, and I think it looks a little off.
But let's look at the design on this skirt: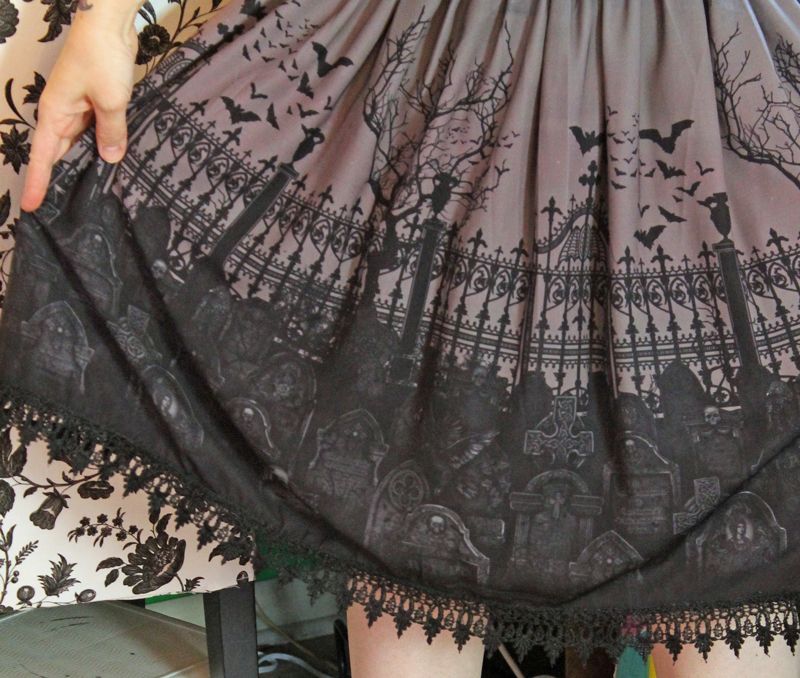 I think it's kind of funny because it
isn't my only cemetery-themed clothing
. Ha! Also, this skirt now belongs to my whole collection of things with bats on them:
and bonus:
DIY Baby Bat Costume
I feel like this skirt only looks good on me with a petticoat underneath because I like my skirts poofy. However, summer with petticoats does not seem like an awesome option. And sadly, I was optimistic that the end of winter meant that my petticoats would hang better without getting weird and static-y bunchy underneath my skirts, but that does not seem to necessarily be the case so far.
Are there any petticoat-wearing readers out there with advice or experience that can help me out with this? Am I doing it wrong?
Rock On,
Jen @ Hell Razor