Last week, I showed you
five different alternatives to wearing shorts in the summer
, and one of my picks was the t-shirt dress. I mentioned that I loved it because it was so versatile, but then I thought that it would be kind of cool to actually SHOW you different options for styling a simple piece like a t-shirt dress.
The best part of this is that although I'm doing this in the summer, hence bare legs, this will easily translate into fall and winter months with the addition of tights and/or leggings. In fact, colored and patterned tights and leggings will give you even MORE options for styling! By the way, I recently started a whole new
board on Pinterest devoted solely to leggings and tights
. Worth a looky if you get a chance.
So, I mentioned this last week, but I actually own TWO very similar black t-shirt dresses, both from Target:
Barefoot, for the full effect guys. No styling other than my make-up for the day. One dress is a short-sleeved version, and the other is a sleeveless tank style. In the colder months, you can find these dresses with long sleeves, or my personal fave, the 3/4 length sleeve version. Easy peasy to use these same tips on those styles as well!
Let's start simple, with option #1:
A denim jacket and ballet flats.
Denim jackets can be found with a little digging and a little luck at your local thrift store. That's where I got mine! I even dyed mine (it was light blue) using black dye to make it super dark blue! Hey, this was a Levi's, so I couldn't pass it up. Want to customize your jacket kind of like mine?
Check out this post I wrote a while back
. Otherwise, go more conservative with a plain jacket. Just do you.
If you don't own plain black ballet flats, go do that now please. I'm literally wearing holes in mine, I wear them so much.
I really should buy a second pair
.
Ok, let's move on to look #2: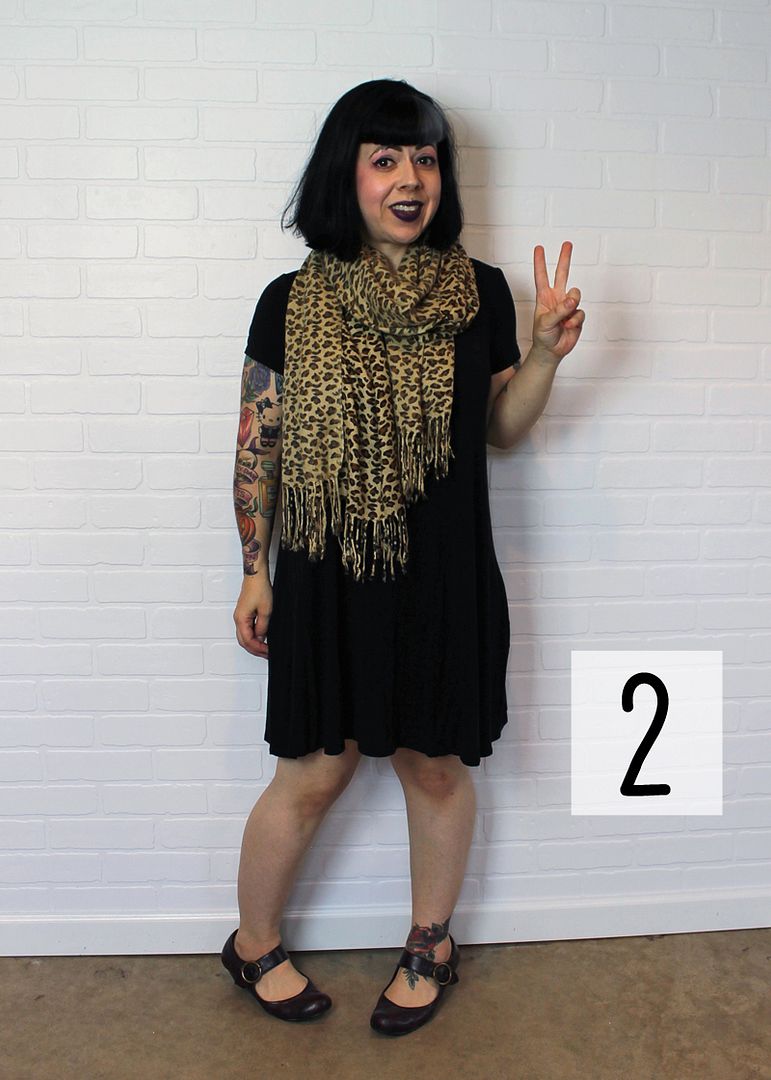 Scarf and low heels.
I think I pictured this one as a more professional, work-appropriate look. Like, hey, it's hot as hell outside but I have to look kind of fancy? So be sure to pick a lightweight scarf. Since my dress is black, I can wear any darn scarf I feel like in any color or pattern.
Therefore, leopard. This was actually passed down to me from a friend, but scarves are another super-easy-to-score-while-thrifting item for not much moola!
My shoes are dark purple low-heeled Mary Janes from Chelsea Crew. I got them gently used via eBay.
Look #3 is pretty fun: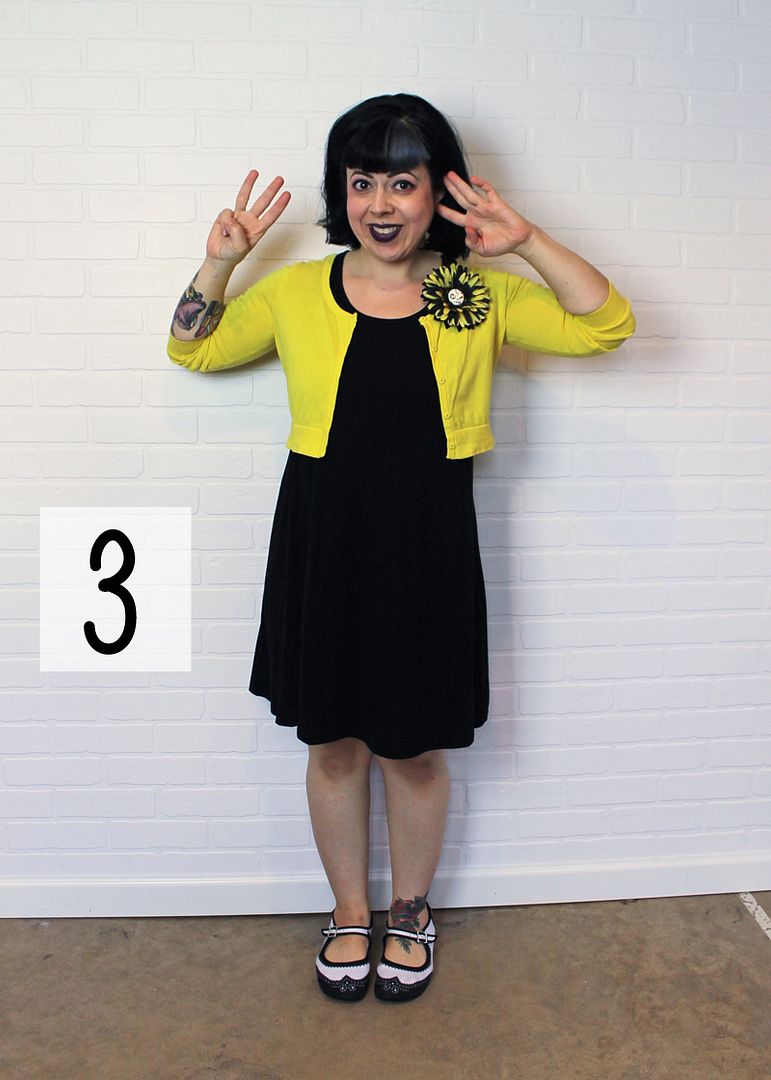 I like this look because it's very "me." More retro, pinup-y sort of styling, via my
spectator Chocolaticas
and a handmade
Hell Razor flower accessory
.
I'm also wearing a cropped cardigan, obtained via thrifting (You might be yelling, "How do you find these?" at the screen right now. Well, I'll probably write a blog post about this soon, but I go thrifting every week on Sundays and dig through a lot of losers before I find the winners.) - I could have worn any color I wanted, but my flower was yellow and black (
Chicago Outfit
holla!) so I went with the yellow sweater.
Look #4 is my goth option:
No, I'm not doing bad goth dancing here, but I was trying to show the detail on this lace jacket by raising my arms, with varied success.
I found this lace jacket at Target! I know, I was surprised, too. But what you can do with this style is sub the lace jacket for a kimono or crocheted coverup of some type. What I'm doing here is just kind of giving you the basic look... you can construct it and substitute it out any way you like with what you have available.
I like to wear long pendant-like necklaces when my outfits are more goth. This particular necklace is from
Hvnter Gvtherer
(I'm pretty sure it's no longer available), but I would sub any long pendant. A rosary necklace would be awesome here, too. And of course, I've got my fave black flats on.
Hey, we're on to look #5! I call this one the "regular girl":
I kind of think it's funny that I even own this necklace, it's so trendy mainstream. I even bought it at
Charming Charlie's
. I own it because I was wearing it to a job interview that never panned out last year (whomp whomp), and I had this internal belief that if I looked more "normal" I'd be a more appealing job candidate.
So, my story aside, t-shirt dresses are the perfect backdrop for a statement/bib necklace of any kind, really. You choose the style that fits you. And if you're more inclined to the "regular" girl style, that's cool, more power to ya. I don't mind.
I'm also wearing my
Swedish Hasbeens
(bought via Amazon... I don't see them anymore) that I "had" to have last year but I've not actually worn out for fear that they will kill my feet. I suspect they're too narrow for me anyways, but I'm not ready to let them go yet. They're hella cute. So if you can rock these, please do so in my honor.
Hey, so hopefully you've got some styling ideas for your t-shirt dresses now! Or, you didn't own one and now you're going to run out and get one... you're welcome. :)
Rock On,
Jen @ Hell Razor