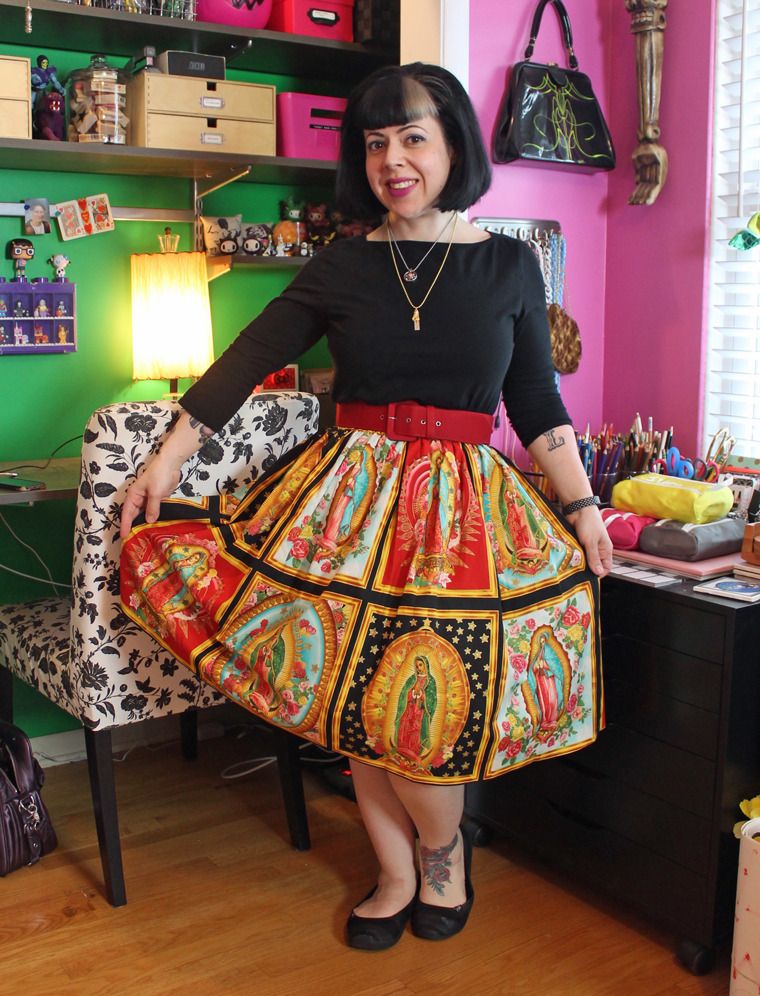 skirt - custom from VintageGaleria on etsy / shoes - Dr Scholl's via Zappos / shirt - Target / belt - thrifted / bracelet - FitBit / necklaces - MVJ award and gift from my derby wife
I can't even put into words how much this new skirt excites me. Well, maybe you can kind of understand. I've featured
my religious art collection
on the blog before, so if you know that about me, you can probably imagine that this pattern is beyond cool to me.
I had this skirt custom made in a circle skirt silhouette from
VintageGaleria
on Etsy because it was a fabric that I loved and had seen on someone via Instagram (naturally). I discovered that the skirt I saw on IG was actually a skirt sold a long long time ago (the
Virgin Print Gypsy Skirt from Heartbreaker
) and now unavailable anywhere. I was sad at first, until I realized that the fabric was available from
VintageGaleria
! Yay! I love when things work out so nicely.
The skirt actually has a black elastic waistband (kind of like
the bats skirt that I made
), but it is easily covered up to look more dressy with a wide belt that I thrifted. And the prices at
VintageGaleria
are quite reasonable! A custom length (yay!) and the fabric of my choosing for around $50 before shipping. And it shipped super fast! I am very satisfied with the outcome.
This fabric is too perfect! I think I'm going to buy one in a Hollywood horror movie monster print next...
Since I paired up my skirt with a basic black top, I decided to wear two of my favorite necklaces at the same time: my skate bearing necklace (
better detail in this post
) from
Wanda, my derby wife
(aka Meg, who does my hair) and
my MVJ charm necklace award from my first bout
!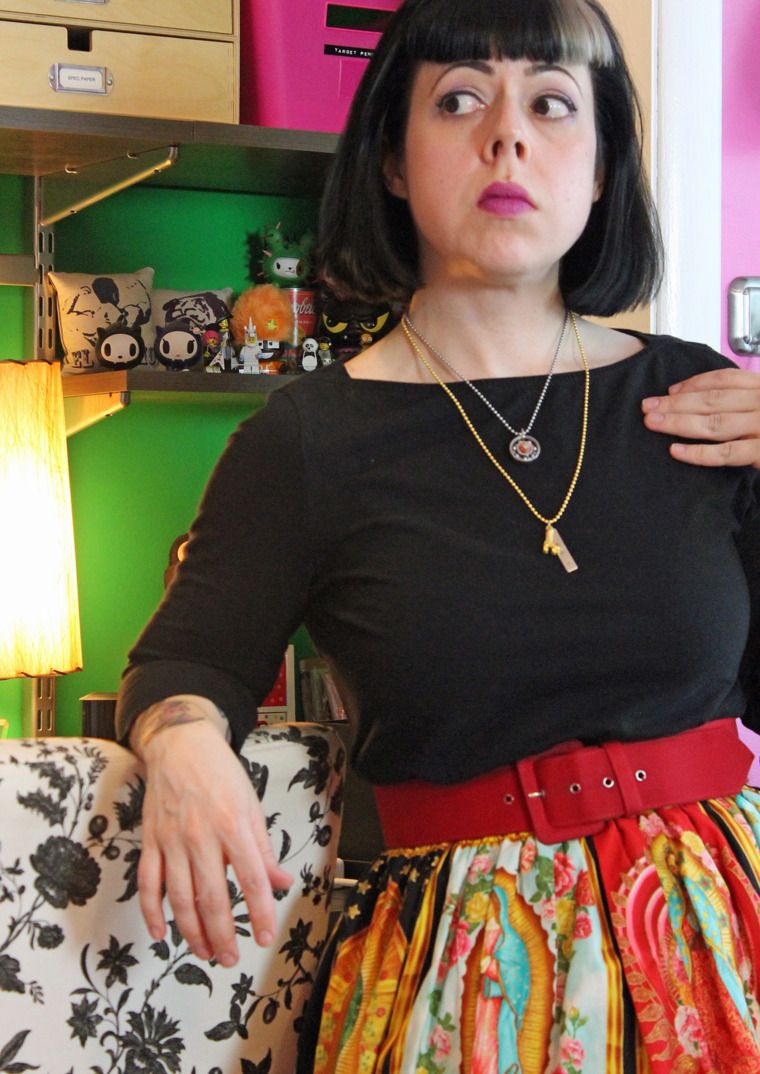 ...I figured they went together because of the theme, and the mixing of metallic finished wasn't that important.
Are you having fun looking at all of the random stuff in the background of my photos yet? Even while I'm writing these posts, I keep spotting more and more "things" I hadn't noticed before. Maybe if you look at several OOTD posts in a row, you could play "spot the difference" from one day to the next with background items... :)
Long time ago, I daydreamed about making my own clothing designs. Now, thanks to great sites like etsy and makers on Instagram, getting it done (and usually for less money and better quality) is easier than ever!
What favorite etsy shops do you have? Have you had a custom piece made before?
Rock On,
Jen @ Hell Razor