Ha! I love when I take outfit photos, knowing that I've worn something similar before, but thinking that I've mixed it up somehow... only to find out later that I'm basically wearing the exact same thing the second time around! Sheesh.
Proof here
. Not as original as I thought after all. Slightly (very slightly) different sweater, and added tights + boots.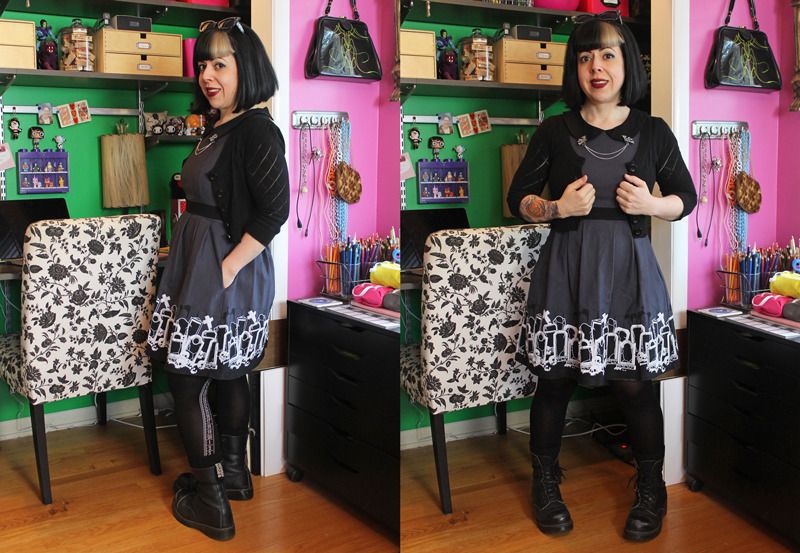 I guess I decided that I really like this dress with my Creep Heart cardigan clips and a black sweater. :)
I wore this to Iggy's pre-school graduation. I think sometimes when I wear my poofy skirts out in public I stand out too much. Sometimes literally, like I knew we'd have to sit on folding chairs in tight rows. A puffy skirt would have been kind of cumbersome. But the other kind of "stand out" is a thing, too. I wear it to work and people don't even flinch, but in public, sometimes I can feel the eyes, and it's just easier to try to dress more... hmm... I don't even know how to finish this sentence.
This outfit isn't blending in (at least, I don't think so?) or normal... I guess it's just less retro? More modern? The silhouette, at least. Maybe that's what I'm going for here.
I bought these tights on Poshmark quite a while back. They're Anna Sui! And I really love the tape measure design going up the back of the legs, although I struggle to get them placed quite right. Or, you get them to look ok, but as soon as you have to go to the ladies room... ugh. But they're fun.
I think Anna Sui might be my favorite designer because she uses fun prints and designs like Betsey Johnson, but she still has a gothic/dark side to all of her work. Unfortunately, it's a lot harder to find pieces of hers (I think I own the entire Anna Sui for Target collection) at a price that I can afford. So I snag small items here and there. Accessories, like tights or my iPad case, seem to be easier to acquire. When Starbucks came out with the Anna Sui line, I think I bought almost every piece from there, too.
Also, I always loved the original Anna Sui fragrance, but that doesn't seem to be a thing anymore? Meh.
Haven't worn my Moo Shoes combat boots in a bit. They
used to be a daily thing, especially when I was having foot problems prior to my surgery
. They even seem a tad too big now, but I can't bring myself to part with them or buy new ones. Breaking in boots is kind of a big deal.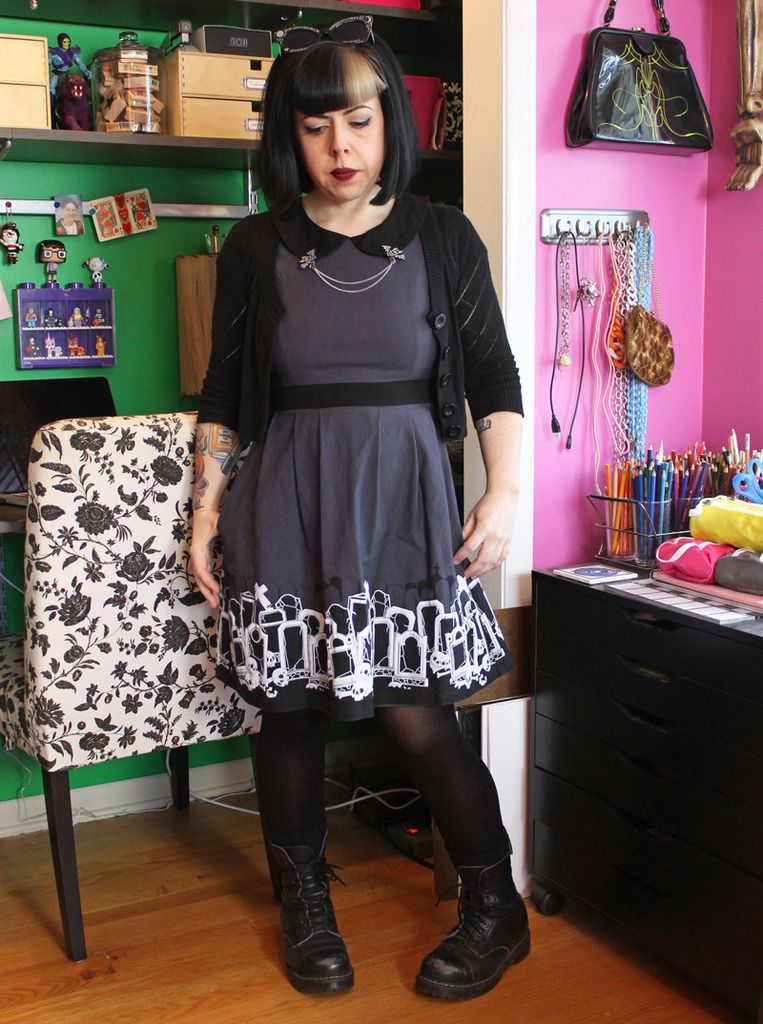 For my birthday, I bought myself these Ouija sunglasses from
Lindsay Lowe Eyewear
. Technically, they're called "fright board" glasses. But we all know better. If you want to sell me something, put a Ouija board on it, and I'll probably bite. I'm kind of sucker like that.
Lindsay Lowe also has rad yellow leopard-spotted-ish frames that I love, too, but I just couldn't pass up the Ouija ones.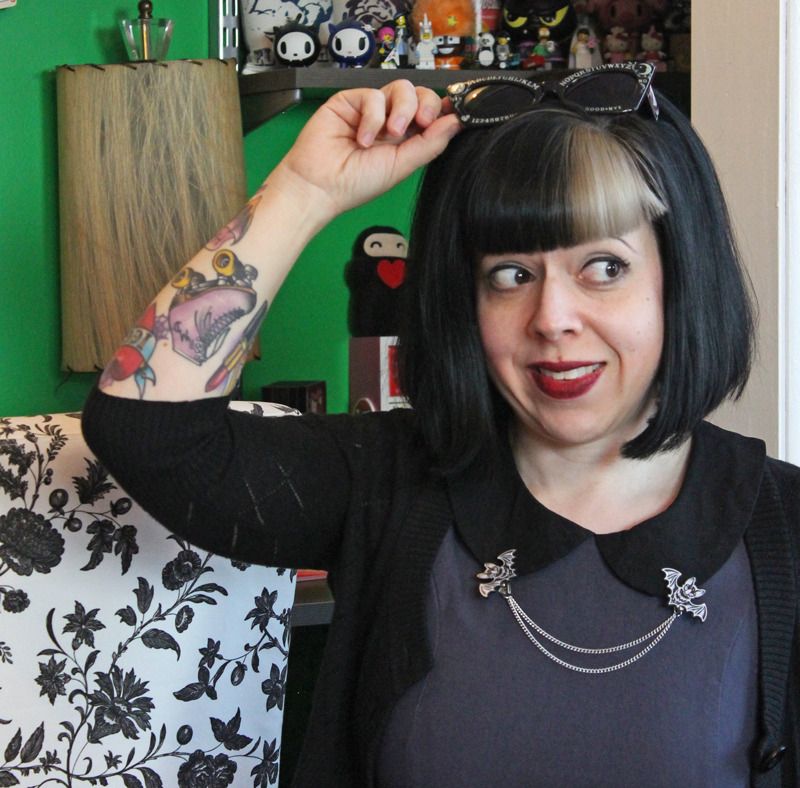 I actually snagged this pair from
Angry Young, and Poor
, because they are a Lindsay Lowe reseller and there was a 10% coupon. And YES, they glow in the dark!
I'm fascinated by the idea of getting these frames with prescription lenses, but after
my gold glitter frames incident
(they cost like 5x what I expected to get lenses put in, even though I just went to Target), I'll probably only stick to places where I can buy glasses with the Rx lenses already in them. Going the separate route is not cost-efficient for me. Whomp whomp.
It's not exactly like I'm hurting for cool glasses, right?
Rock On,
Jen @ Hell Razor