dress - Pinup Girl Clothing / sweater - MAK via Doll Me Up / brooch - Luxulite / shoes - Dr Scholls via Zappos / belt - Pinup Girl Clothing / bracelet - FitBit / glasses - Coastal.com / lipstick - NYX Cosmetics
For those who follow the doings over at
Pinup Girl Clothing
, they recently re-released some of their most in-demand discontinued styles as proposed by their fans -
#proposedPUG
- and this dark purple "Jenny" dress was one of them. Not only was it re-released, but it was IMPROVED upon via the addition of pockets (yes, Jen, pockets!).
As usual, upon ordering and receiving my dress, I promptly had to have it hemmed a good two and a half inches or so up from the bottom (hence my never wearing any of the border print designs). There are two downsides to this: 1) it costs me additional $$$ for the dress when you have to factor in tailoring costs - and circle skirts are NOT cheap to do... and 2) my dress arrives in the mail and I'm all "Yay new dress!" and then I realize I can't wear it yet; probably not for another week due to said tailoring that has to be done still. Whomp whomp.
But it's here, I had it hemmed, and I really love it! I have this style (the "Jenny" dress) in a bunch of other colors and patterns:
turquoise harlequin
,
purple harlequin
,
black
, and Snow White print... Huh. Which I never did an OOTD on the Snow White print? Go figure. Soon.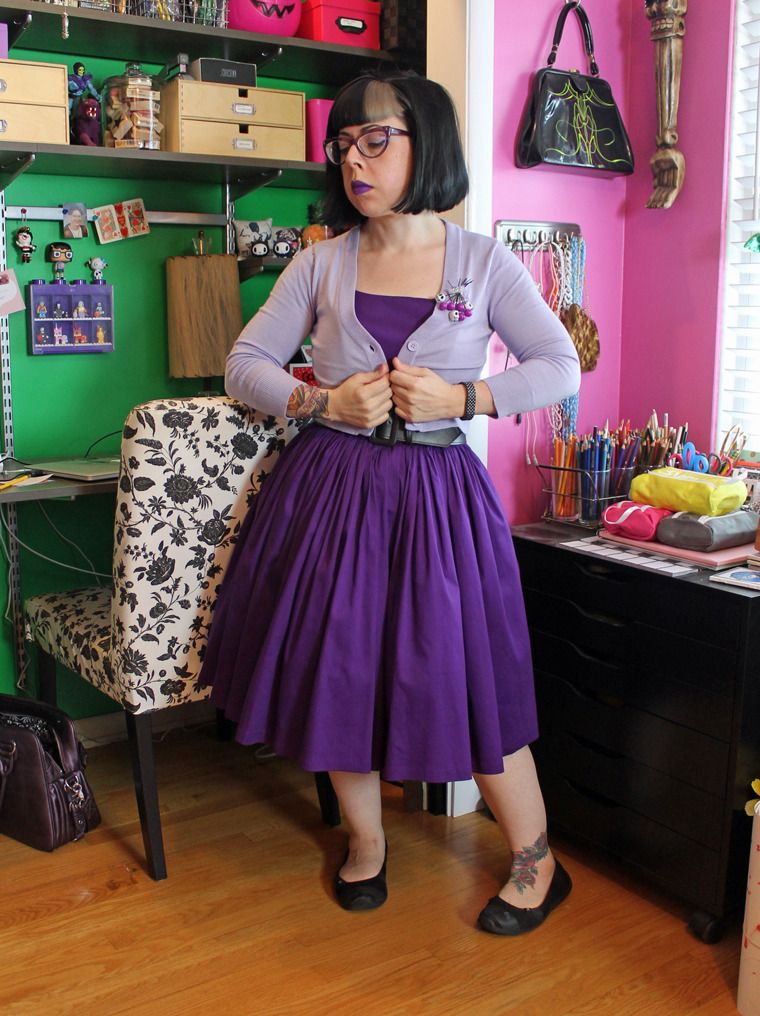 So I went all monochromatic with the purple on this day, which is funny because it's
not the first time I've worn all purple on the blog
. Or purple lipstick for that matter, although I think that I did a much better job this time around. Still getting the hang of the lipstick thing. Thankfully, my brother's girlfriend picked me out some awesome liquid lipstick for my birthday which will hopefully help me along on my lipstick journey.
My
Luxulite
brooch is a Halloween design. But most of my Luxulite pieces are from the Halloween line. I bought a ridiculous amount. But they are my favorite, and I do wear them frequently, so I think they're justified.
Also, I have been using
my trusty brooch reinforcement fix
all of the time now. Things just seem more secure this way. Have you tried it?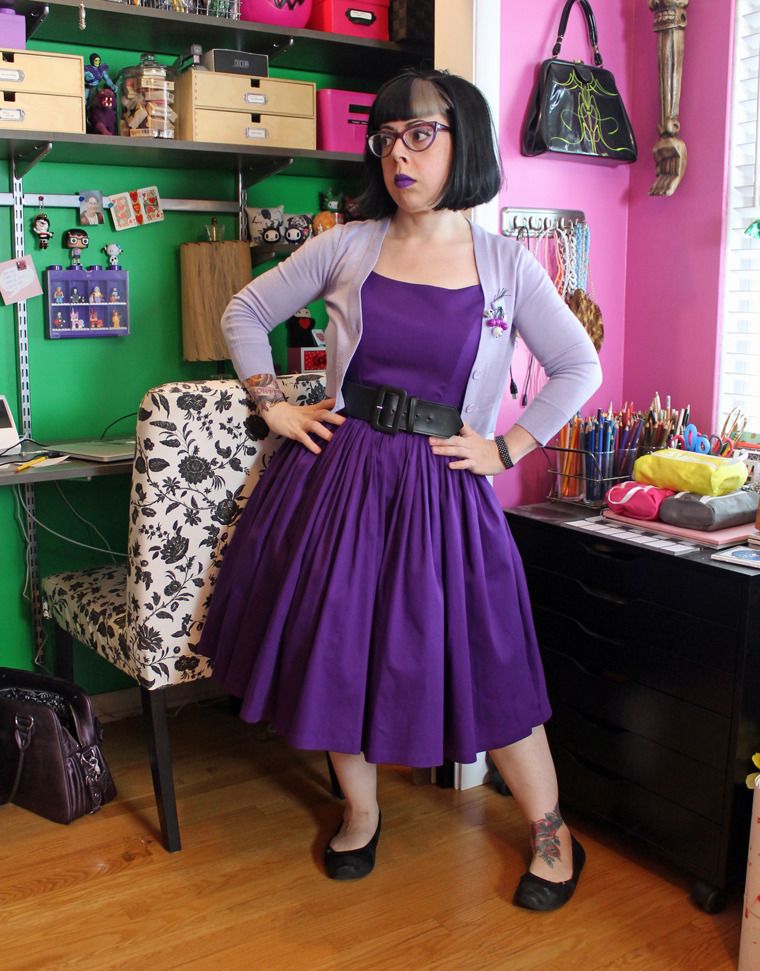 Maybe it was the all-over purple, but whenever I wear matching glasses with my outfits I seem to get more "ooh you look nice today"s than other days. LOL. These purple glasses are one of my absolute favorite pair. Even as I'm typing this, I'm wearing my all-time favorite black version of these frames.
For more details on my glasses, go here.
My lipstick shade today is a NYX Liquid Suede cream lipstick in Amethyst. These liquid lipsticks seem to have more staying power than regular lipsticks, although I have to be very very careful with the initial application. They have those doe-foot applicators, which mean that I either get a very light coat of color, or a freaking glob. I swear there's no in-between. Does anyone else have this problem? Just me? No?
I do like this lipstick very much, and bought it in like four other shades. So expect to see more soon.
Have you tried these lipsticks? Have any tips for those who are inept at using the doe-foot applicators? I am using a lipliner first...
Rock On,
Jen @ Hell Razor