I rarely buy online without some kind of discount, I buy used, or I wait for a sale most times. But there are some pieces that are just SHUT UP AND TAKE MY MONEY - of which this
Cthulu print by Pinup Girl Clothing
was one of them. In fact, the only hard part was deciding which to buy: the dress, or the skirt version? (There's now even a peasant top with this print!)
I honestly was leaning towards the skirt at first. Because as I get "up there" in age, sometimes I feel silly for wearing dresses in a younger style like this. But then I thought, I WEAR WHAT I WANT, and I have a mint colored dress in this same style and the length is 100% perfect. So I knew if I bought this dress, I could wear it straight out of the package. If I bought the skirt, it would be additional time and money to get it hemmed shorter.
Also, I could technically wear a different top or sweater over this dress, act like it's a skirt, and call it a day.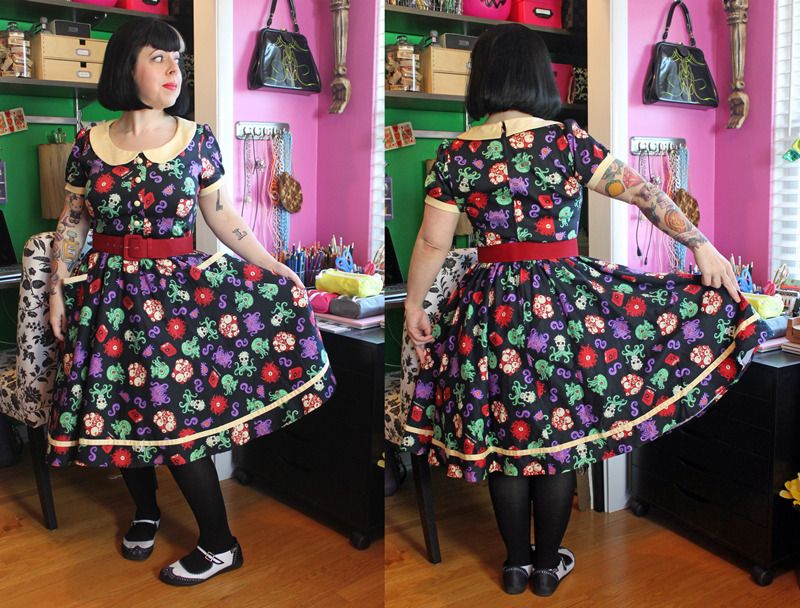 Despite everything I said above, I actually still got 10% off due to the repeat customer code that PUG offers, which is nice. It's not a lot, but it's something! Not all companies offer that, so I totally appreciate it!
This print was designed by comic artist
Evan Dorkin
. Tiny Necronomicons! Baby Cthulhus! I die!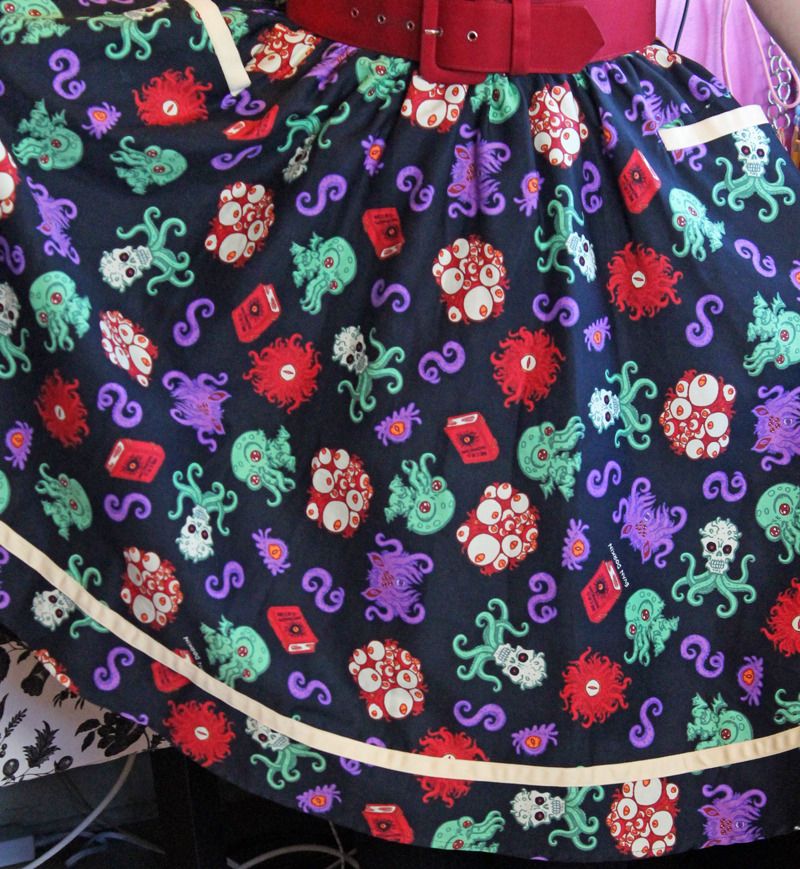 One of the funniest things about this print is when people at work are like "Oh your dress - it's so cute! What is that pattern?"
And I'm all "Oh! Little baby Cthulhus! Tiny horror monsters! It's awesome!"
And they're all "Ohhhhhhh..."
LOLOLOLOL Awkward. Why do I find that so amusing?
Maybe because I know a few people who would never "like" something in the vein of horror or demons or anything even with a hint of being slightly evil... why? Will you end up going to hell? Gasp! But this dress totally disguises it as something cute and it sort of tricks them and that makes me giggle.
Anyways... this dress came with a coordinating yellow belt that matches the trim and collar of this dress, but I like wide belts, and I think that this red thrifted one goes well with the whole look here.
I kept to my red theme with red lipstick and a red petticoat under the dress:
I could have stuck to my basic black petticoat, but sometimes I like to do a little color pop action.
Let's talk about my new shoes! I know I've been whining about needing new flat shoes, especially for summertime, so I decided to take a chance on these cute
Mary Jane-style flats from Hot Chocolate Designs, aka Chocolaticas
, in the black and white spectator design.
I have been eyeballing these shoes for a very long time.
You can buy them via Amazon
, but not too many other places. Also, I haven't been able to find them on sale anywhere either. I just sucked it up and bought them with fingers crossed that they'd be comfy, and with some hesitation as the reviews varied about sizing. I'm usually a size 8 in shoes, and these only come in whole sizes.
Not a problem, right? Well, so many reviews online said to size down if you were between sizes. SO I got really worried that a size 8 would be too big, but I also didn't want to buy a size 7 and have them too tight. Argh. I took a chance on the 8's, and honestly, they fit perfectly! Not too loose, and not too tight. I'm a big fan. And yes, they are comfy!
I've worn them with tights, and with those short footie socks (so it looks like no socks), and both ways were totally comfortable. Looks like I have a winner here. My only concern from this point forward is keeping the white clean: one important aspect of note is that the shoes are fabric, not leather or vinyl, and that the designs (in this case, the black-white spectator look) is just printed right onto the fabric. The black and white are not separate pieces. I wasn't sure how I felt about that at first, but I did know about it prior to purchasing, and I bought them anyways. In the end, I'm ok with it, and I think I'm going to really like these.
The bad part is figuring out which style I'll want to buy next!
Oh yeah, one last thing:
Hey,
in my last gif post
, I promised you more ridiculous gif action. So here ya go.
Have you tried Chocolaticas before? Even heard of them? What do you think?
Rock On,
Jen @ Hell Razor