dress - Pinup Girl Clothing via Poshmark / tights - Target / shoes - Dr Scholls via Zappos / belt - Pinup Girl Clothing / sweater - thrifted / necklace - Baccurelli / petticoat - Malco Modes via eBay
People will often ask me where I buy my clothes and how I find things online (I'm sure there's a detailed blog post on this exact topic coming soon...) but the truth is that I put a lot of effort into finding things. I check different websites frequently for specific searches. Like eBay, Poshmark, or Depop. There are certain brands or patterns I'll specifically be on the lookout for.
One example is
the Isaac Mizrahi for Target dress
. I kept searching those terms on a variety of different sites until I came across one in my size. If you stick with it long enough, you'll eventually likely find one. But it does take some effort and persistence.
Sometimes my search is more casual. For example, I know that I love Pinup Girl Clothing, so I will search these terms on those same websites mentioned above... not looking for anything specific, but to see if something pops up that I don't own at a really good price. This dress today was one of those things.
I wasn't looking for the "
Lana Cocktail Dress in Melting Leopard Canvas
," but it appeared on Poshmark in my size at a steal of a price! So I jumped on it. I also did my own alterations on it by shortening the straps. It made the bodice wayyy too long. But the hem length was perfect! That part was awesome, because I am almost always having to have skirts hemmed if they are not custom made.
The pattern on this dress is pretty interesting. It's leopard, but not leopard, hence the "melting leopard" description. I like leopard, but I also have a tendency to stay away from anything in the beige-peach-light pink range, because I worry that it's too close to my skin color and will wash me out. But looking at these photos, I think there's enough black in the pattern to make it ok.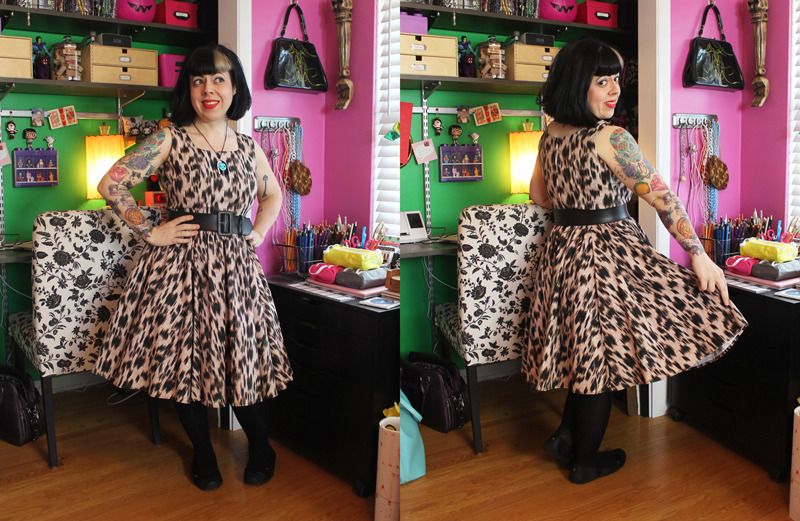 Another thing that I do that is extremely purposeful and thought out is what colors I choose to wear with dresses, particularly if it isn't an obvious "this-matches-this-color" type of arrangement. I can tell you that I chose the blue color specifically because of the orangey tones in the beige leopard background. Why? Well, former art teacher will tell you that blue and orange are complementary colors across from each other on the color wheel, and therefore, when placed next to each other, will create the strongest contrast. In plain English: they always look good together!
The most common complementary color pairings are shown above, but any two colors across from each other on the color wheel are considered "complementary."
Since I already had a blue sweater on, I went with my
Baccurelli
Lily Munster pendant (
also seen in this post
) to further carry the blue theme. If I wanted to do even more, I could have worn blue shoes. But comfort seems to be trumping all other shoe choices at present, since I will often have to go to derby practice after work in the evening, and it's not a good idea to show up to roller skate with your feet already hurting from the day.
Here's a closer look at the necklace (please forgive my lack of sharpness... I'm still working on my photography skills):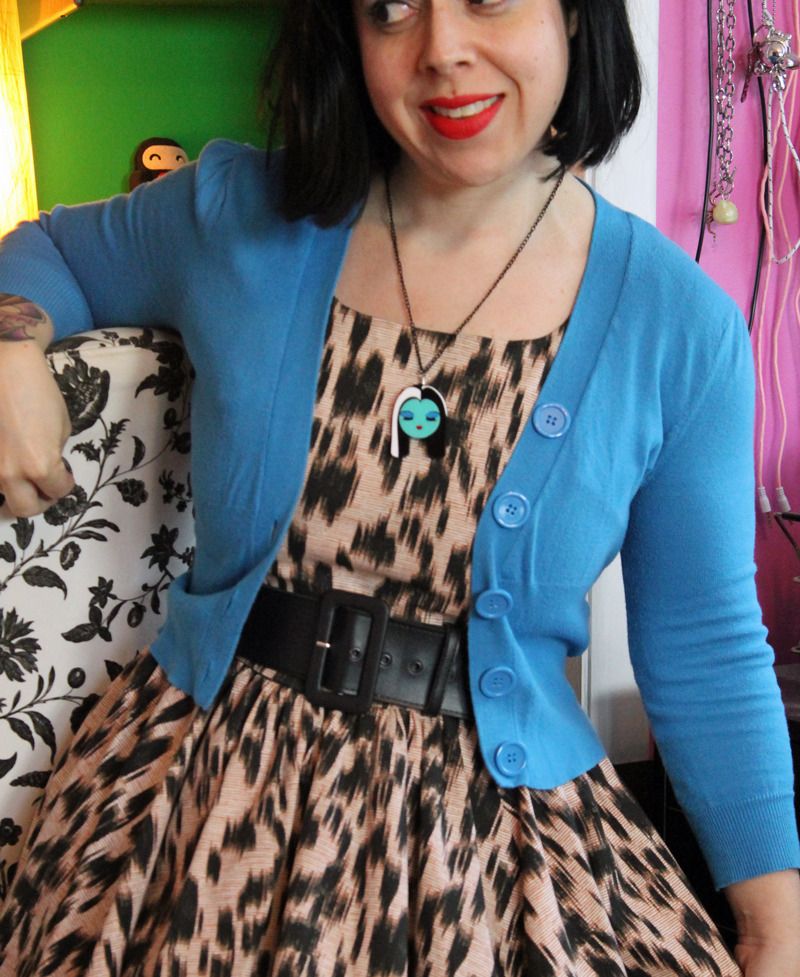 Contrary to
my all-purple OOTD post
, I have found that recently I've been drawn to not matching colors, but instead creating these coordinating color themes, as shown in this post.
Do you have any favorite color pairings when putting together an outfit?
Rock On,
Jen @ Hell Razor