This Bento Report post is a clear indication of how obsessed I get with eating the same thing over and over and over. Part of it is buying food for a week, and trying to "use it up," but I'd be lying if I didn't admit that I also just get stuck in food ruts where I only want to eat one thing over and over again. Sometimes until I get sick of it!
Four out of six of these lunches have cream cheese stuffed peppers in it.
Grape tomatoes.
Cream cheese stuffed peppers. This was an idea from my friend Beth that now I can't seem to stop eating. The cream cheese is chive and onion.
Fruit salad. I couldn't stop thinking about making fruit salad using only fruits that I like (aka get out of here, canteloupe!) - so watermelon, pineapple, strawberries, grapes, and mango.
Salt shaker in the form of a chicken. For the tomatoes.
Smoked string cheese tucked into the utensil spot of my lunchbox.
Mini Tupperware O'Vitamins.
Have I talked about bento lunch utensils before? Forgive me if I'm repeating myself, but the Target dollar spot is my hands-down FAVORITE place to score small utensils for lunchtime that are also cute and inexpensive! I have Halloween sets, Valentine's Day sets, and even an Easter set with cute bunnies on it. If you look closely, you can see all three represented in the photos in this post. You could save your utensils for those specific holidays, but I just use them whenever.
Another option for (free-ish!) lunch utensils are the plastic spoons from yogurt places, like
Yogurtland
or
Red Mango
. They are also cute and of a good size for lunch-packing.
More fruit salad.
More smoked string cheese.
More cream cheese stuffed peppers.
I got a new lunchbox! This cute little box is from Michael's. I had seen it a while ago (it's not online - I found it and a few others like it in-store in the gift-ish section, by all the Betsey Johnson stuff), but I waited and waited until it was 50% off to snag it! Yessss. I think the "Yay Lunch!" part really sold me. It's a smaller lunchbox, but string cheese is the perfect divider for sections. :)
Leftover eggs with veggies from Sunday morning breakfast trip.
Smoked string cheese.
Chicken salt shaker.
Mini Tupperware O'Vitamins.
Tomatoes.
Wheat thins.
Honey goat cheese (to spread on wheat thins). Have you tried this stuff? It's amazing.
Grape tomatoes.
Chicken salt shaker.
Mini Tupperware O'Vitamins.
A combination of two Tasty Bite brand Indian food pouches, left over from the previous night's dinner.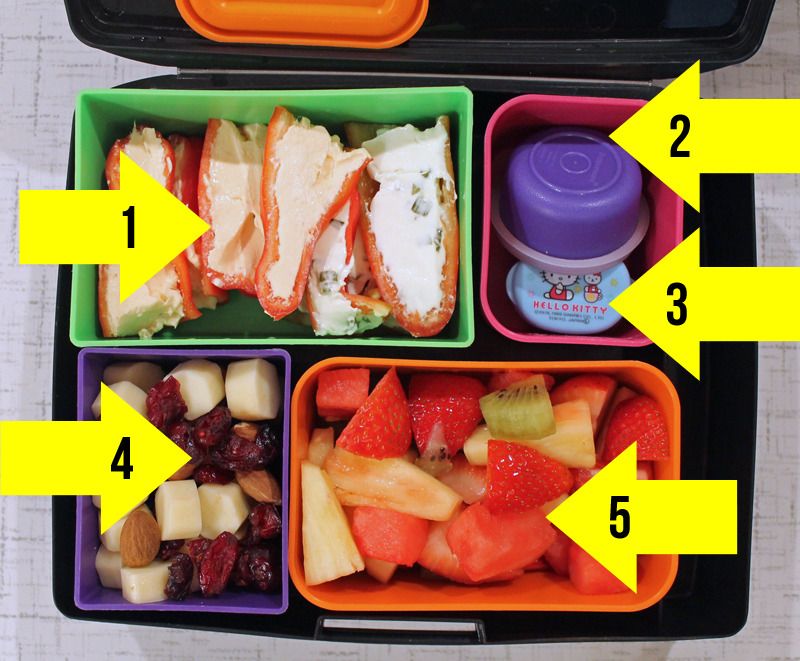 Hey, more cream cheese peppers. On this day, I made a combination of stuffed chive and onion cream cheese peppers, and stuffed salmon cream cheese peppers.
Mini Tupperware O'Vitamins.
Tiny container filled with chili-lime salt, for my fruit salad. Oh geez this is so good. Do yourself a favor and try it!
Craisins, smoked string cheese, and raw almonds. This was a separate snack for the morning.
Fruit salad, round 2: watermelon, pineapple, strawberries, and kiwi.
Mini Tupperware O'Vitamins.
Cream cheese stuffed peppers.
Pickle spears wrapped in faux lunchmeat (turkey, maybe?).
Smoked string cheese.
Red grapes.
So I know I harped on eating cream cheese stuffed peppers so many days, but that's not the only food I eat consistently... hello smoked string cheese and grape tomatoes! They're just so easy to pack!
* * * * *
The Bento Report is a regular feature on the blog where I show you what's in my lunch for a few select days over the past couple of weeks. It's informational because I am a post weight-loss surgery patient (more here) who is also a vegetarian/pescetarian, but also fun because I love the idea of bento lunches and have fun making my lunch look cute and/or making it fit into unique lunchbox container constraints.

You can view past posts of my Bento Report series here. Information on where I buy some of my bento boxes and accessories in this post here.
Rock On,
Jen @ Hell Razor