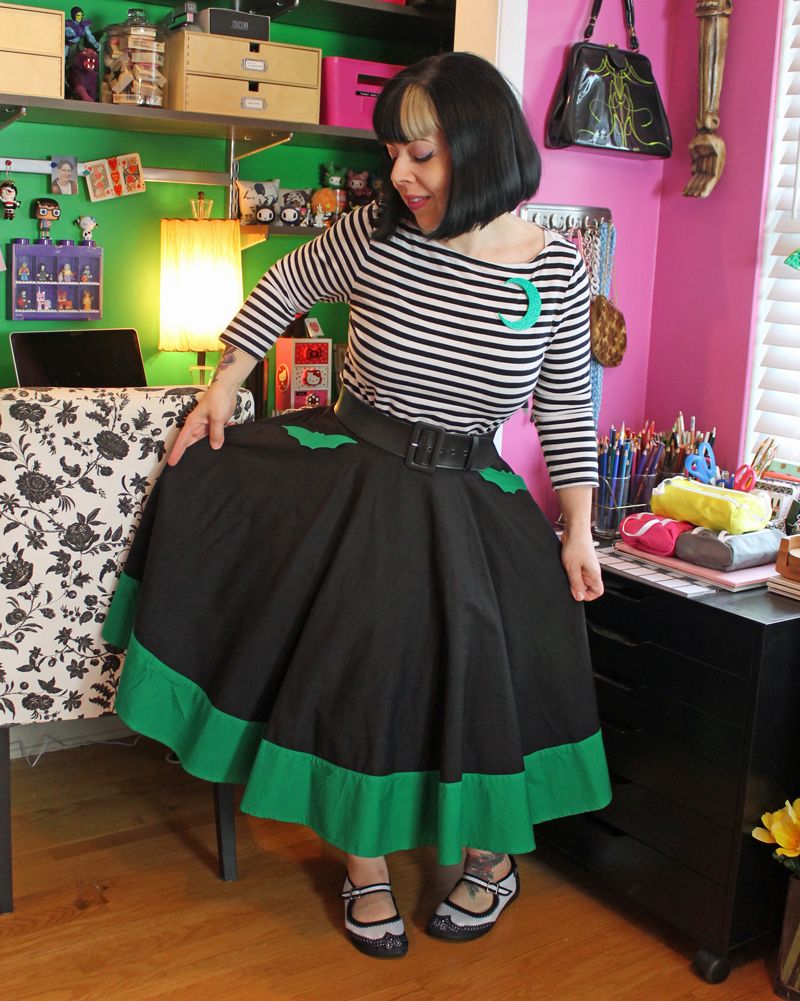 skirt - Hell Bunny / shoes - Chocolaticas / belt - Pinup Girl Clothing / shirt - Target / moon brooch - Heidi and Gretel / petticoat - Malco Modes via eBay
I realized that I have quite a few clothing pieces in my closet that I've never worn (and taken photos) as an OOTD on the blog, so I guess one of my summer goals is to do more of that. Did I mention that I'M ON SUMMER BREAK YOU GUYS?!
Aw yiss!
In case you're thinking, "Oh wow that's super early?" know that I go back to school sometime ridiculously early like August 10. So there. So I have to cram as much fun and relaxing stuff as possible in two months time. And even though I didn't take a "summer" job this year, I'll still have to go in and do curriculum writing and other school-related responsibilities during the "break."
So spring and summer weather is great and all, but I'm usually thinking about Halloween. This OOTD was a nice subtle nod to my fave holiday with the bats as pockets and coordinating green crescent moon brooch. I'm super happy that I have my
Heidi and Gretel
brooch collection, as she has stopped production on her line indefinitely and is now designing for Erstwilder. I would be super sad if I didn't already have so many great pieces from her!
I have NOT hemmed this skirt, and it shows. I really like the green and black combo, so I really wouldn't want to lose the green border. I think I'd have to have the green part removed, the skirt hemmed, and then the green border re-attached. Too much trouble. I'll just deal with this instead.
Another one of my goals this summer is to get my art room straightened up. What you see here in the photo backgrounds isn't so bad, but if you were to turn around and look at the piles of stuff on my table and floor, it's a little bit hoarder... I've been just using the room as a catch-all and it needs to be purged.
I've also been thinking about all of the merchandise I want to make over the summer. I've got a new batch of screenprinted flannel shirts, I'd like to make some new hair flowers, I have a bunch of tiny drawstring gift bags I'm planning on hand-painting, there's a whole stack of
bundt pans awaiting donut-izing
... and I just want to make some plain old art!
So cleaning the art room is imperative to being able to make stuff. I think not teaching art in a year has given me energy to want to make things again, only this time for myself!
Here are some details from the outfit. These bat pockets are the best thing ever. It's what made me buy this skirt in the first place! They do need to be ironed down carefully after washing, otherwise the bats kind of fold and flip up. But the bonus side of this is that the skirt has pockets! Always a plus.
In the pic above, you can also see the glittery acrylic that makes up the crescent moon brooch. I know green isn't a traditional Halloween color, but I'm really digging it.
This outfit also called for the second appearance of these
Chocolaticas by Hot Chocolate designs
(
first seen here
). They're going to be excellent summer footwear, as I've decided that I prefer not to have my toes hanging out as much as possible. I feel like playing roller derby means giving up hope to ever have nice toes, even after a pedicure. Ha! Anyone else have this experience?
Rock On,
Jen @ Hell Razor