shoes - Demonia / jacket - thrifted / t-shirt - Chicago Outfit Roller Derby / sunglasses - SunglassSpot.com / jeans - Kohl's (I think) / patches, pins, etc - Laser Kitten, @innabluebox (via IG), Sourpuss, Sugarbones, The Tiny Hobo, Creepy Co, Goblinko Mega Mall, Rep Chi, Angry Young and Poor
Today's OOTD post is quite the departure from my typical outfits that I feature on the blog, but it's a look that I actually wear quite frequently, and I really like. Not that you've never seen me in jeans before (LOL
almost a full year ago
), but it's kind of a favorite summertime/lazy day look that seems to come out more frequently than in the winter months, where layering dresses and petticoats and sweaters seem like a much more practical idea.
I still love love love my pinup style fashion, but I've also been favoring my good old black goth styles lately, and the dark denim/t-shirt combo. Today's version is my most favorite, because it features my
Chicago Outfit Roller Derby
t-shirt, of which I only own one at the moment... but that will soon change, as I placed a mega-merch order last month for stuff, including a personalized hoodie and satin jacket! Woo!
This particular day was a windy/chilly combo, of which we've been having WAYYY too many of lately. Even SNOW. Yep, I've got an OOTD with that coming soon, too, believe it or not. Sheesh.
I'm a little surprised I haven't worn this particular denim jacket on the blog before, as I wear it quite a bit. But I've
always loved having a denim jacket in the rotation
... my old one got quite a bit of wear, too. This one pictured here is pretty special to me though, as I've done a lot of customization on it. In fact, I'll have another blog post coming up soon where I go into more detail about that!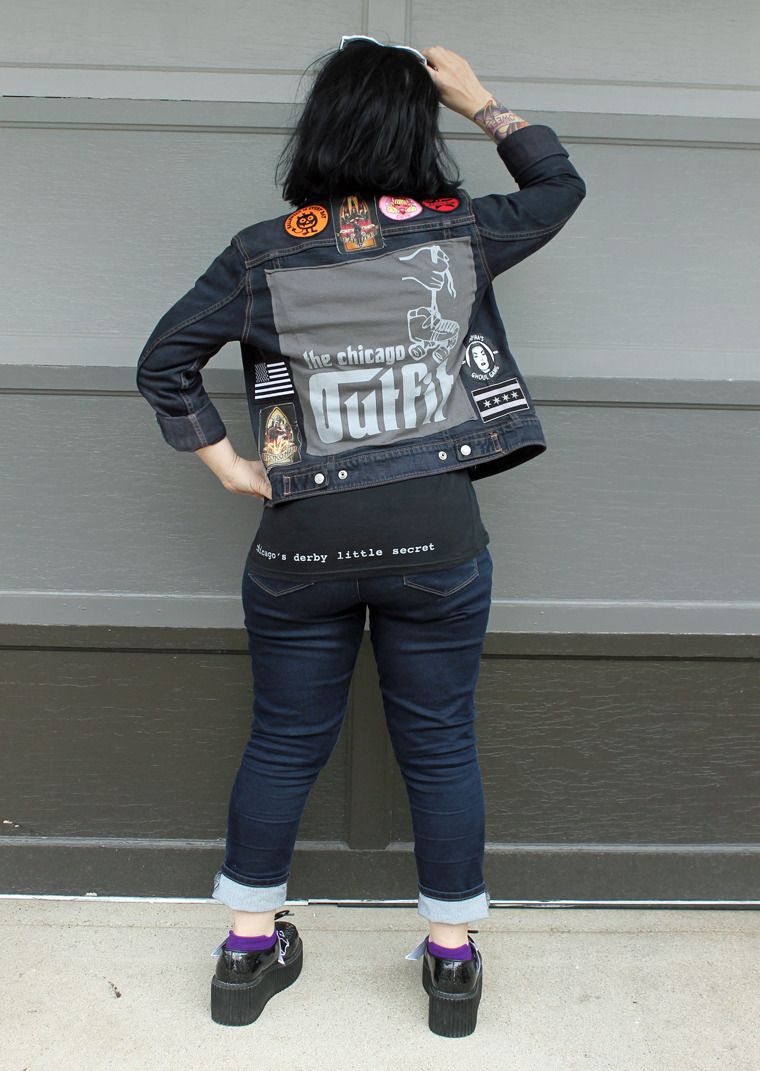 I was super excited to wear this outfit out street teaming with girls from my team in the city on this night. We have a special super fun Spaghetti Wrestling event coming up this Friday, which is one of our major fundraisers to help support the team. Besides just being super entertaining and fun hanging out and having a few adult beverages, we've also got raffle prizes to win! If you're in the Chicago area, consider
checking it out here
and
getting tickets in advance here
.
(No, I'm not wrestling. But a lot of my teammates are, and I'll still be there, helping out!)
These snazzy sunglasses are yet another pair I grabbed from SunglassSpot.com - for $5 each, it's easy to splurge on a bunch of them! They were just weird enough to make the cut. :)
Rock On,