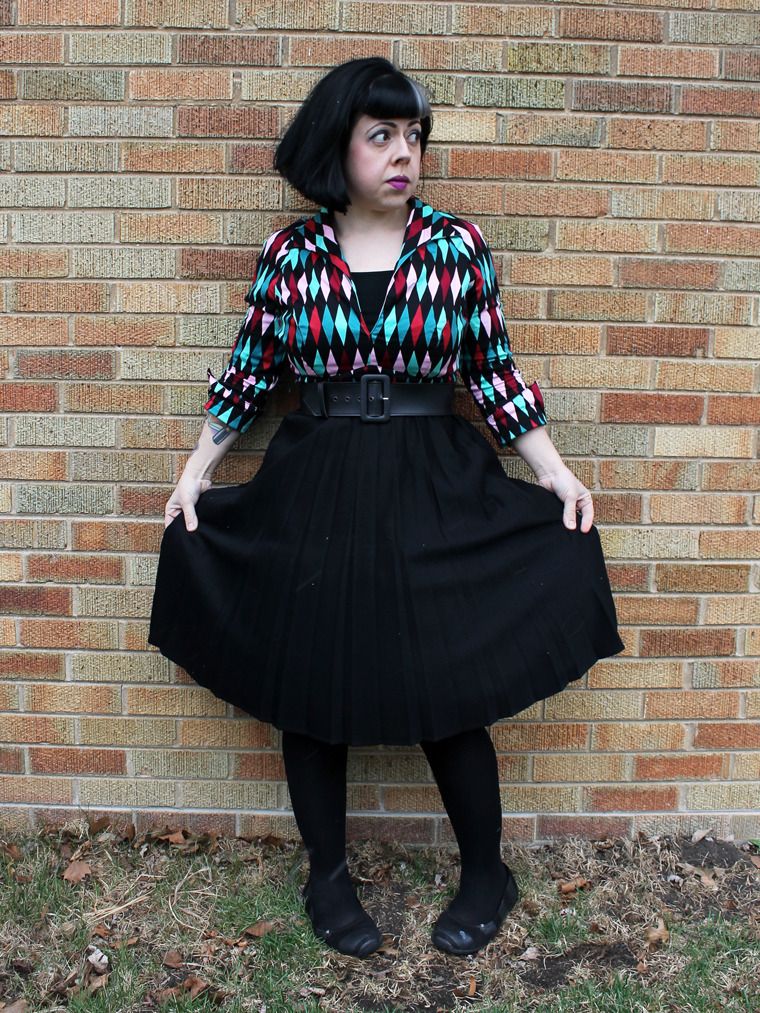 shirt - Pinup Girl Clothing / belt - Pinup Girl Clothing / skirt - thrifted / petticoat - Malco Modes via eBay / tights - Target / shoes - Dr Scholls via Zappos
I chose this blog post title because I wanted to talk about combining more expensive pieces of clothing with super inexpensive thrifted pieces to get an awesome overall look. My shirt is from Pinup Girl Clothing, and although it's not SUPER pricey, it's more than I would typically spend (but I got it on ebay so I actually didn't pay full MSRP so score!) - but Pinup Girl Clothing pieces are more investment-y types of pieces, especially since you can typically re-sell them for close to their original value. Not bad.
I wore this shirt with a plain black skirt, one that I got at Savers for just a few bucks. It's real vintage, but the waistband is weird because you pull it over your head... no zippers or closures. But I roll the waistband to shorten it a little, and cover it all up with a wide black belt. Boom. Done.
This skirt was actually featured
on the blog before in this post
. I was not wearing a petticoat under it; it's funny how even just my pinup-inspired style has changed... it feels weird to wear a skirt if it's not even a little bit "puffy" thanks to a petticoat. We'll see if I still feel that way this summer though...!
Speaking of, well, NOT summer, it was SNOWING the day that I took these photos. Whaaaaat? Yes:
It's ridiculous, actually. April showers? Ok. April SNOWING? No. So no, my dress does not have dust speckles all over it, it's freaking SNOW. Ugh.
So, back to my original thoughts... I combined a "pricey" top with a super inexpensive thrifted skirt = a reasonably average priced ensemble overall. I do this in reverse all the time, too. I pair my pricier skirts with boatneck tops from Target, which you can usually score for around $10. I figure it makes my wallet even out, in the end. :)
When I take photos outside, my dogs like to run around in the backyard. If they're misbehaving and fighting, then I pick up Dio (because she's the tinier one) and make her pose in photos with me, like this:
Next time I get the bright idea to own more than one dog, somebody slap me, ok?
Rock On,
Jen @ Hell Razor