cardigan - thrifted / brooch - Luxulite / dress - Pinup Girl Clothing via Depop / belt - thrifted / tights - Target / shoes - Chelsea Crew via eBay / bracelet - Fitbit
I really enjoy going back to dresses and skirts that I haven't worn in a while. It feels like having new clothes all over again! I also try to challenge myself to style it slightly differently once in a while. For instance, this sacred heart patterned dress. I wore it once before
on the blog here
with a red belt and black sweater. The funny part is that both times, I chose the exact same skull cherries brooch from Luxulite! Didn't even realize it until I was comparing the photos.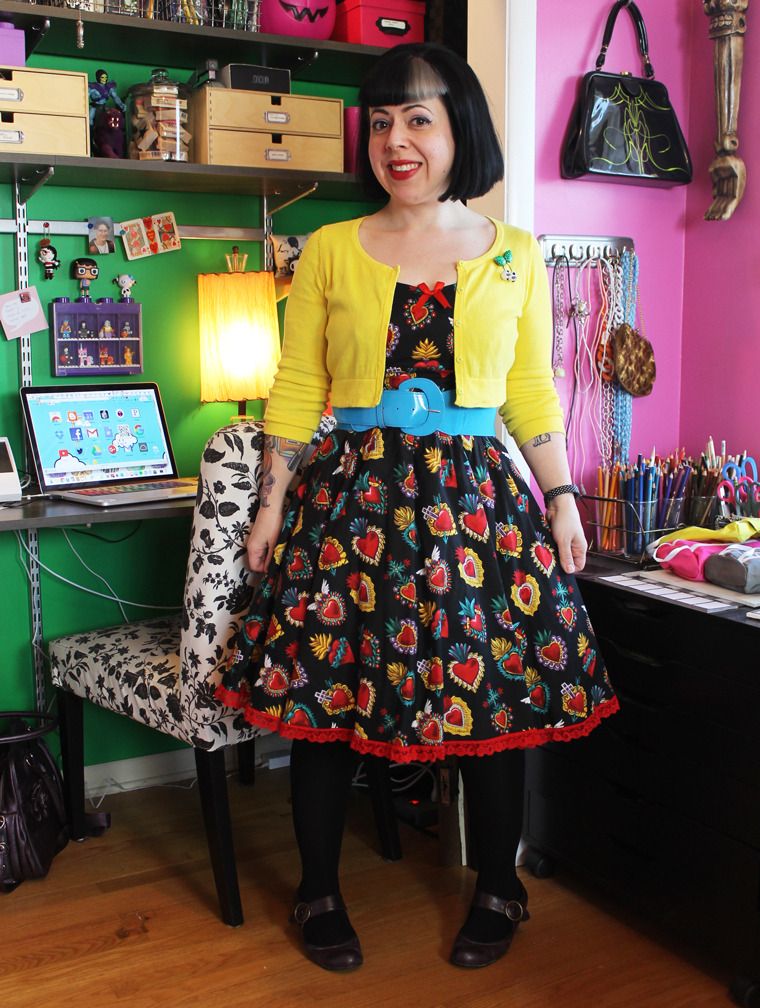 I also have started taking some of my OOTD photos in the art studio, mostly for convenience's sake. When I take indoor photos with my white brick backdrop, I have to move my clothing racks and set up the lights. Sometimes I am seriously just feeling too lazy. Yes, the backdrop of my studio is a little crazy/busy, but I like it.
I think that the last time I wore this dress, I don't think I was in the habit of regularly wearing petticoats. I'm so used to it now that I can't even go without! So naturally, a red one to match the red lace trim on this skirt.
This yellow sweater is one of my thrifted collection in a rainbow colors. It has a loose knit/lacy-ish back panel, which is slightly see-through. But I really like the super cropped style, which I think works well with both this dress and my shorty-ness.
I'm really happy that I decided to go with this blue thrifted belt over this dress. It's not the obvious choice, but I tried out the red one (with the yellow sweater? meh.) and a yellow one (too much), but the blue is very cheerful and I felt super colorful and happy when I wore this all together on this day.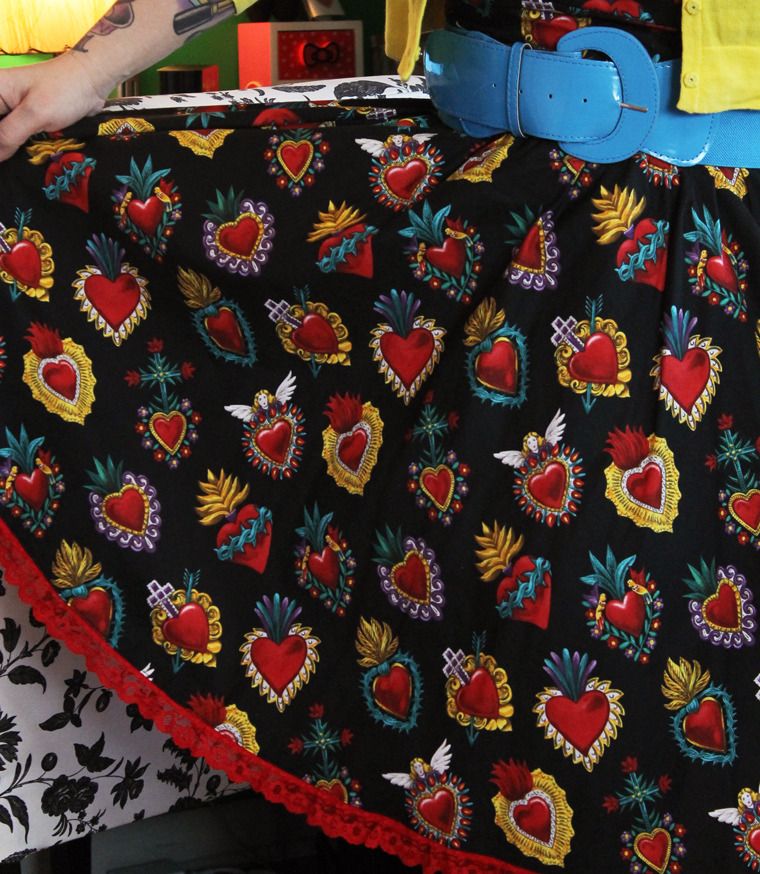 I seriously love this pattern. There are certain patterns that I just love, and tend to gravitate to over and over again. For example, black and white stripes, ouija board, sacred hearts, virgin mary, old movie monster themes, bats, and pretty much halloween-in-general designs. I'm sure there's more (skulls)... you'll see the patterns over time.
Do you guys have this problem? You get so used to dressing for the season (like winter, wearing tights and sweaters every day) that you forget how to dress for the opposite one? Here's what I mean: I can't figure out how to not wear tights every day. Back last summer, I was worried about wearing tights when it got cold because I thought that my dresses would look weird with them. But now, I feel naked without tights. Plus, you have to shave your legs, which is a huge pain in the butt.
So now, I worry about things looking weird WITHOUT tights, and having my petticoats be way too sweaty for summer heat. And also cardigans being way too sweaty. WHAT DO I WEAR?!
I know I'll figure it out. I mean, I have the benefit of looking back and seeing exactly what I did wear last year. And I know even though it might feel weird at first, it doesn't actually look weird to not wear tights.
Have you ever had any weird adjustments to seasonal fashion like this? Or am I just a big weirdo? Wait, don't answer that second part.
Rock On,
Jen @ Hell Razor