dress - Isaac Mizrahi for Target via eBay / cardigan - thrifted / belt - Pinup Girl Clothing / necklace - gift from my derby wife! / shoes - Dr Scholls via Zappos
Hey you guys, I found it! After months of eBay followed searches and almost completely giving up, I found the Isaac Mizrahi for Target dress from
my Vavoom photo shoot
! And it was in MY SIZE! I fell in love with this dress after wearing it for photos, and thought that I had snagged one for myself via Poshmark, only to be sorely disappointed when the size was mis-marked. Whomp whomp. I think it's like a size 4... if you're interested, I listed it
in my own Poshmark closet
with exact measurements and such.
So, if you read my last post, you know I was feeling weird about the weather getting warmer and no tights, but I braved it on this day and you can see that everything was ok. I like that this outfit is so simple and plain, but keeps the same retro style and silhouette that I favor. I could have worn any color cardigan with this dress, but I liked the blue of this particular one, so I went with it. Yay thrift store finds!
And also awesome about this dress? Pockets.
I'm feeling the need to find more comfortable summery shoes for this season, or I may end up wearing these Dr Scholl's flats (they're already starting to get a little shredded) all summer every day. As though I don't wear them enough already.
My derby wife Megan gave me this awesome necklace for my birthday with a skate bearing pendant and it is my new favorite piece of jewelry! I can keep a little bit of skating with me wherever I go. And it's fun that some people won't even realize what it is.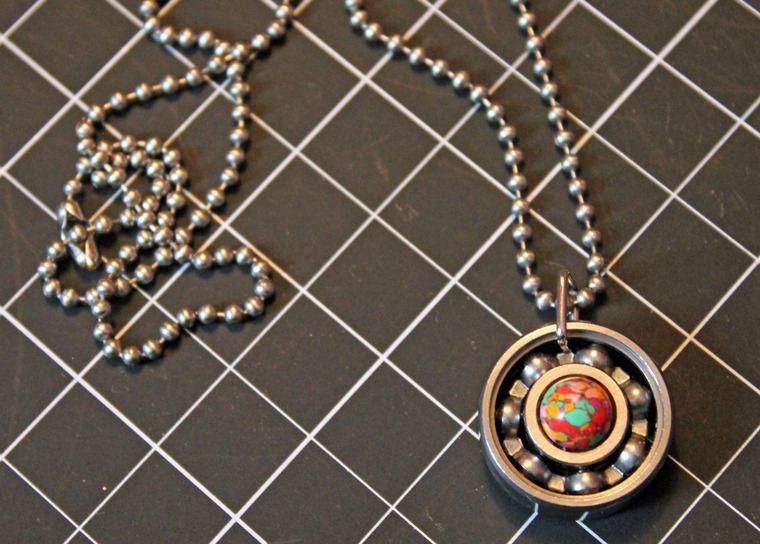 So, any suggestions on comfortable summer shoes? I like ballet flat styles, as I don't have to keep my pedicure 100% in order to wear them. Roller skating makes that somewhat difficult. So, if I can find shoes without exposed toes, all the better. Any ideas?
Rock On,
Jen @ Hell Razor