sunglasses - SunglassSpot.com / shirt - Target / belt - Pinup Girl Clothing / skirt - Betty LeBonbon / tights - Target / shoes - ASOS / earrings - Spencers.com
I had a really weird experience at the grocery store on this day. I was waiting in line for coffee, and two adult ladies got in line behind me - I gathered that they were probably mother and daughter probably. The conversation was as follows:
"Hey be sure to give that girl some room"
"I am giving her room! Oh, I like her skirt."
"Me too. She has guts to wear that striped shirt with it though."
"She probably doesn't care what anyone thinks."
(followed by more talking that I couldn't quite make out...)
Now, because the lady wasn't actually giving me much room, I was able to hear the whole conversation. I thought about turning around right after she said that she liked my skirt, to say thank you. But then as the conversation progressed, I decided to pretend like I didn't hear, just so I could see what else they would say and how it would continue from there.
I decided to take the whole thing as a compliment, and not as a criticism. Because honestly, I don't care what they actually think about my outfit. I thought it looked great! I thought that my choice of stripes went really well with the skirt (and I still do!). I actually stood there, smiling, slightly amused at the whole conversation. But there was a part of me that was kind of shocked that someone would have a conversation that closely and loudly to another person about a total stranger standing right in front of them.
This day wasn't the first time I've mixed patterns like this before... evidence
here
,
here
, or
here
.
I've been actively trying to wear my skirts that I haven't taken out of the closet in a while. I don't care that this skirt is a Halloween print - it's the first skirt that I ever had made for me by
Betty LeBonbon
, and I chose the fabric with the specific intention that I'd wear it year-round. Time to act on that!
I loved this skirt so much that I had
a second one made
, and then even bought
a custom dress that was also named after me
! Love!
Betty LeBonbon makes the most awesome patterned skirts, and I love that she'll even make you a skirt from fabric that you provide! I think I purchased this owl fabric from Etsy...
I love that although it's Halloween, it's kind of subtle Halloween, once you look at it and start connecting and associating the bats, spiders, and spiderwebs all together. But, well, I'm the girl with a Halloween tattoo on her arm, so I doubt many people would find it THAT unusual on me. Maybe just those ladies at the coffee counter...!!!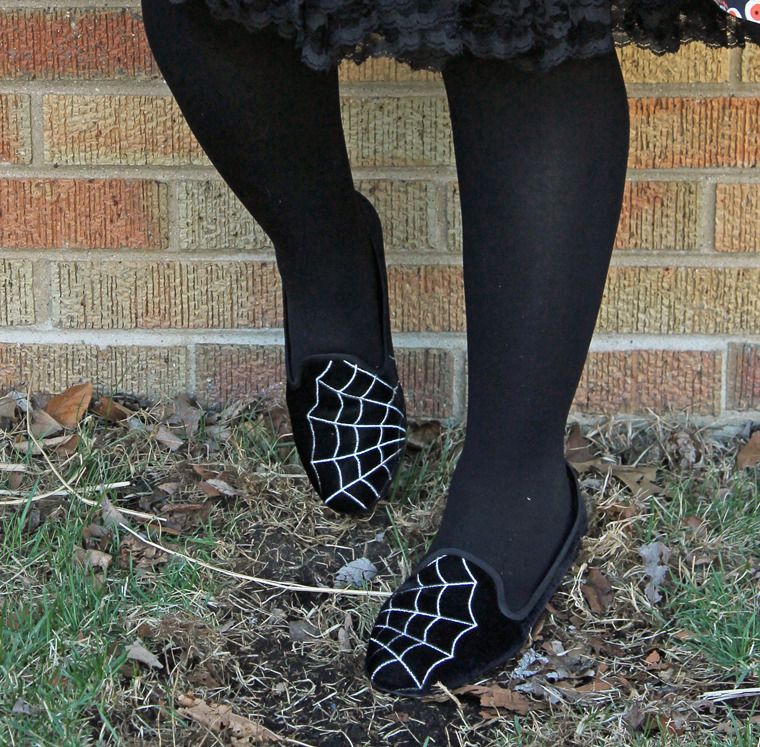 Speaking of spiderwebs on the skirt... I decided to pair it with these super cute spiderweb flats I grabbed from ASOS way back in October when their whole collection of Halloween stuff came out. I should probably start saving up now for this year's upcoming shopping season...!
In keeping with the Halloween (in April) theme, I love my sunglasses because they have a very bat-like feel to them. These were another $5 score from
SunglassSpot.com
! I know I've talked about this place before, and I don't get anything for free for mentioning them, but I just think they're a great little-known sunglasses secret!
I originally found out about SunglassSpot.com from Stina at
Fatshion Peepshow
via her YouTube channel. I also found these sweet black pentagram earrings from her when I saw them on Instagram and asked her about them. You can't really see them in the outfit pics above, and when I tried to take a close-up, the pic was all blurry (argh camera timer issues) - so I took this pic after the fact reverse-camera iPhone selfie style. :)
I won't wear them to work (because pentagram), but I really love them and try to find occasions to wear them on the weekends or days off. #teacherproblems
What do you think about the mixed prints? Too much?
p.s. It's my birthday today! :)
Rock On,
Jen @ Hell Razor