You guys! I made it through my first roller derby bout, ever. And I was part of the jammer rotation. I was so nervous that day, I think I cried (literally) three different times before it was time to leave for the rink. And I ate like two bananas for lunch. I was kind of a mess. I tried so hard to stay calm and to center myself, with varying results...
But, just as everyone who has gone through this before has told me, once the game started and I got out there, it ALL goes away. You seriously forget that there are people out there. You just play. That's good. To my surprise, I had a really good game. We all did! All four of us jammers did a great job, and our blockers were (in my opinion) even more awesome! It was like we could read each other's minds - everyone was in the right places at the right times. I had the best time ever!
I'm so happy that after all is said and done, there are awesome pics from professional photographers! These shots are all from
Steve Jurkovic Photography
, who happens to be one of the sponsors for my
Chicago Outfit Roller Derby
team.
Side note: I'm now listed officially on the Outfit website as a skater!
Check out my skater profile here
!
I love my face in most of these photos, where I look like I'm bracing for impact, or mid-impact, LOL! But my favorite photos are the ones of me jamming, skating solo like the photo at the top. I've always loved and admired photos of other skaters just like this - I always thought that they looked so cool. And now I have ones of myself just like it! Whoa!
Perhaps the best moment of the night happened early on while jamming. And Todd caught it on video! I was jamming against the DuPage Derby Dames and their brace left a large gap between blockers, so I just ducked under their arms and kept going. I even surprised myself with this move!
I love that not only did I successfully get through the pack with this move, but the crowd went nuts! I gotta admit, it was an amazing feeling. I can only hope that I can be as successful when I play next time!
Check it out, guys - I look like I know what I'm doing! I joke, of course, but I think I really genuinely surprised myself on this day with what I could do, and what I was capable of as a person and as an athlete. My whole life I was categorized as the "smart" and/or "artistic" girl... not that these are bad labels, but I for sure was never thought of as "athletically-inclined" :)
Our opponent, the DuPage Derby Dames, are an awesome team that has a whole bunch of ladies that we know personally and are friends with! Several skaters are friends of mine from Derby Lite... others I know from my days of
vending Hell Razor stuff at 88's bouts
!
Ok, so I know that I said that the best part of the night was the whole duck-under the blockers thing, but I forgot about this OTHER best part of the night - I got voted MVP Jammer for my team! On my first bout ever! I seriously did NOT expect it and I'm pretty sure I ended my experience just like it began that morning... with crying! But for very different reasons.
My team captain, Dallas, won MVP blocker for my team. This was seriously one of the best nights of my life, right up there with getting married and having my son. If I could go back and re-live it over and over again, I would!
To make a great event even greater, I had an incredible amount of family and friends there to see it all go down! Not only my teammate family, but my Derby Lite family, including my instructors! It was crazy energizing and motivating to hear all of their cheers and encouragement.
Lisa drove to the event with Shane and Gunnar. It was so awesome to have them there to see it all! Just to drive Lisa crazy, I made sure to rub my sweaty sweaty self all over her. :) Love you!
The morning of the bout, I was able to pick up the merch I had ordered for my whole family: Todd has a special "Pictrola" shirt (after his IG handle), Iggy's got a shirt with his name on the back, and I had a special one made for my mom that says "Mommie Maims Dio."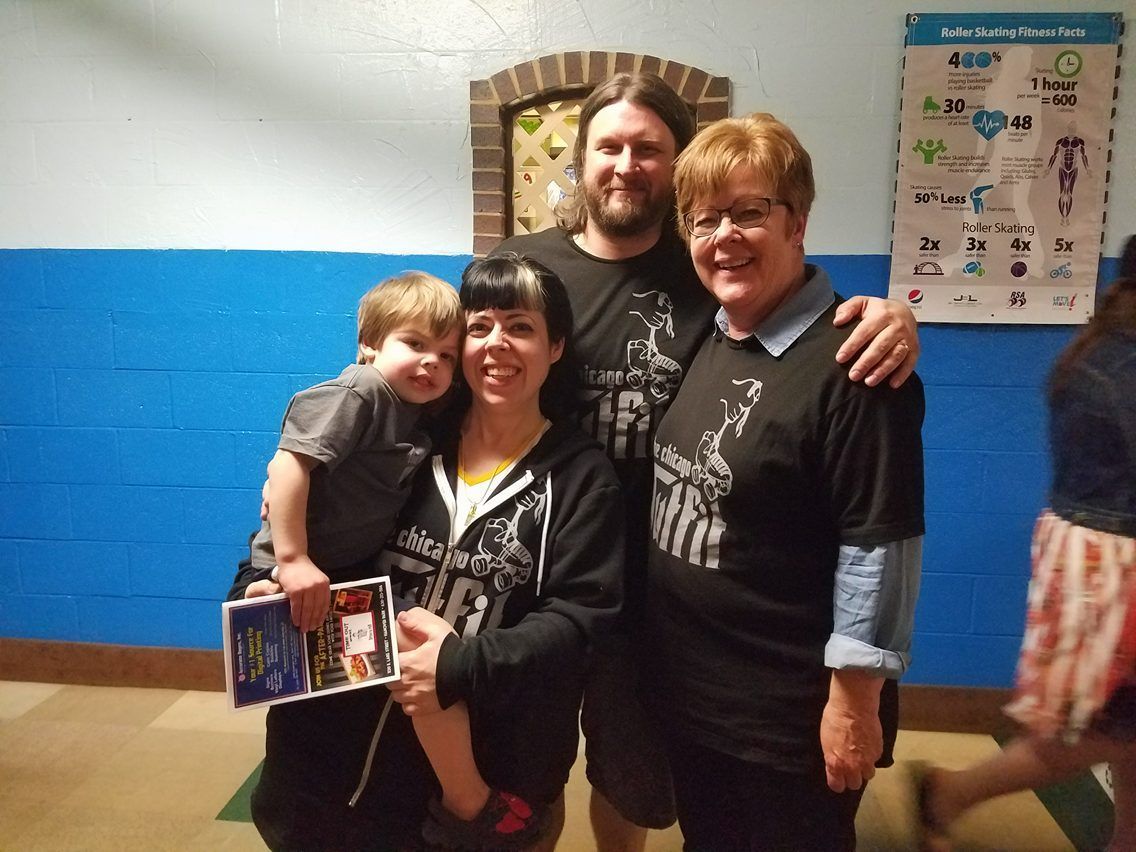 I was so excited to see them all dressed up and there to support me and my team! Just sitting here, writing and re-capping it all, makes me feel excited about the day all over again.
Want to see more? The
full album of photos by Steve Jurkovic are available here
. And there are more photos of the bout
available here
, via a second photographer, Dave Schrader.
Rock On,
Jen @ Hell Razor