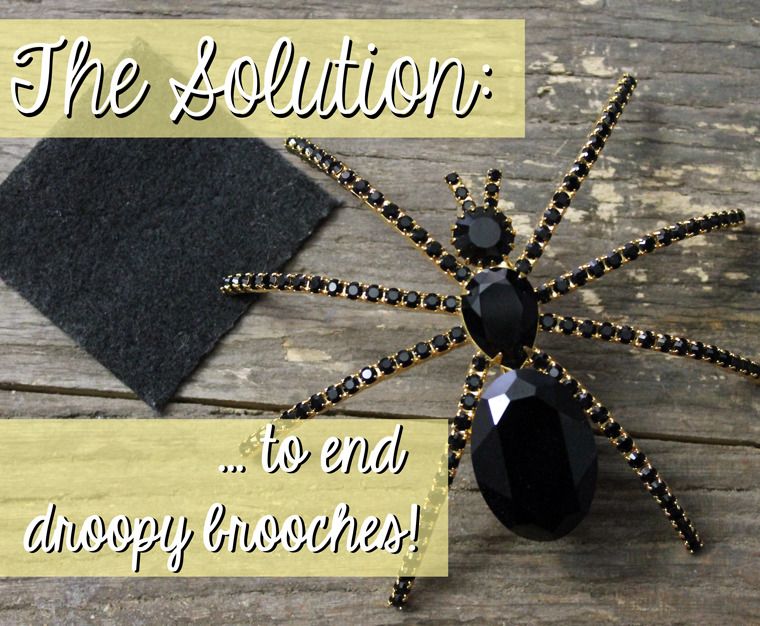 I've posted here on the blog before about my brooch collection, my
favorite places to buy them
, and even
nifty solutions for storing them
. But how about actually wearing them? It's easy to wear a brooch on most cute sweaters or jackets… all of the things that are made from heavier fabric.
But what about regular t-shirts, thinner sweaters, or dresses? Are you just limited to lightweight brooches? That's one option, but I have another idea that's simple, cheap, and effective!
I bought a sheet of STIFF felt at my local craft store (
like this
), and cut a 2"x2" square. I chose black, but you could use any color (I mostly wear black, so that worked for me). I place the square on the inside of my shirt, against the fabric right where I want to pin my brooch, and pin through my clothing AND the stiff felt square together.
The stiff felt acts as a backer/support piece for the brooch, keeping it from drooping down. Now I can wear my brooches with all of my t-shirts and boatneck tops (also made of t-shirt material)!
I'm actually utilizing this felt trick in the OOTD photo below:
I love my
Erstwilder
brooches, but they're typically a little bit too heavy for regular t-shirt material… but not anymore!
I found that the 2"x2" size was perfect for almost all of the brooches that I own. I suppose that if you have larger pins, you could cut an even larger square. There's so much felt left over, you can have extras on hand for the inevitable time when you lose the original one. :)
I've read about other brooch tricks, like
the MagnaPin
for wearing brooches on thin, delicate fabrics (so as not to ruin them by making holes in the fabric), but it still didn't solve my droopy/heavy pin dilemma.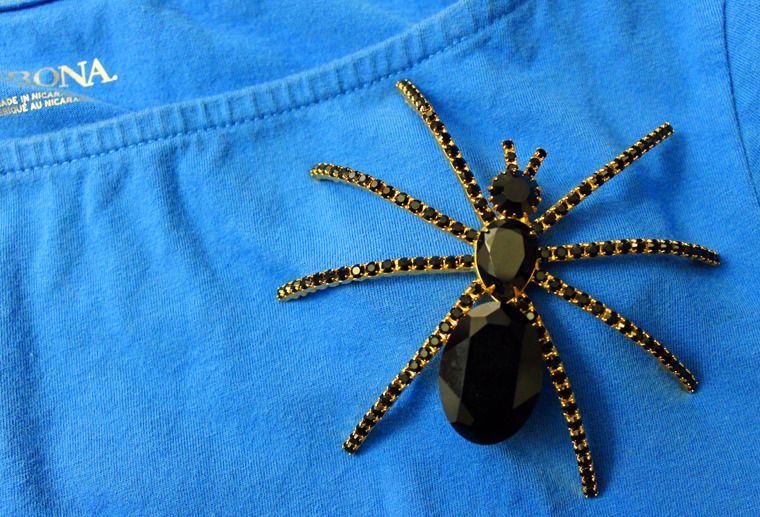 This one I came up with on my own and just decided to try it out. So far it's worked really great for me, so I thought I'd pass along the tip! Do you have any secrets for upping your brooch game?
Rock On,
Jen @ Hell Razor