I was browsing Pinterest several weeks ago, and found several recipes that seemed fairly simple and like something that would be good to make with kids. It occurred to me that although Iggy enjoys playing Transformers, Hot Wheels, and action figures with his Dad, it would be nice for us to have something to do together, too. Thus "cooking with Iggy" was born.
I thought I'd share with you our list of what we have achieved so far, and the varying degrees of success in each project. You can decide for yourself what you'd like to tackle with your own little... or individually. Heck, I'd totally make these on my own, too!
1. Honey Joys
This was the first recipe that Iggy and I made together. Found
via Pinterest here
, they seemed super simple but especially delicious. I hadn't heard of them before. I thought that they were really good, but Iggy is a picky eater. I think he's not really turned on to honey just yet. Todd and I ended up eating them all. Iggy did have a great time spooning the corn flakes and honey into the muffin cups as I supervised, so he was good at pitching in on this one.
2. Rice Krispie Treats
I tried
this
next, as it seemed like the next logical step (cereal + sticky binding material). Iggy was really good at measuring out the rice krispies (thank goodness I had purchased the extra large box, so his first 2 cups that spilled all over the counter and floors didn't leave us short!), we counted the cups together as he poured them into the big bowl. When I added the melted marshmallow to the bowl, he gave up on stirring it all together. I think it may have been a little too tough for his 4-year old arms. Also, he is kind of a diva about getting messy and getting anything on his hands. Sheesh.
Oh yeah, this was the second recipe that Iggy wasn't really interested in eating afterwards. Maybe he's not a marshmallow guy (yet), either.
3. (Blue) Chocolate Chip Cookies
We used
Lisa's recipe for chocolate chip cookies
, as it's my all-time favorite. They always come out really delicious! Of course, we had to add our own special touch in the form of blue food coloring (which ended up being slightly bluish-green, since the batter itself is a yellow-ish shade).
Iggy really enjoyed using the stand mixer for this recipe. It's definitely the most complicated of all of the recipes we've made, but he liked dumping the ingredients into the mixing bowl of the stand mixer, and then setting the speed (1-4) switch when I told him to. This was also the first recipe that he willingly ate copious amounts of when it was all finished. We also sent bags of cookies to each grandma that week.
4. Ready-made cookies from the refrigerated section
Ok, so this isn't really a recipe. But that's why I picked it. And I'm a full-time working mom, so some weekends, the cooking project has to be way more slacker than others. I figured Iggy would have this down. I took out the cookie sheets and had him place the cookie dough balls on the sheet. Unfortunately, he kept placing them close together, and doesn't take constructive criticism very well, so he got mad and gave up, telling me that he "couldn't do it." So... this day was kind of a fail.
We made peanut butter cookies and chocolate chip. They turned out really flat and also gooey in the middle even though we followed the directions? Iggy did eat these, but I wasn't a huge fan of them. Better to just make my own.
5. Rolo Stuffed Ritz Crackers
This was
another Pinterest find
. The timing was perfect, as I was able to buy a bag of Rolos from the easter clearance section on sale! I lined up the Ritz crackers on a cookie sheet, and Iggy peeled the Rolos from the wrappers and placed them on top of each Ritz. You soften the Rolos for only 5 minutes in a 350 degree oven, and then smoosh another Ritz on top.
Mr Diva-Hands was being weird about smooshing crackers on top (maybe he didn't want to get chocolate on them; maybe he was genuinely being safe and concerned about the hot cookie sheet, who knows? But I found an easy solution by putting the crackers on top myself, then having Iggy "smoosh" them down via the assistance of a spoon. He was ok with that, and they tuned out really nice. These were a delicious mix of salty and sweet!
Oh yeah, Iggy tried one of these, proclaimed that he liked them, but then didn't actually eat it. He's weird. But I was thinking that these would be great for a party if you're not an awesome baker (like me).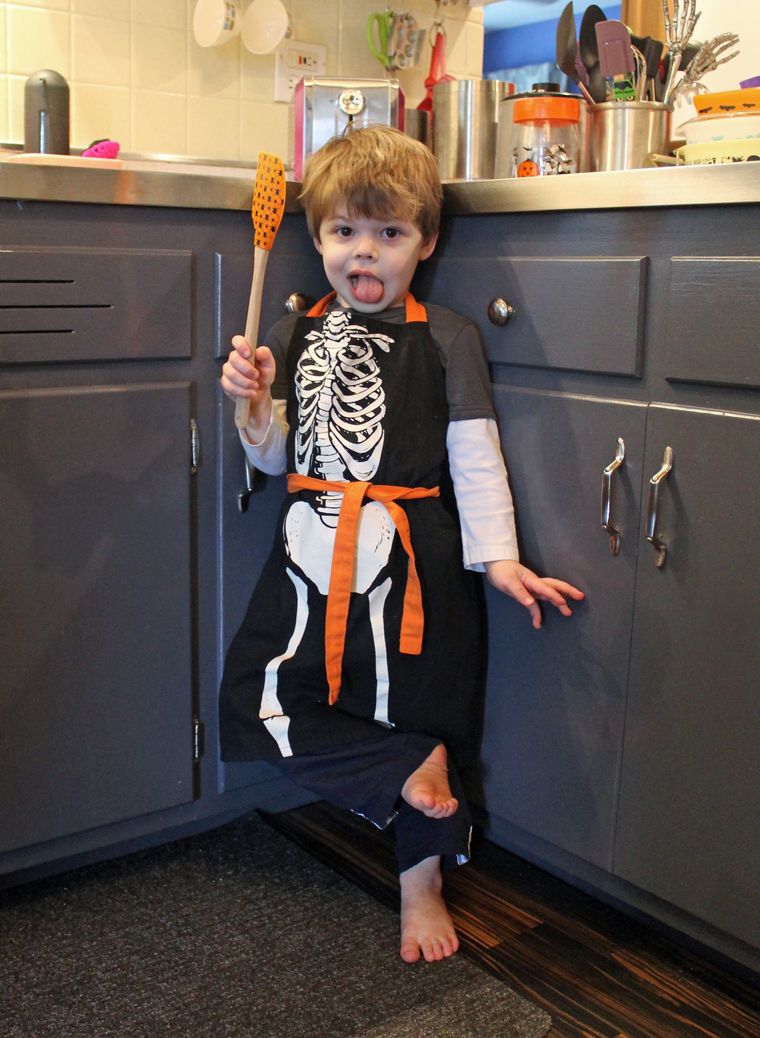 What's next?
Well, I recently tried out
this recipe for Peanut Butter + Jelly popcorn
, and it came out pretty darn good. After I was finished, I thought about how it'd be a really good kid recipe, since you just need to melt some things together and then mix it all over the popcorn... kind of similar to the Honey Joys or a Rice Krispie Treat. So we may try our hand at gourmet popcorn next.
Iggy also had a really good time using the stand mixer, so I was also contemplating more cookie recipes, like these
Funfetti sugar cookies
, or, if I'm feeling up for a challenge, these
cinnamon bun cookies
.
Do you have any awesome cooking activities for kids? Please share with me!
Rock On,
Jen @ Hell Razor