Iggy and I have started a tradition on the weekends of "cooking" together. Last weekend, it consisted of taking ready-made cookie dough balls and placing them on a baking sheet. It's pretty complicated and involved. Some of our results appear in the following bento lunches.
Mini Tupperware of vitamins
Triscuits
Cheese cut into Triscut-sized pieces
Faux lunchmeat cut into Triscuit-sized pieces
String cheese, cut into chunks
Honey Joy ("cooking" project with Iggy via this recipe)
Tiny skewers: grape tomatoes, artichoke quarters, and black olives
Grapes
Hard-boiled egg
Teriyaki salmon (via Mariano's deli)
Smoked string cheese pieces
Rice Krispie treat (yes, another Iggy "cooking" project)
Mini Tupperware of vitamins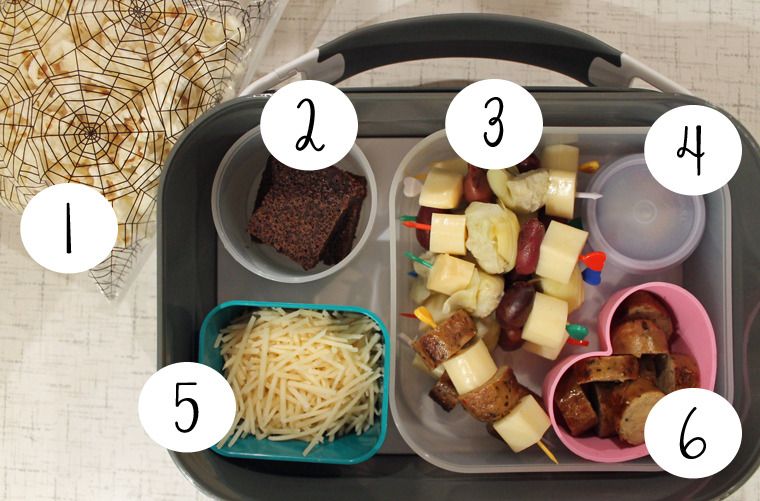 Skinny Pop popcorn
Black bean brownie experiment (not so good; my own "cooking" project, sans Iggy)
Tiny skewers: artichoke quarters, smoked string cheese, kalamata olives
Mini Tupperware of vitamins
Shredded parmesan cheese (for the skinny pop, a la this snack favorite)
Leftover faux Italian sausage, cut into chunks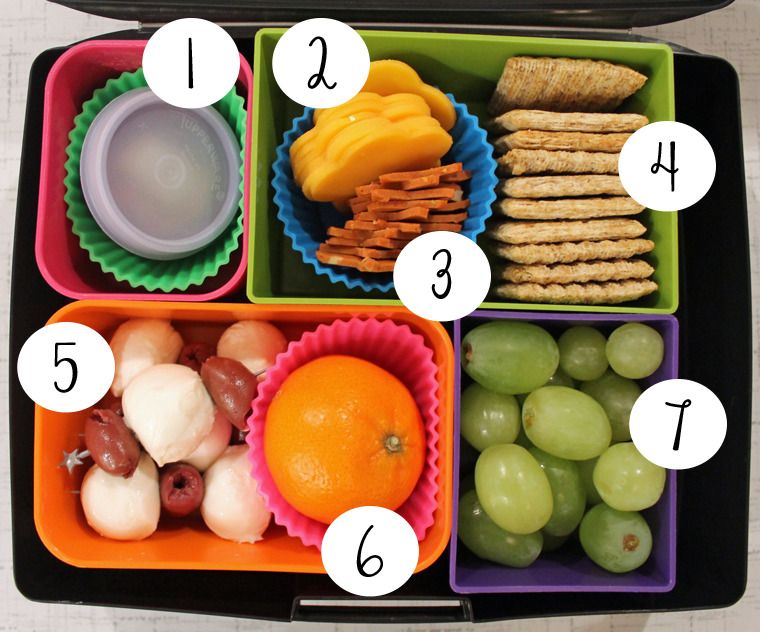 Mini Tupperware of vitamins
Cheese cut into Triscut-sized pieces
Faux lunchmeat cut into Triscuit-sized pieces
Triscuits
Mini skewers: mozzarella balls + kalamata olives
Cutie orange
Grapes
I call this lunch the "leftover-palooza."
Leftover veggie omelet
Smoked string cheese, cut into chunks
Mini Tupperware of vitamins
Leftover faux chicken fried "rice" quinoa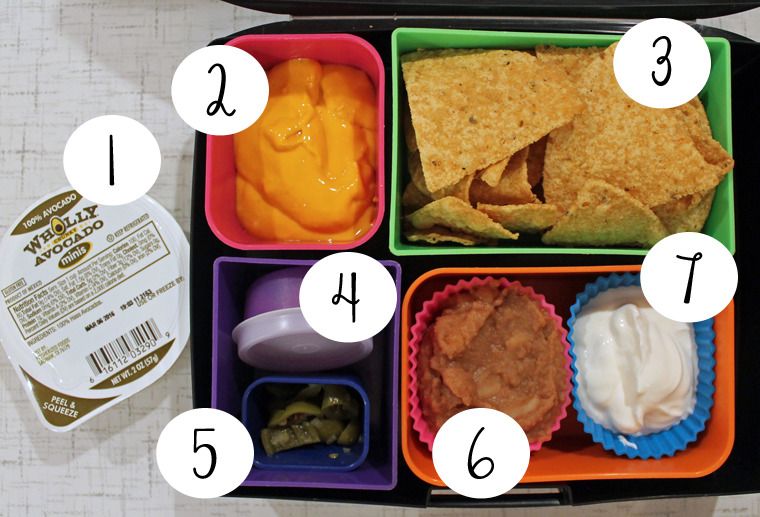 Lunch this day was made from nacho dinner leftovers the night before:
Individual guacamole!
Nacho cheese dip
Tortilla chips
Mini Tupperware of vitamins
Jalapenos (mild)
Refried beans
Sour cream
Crackers +cheese, faux lunchmeat, or even tuna salad instead of a traditional sandwich is one of my latest obsessions, as is turning leftovers into lunch for the next day. One of my faves is leftover taco or nacho stuff! What have you been chowing down on lately?
The Bento Report is a regular feature on the blog where I show you what's in my lunch for a few select days over the past couple of weeks. It's informational because I am a post weight-loss surgery patient who is also a vegetarian/pescetarian, but also fun because I love the idea of bento lunches and have fun making my lunch look cute and/or making it fit into unique lunchbox container constraints.

You can view past posts of my Bento Report series here. Information on where I buy bento boxes and accessories in this post here.
Rock On,
Jen @ Hell Razor