Shooting outfit posts outdoors is rad. Plus, I really like my value scale paint chip garage door (I'll do a better blog post on that soon when the weather stays nicer - it's a good summer project!). But I am totally awkward.
That's the thing about blogs. I can blah blah blah and talk like I know you (which I might actually IRL...) and act like I'm all confident, but I'm a total socially awkward nerd in real life. Not in a trendy "I'm socially awkward" type of way either - like literally I'm super self-conscious and I have trouble carrying on casual conversations with people - and unfortunately it can come across as the complete opposite, like I'm aloof or snooty. Then I feel like I have to work twice as hard to combat the idea that someone has gotten the wrong impression of me. It's quite busy and stressful up in my head. The lesson here is, should you cross paths with me in real life, if I don't say much, or I say something off-color, it's not intentional and I'm so concerned with getting you to like me and for me to come across as normal that I end up doing the exact opposite. Ugh.
So... that tangent was to explain the back story behind these photos because although I like taking outdoor photos better than indoors ones, as soon as I see a neighbor or someone outside, I freak out and run back in. It's so awkward.
So of course during my first attempt this spring to take outdoor photos, I look up to see my neighbor watching me from their house. AH WORST NIGHTMARE I'VE BEEN CAUGHT!
Therefore, try to play it cool, go back inside, and tell myself that four photos is enough and then take a closeup of my brooch inside to add to this post. Outfit post girl blogger FAIL.
So I guess I should talk about this outfit. I love this dress. The material is heavier but slightly stretchy. But the real reason I bought it is stripes, of course. I actually bought this via Amazon last year, and my order was unexpectedly cancelled. IDK. So I was mad, and told myself "you don't need this dress anyways."
And then of course I saw it on Instagram on several different people and then I told myself "oh yes you DO need this dress!" and fortunately it was actually on sale by that time, so yay!
One important thing about Lindy Bop though, you should really size down. I didn't want to believe it, but it's true. I think I discussed it on
my last Lindy Bop dress here
.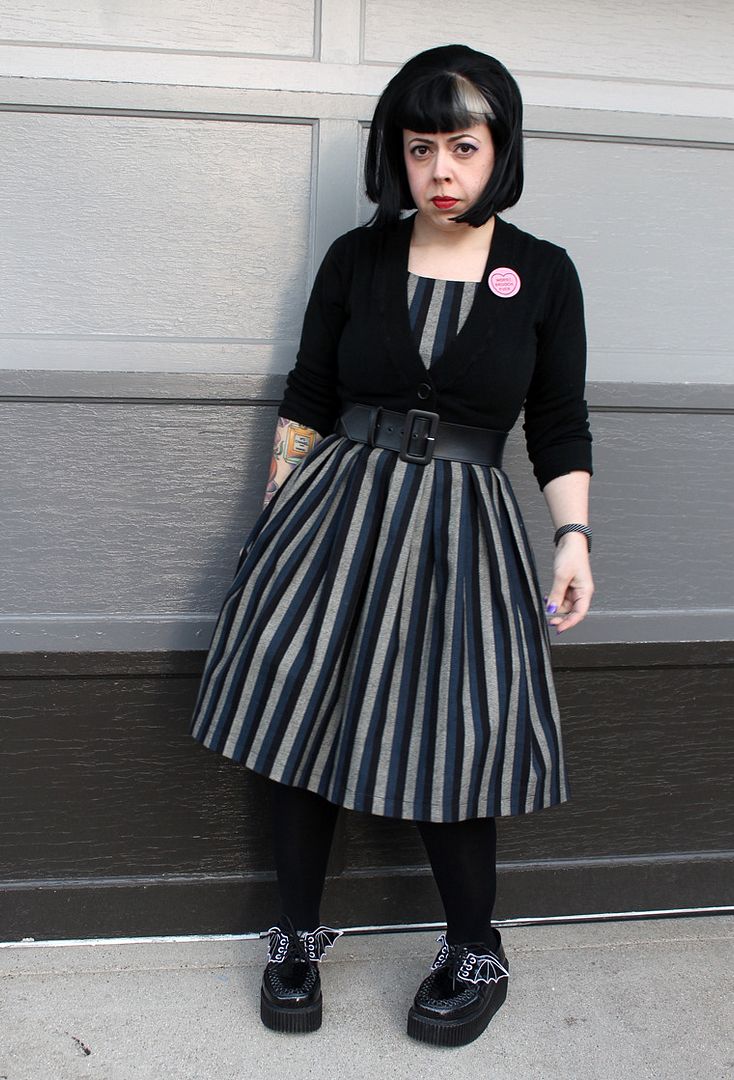 In case you're wondering if I ever wear any other shoes than these creepers, the answer is pretty much no. They're the coolest.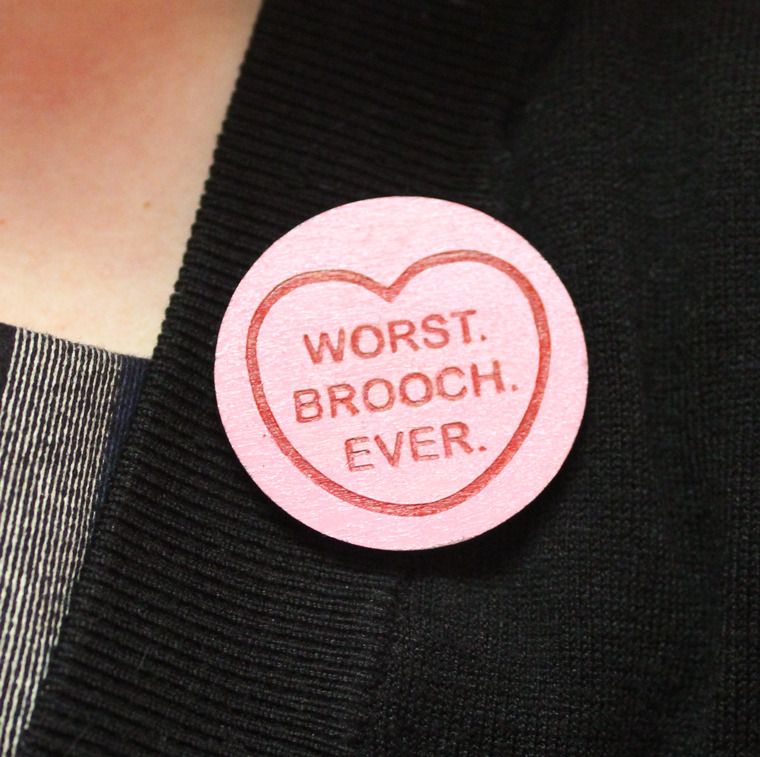 Even though I'm wearing mostly black on this day, I couldn't resist wearing my new For The Love of Vintage brooch. Because it's the worst. brooch. ever.
Get yours here
. :)
Rock On,
Jen @ Hell Razor