Today's outfit felt very comfortable, very "me." Black, halloween-y, spiderwebs, bat shoes, and dark oversized sunglasses with pointed tips. Sweet. I even paired the look with my favorite purple eyeshadow (it's called "Urban," and it's part of the
Urban Decay Electric palette
, FYI).
I declared to myself that this week was "skirt week," as I felt like I had been wearing only my dresses for a while. But I think I may actually need to have skirt weekSSS because I own many of them.
I don't think I've worn this skirt on the blog yet? But it might look familiar because I have worn
my spiderweb Heidi dress on the blog here
, but also I wore that dress for
my pinup shoot at Vavoom Pinups Chicago
. I love this pattern so much that not only do I own it in the aforementioned dress and the skirt pictured here, I also own it in
the Lauren top
- no longer available from PUG, but purchased secondhand from a previous owner.
When I went with my brother Sam to the horror convention, I paired that top with this skirt, creating another complete "dress" look from separates. It was very appropriate to the event. :)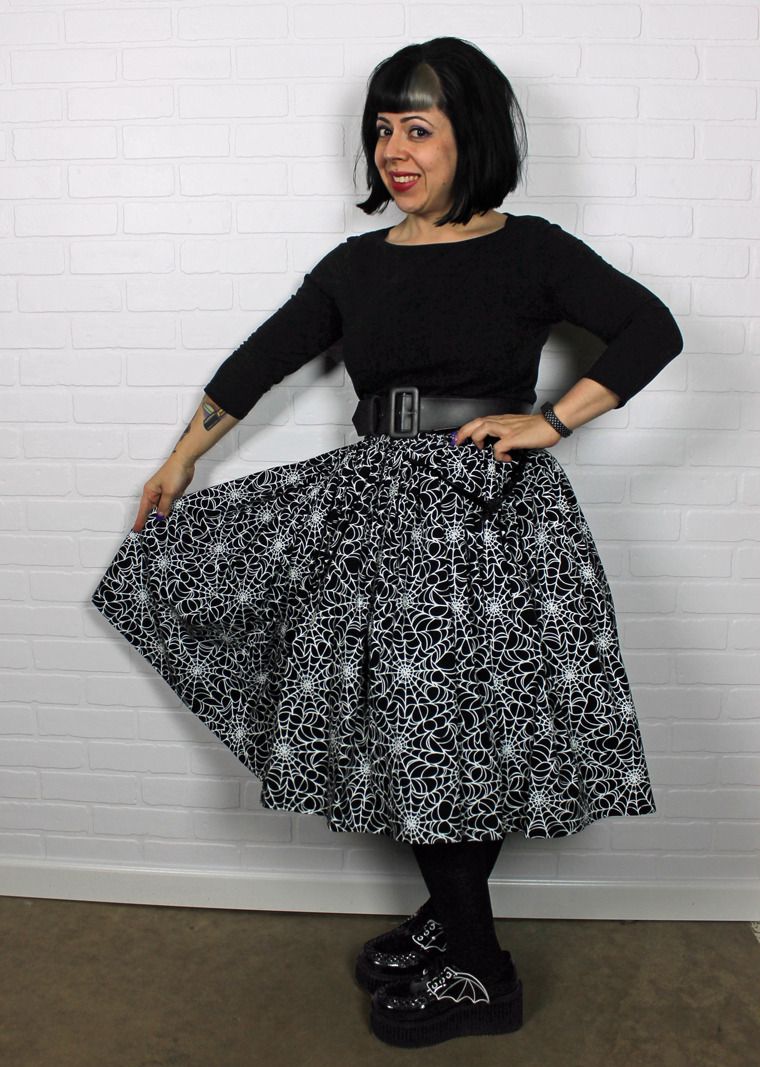 I like that the skirt is actually very "neutral" in the fact that it's black and white, so I could really wear any color top that I want... but I decided to stick with my trusty black on this particular day. And my bat wing Demonia creepers.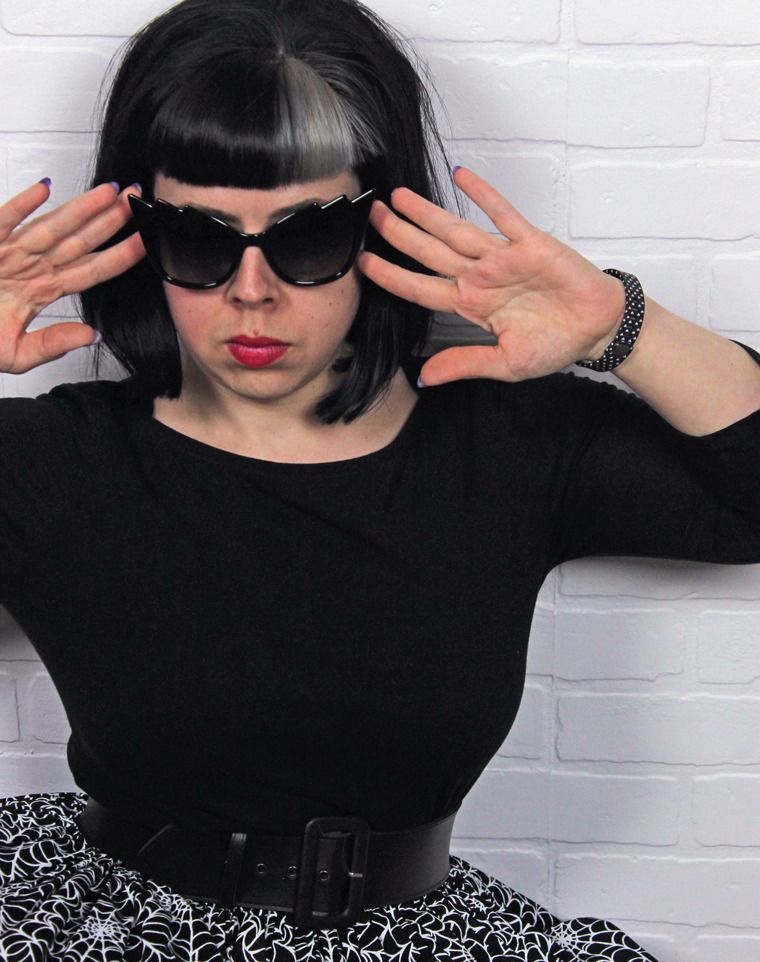 These sunglasses are the best thing
, ever, and they were only $5. FIVE DOLLARS, you guys. I learned about
Sunglass Spot
from
Stina via her YouTube video
and I was all like "OMG I HAVE TO BUY A BUNCH OF SUNGLASSES NOW" after watching it. I bought three pairs, and it was five dollars to ship. So $20 for three pairs of sunglasses that are of equal quality to any "fancier" pairs that I own. Seriously. My favorite thing about this pair (my fave of the bunch) is that they look like bat wings.
Here's a close-up of the spiderweb pattern: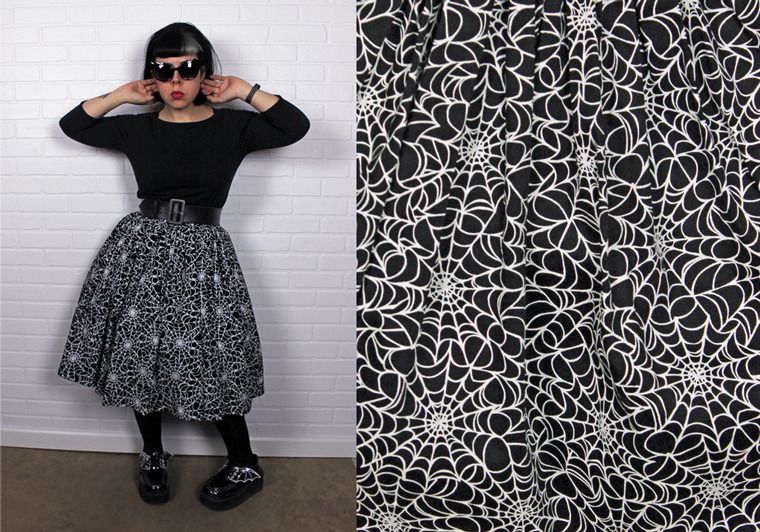 It's probably hard to tell from these photos, but my bat wing creepers are actually black GLITTER creepers, so bonus cool points.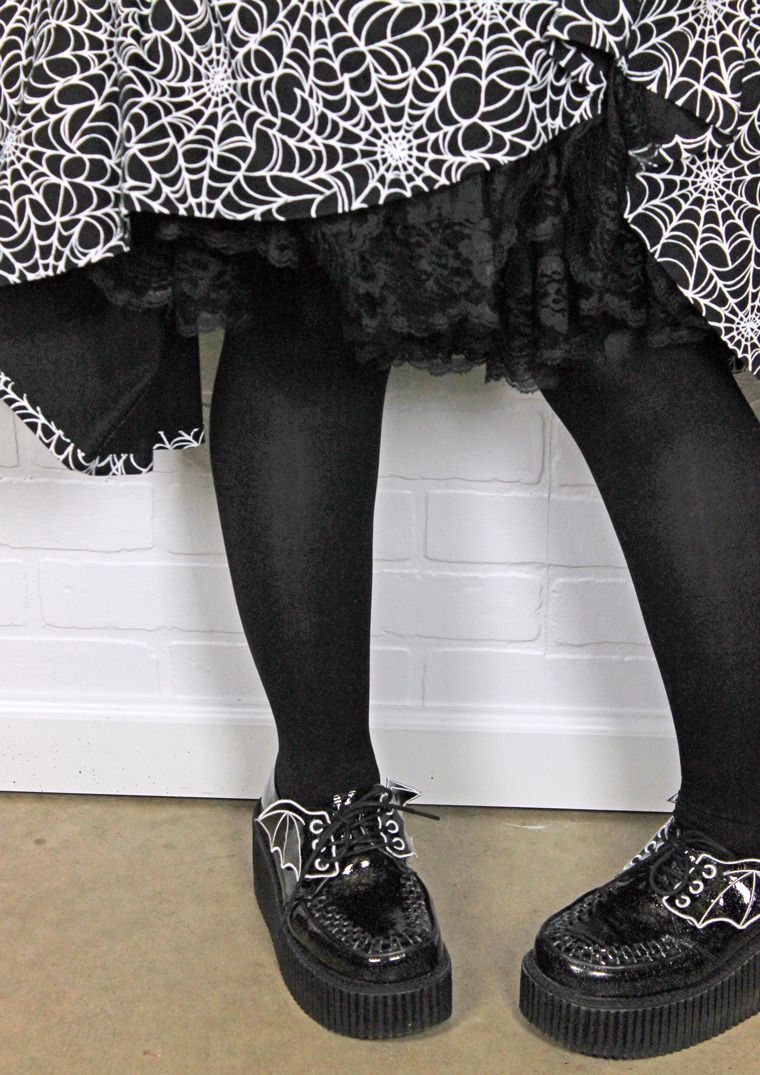 In the future, I could also pair this skirt with pretty much any color crinoline that I wanted to, too, but today = black.
Maybe next time?
How would you style this skirt besides wearing all-black like me? What other colors would you pick?
Rock On,
Jen @ Hell Razor