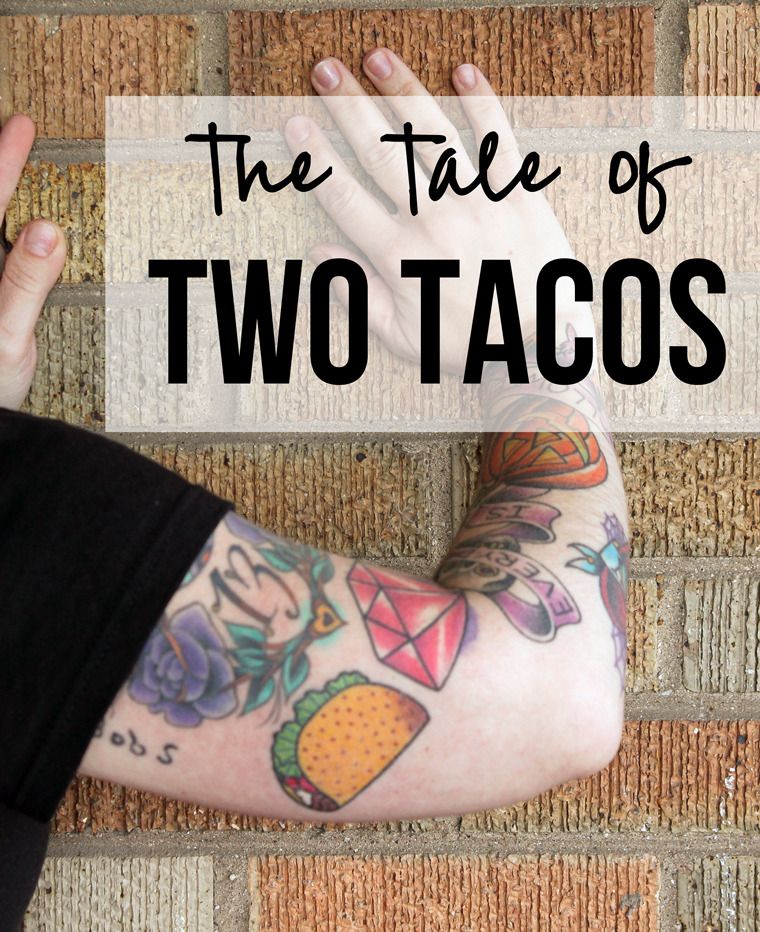 Bet you didn't know that Betties N Brimstone have a theme song... it's been a thing for a while now, and now it's extra official in the form of taco tattoos! Check it out below:
The full story: Steph and I were in the car with my husband on the way to a friend's baby shower. My husband was playing a playlist made by a friend of his, and it randomly included the song "Two Tacos" by Felix and His Guitar. Well, we were mesmerized by it. It's a fun song, a silly song, but with a swingy rockabilly vintage-y type of feel that we also love. AND it's about tacos. So score.
In the time after that, it's become a tradition to play "Two Tacos" anytime Steph and I are out and we need a pick-me-up, particularly at vendor events when things are slow. I pull up the song, play it on my phone, and we dance. We also will
hashtag our photos together #twotacos
on IG...
The other half of this story is that we've also made an unofficial tradition of going out for tacos after said vendor events. And other times, too, because tacos are awesome. So when the idea came up to get matching "friend" tattoos, what else could we possibly get but TACOS? Of course.
pics taken immediately after our tattoos were done!
These sweet tiny cute taco tattoos were done by
Jen Trok
at
Speakeasy Tattoos in Chicago
. About three years ago, Steph did
an interview with Jen right here on the BnB blog
! I'm glad that I finally got to have some work done by her, because she's super talented. It was really fun to hang out and talk, too!
Now that our tattoos are more healed, you can see them a little better in the photos above.
I love the idea of friend tattoos! I have another appointment scheduled soon with my derby wife, Megan, for roller skates! Have you gotten a friend tattoo? What are your thoughts on it?
Rock On,
Jen @ Hell Razor