shoes - Demonia / tights - Target / shirt - Target / belt - Pinup Girl Clothing / brooch - Erstwilder / sunglasses - SunglassSpot.com / skirt - DIY
I am super excited to show you this skirt that I made! It was (of course) a project that I thought would be simple, but turned out to be quite involved. However, I really love the end result, and it was worth all of the work!
I had bought this awesome pink dress with all over bat print via Poshmark: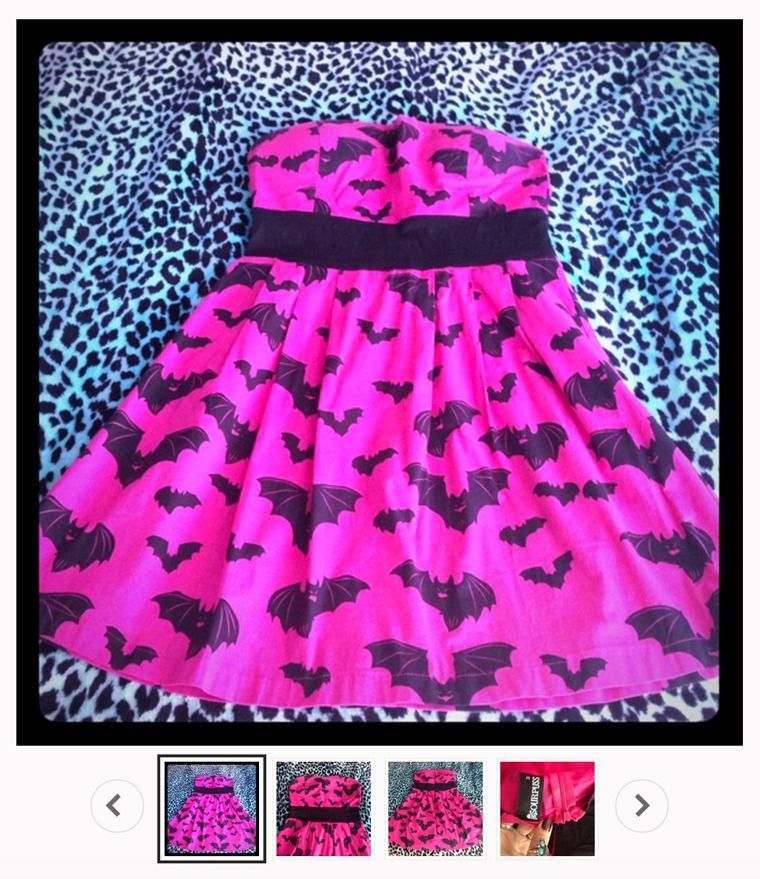 It was super cute, and it even fit! But it was strapless, so the top was not awesome, and the skirt was a-line (not circle), and shorrrrrrrrt.
So, I'd tackled a too-short skirt before, and figured I could just sew a few inches to the bottom. But then I also decided to fix the "not circle skirt" issue by adding triangle panels of black fabric. Simple, yes? Ahhh... no.
I ended up having to disassemble the pink dress completely (separate the top from the skirt, then seam rip all of the skirt panels, including the hem) so that I had four panels of pink bat rectangular fabric.
I then took another complete skirt in black (I bought a large black circle skirt-ish design from the thrift store in a fabric weight that I liked and thought would pair well), and also took that apart completely.
I loosely used
this tutorial from Annika Victoria
to get my pattern created:
...and then I assembled four equal panels by piecing together my black fabric and my pink bat fabric.
Then, I connected my four panels to make a circle. To create a waistband, I used black elastic from a thrifted belt, and used the same DIY skirt method I showed in my
slip to skirt tutorial
.
Then I just had to hem it all. Surprisingly, once I got the four panels cut and pieced out, the sewing went remarkably fast!
The sewing on my waistband is actually super janky, not straight at all, but I wear belts over the waistbands of my skirts anyways, so you'll never see. :)
I am wearing this skirt with a black petticoat underneath, and as you can see in the photos, the pink fabric is kind of prone to wrinkling (I did iron it, I swear! - But this is after coming home from work all day).
It was fun to tell people that I made my skirt when they commented on it. Now I'm hooked though - I want to make ALL THE SKIRTS! I've been stalking my local thrift store for some awesome cartoon bedsheets for my next skirt project. No luck yet, but fingers crossed it'll be soon!
I'm also wearing my favorite
Erstwilder
Halloween bat in this OOTD, but I had a hard time getting a close up while I was wearing it, so here you go, on its own. If you own this particular pin, you'll understand what I mean when I say that the pin location on the back is weird. The pin doesn't hang quite right. I fixed it by gluing a pin post to the back of the wing using
E-6000 glue
, and now it's perfect!
Erstwilder has
another bat brooch
that I really want but I haven't pulled the trigger on it yet, and there's another Halloween brooch that is on my "unicorn" wish list (it can't be found anywhere!) called "Cara the Halloween Kitty" that I hope to someday find... what Erstwilder brooches are on your wish list?
Rock On,
Jen @ Hell Razor