So my derby teammate, Smashus Clay, has chickens. Because chickens. So that means that she has a lot of eggs, and she gives them people when she's overrun with them. Conversations with her will naturally turn to eggs every so often, and the latest was all about how food tends to taste better if you put an egg on it.
This got me kind of on a new obsession of putting an egg on everything. Which is good for me, because bonus protein is something that I need. Now my personal challenge is to find new things to put eggs on. And thus this list of things that are good with eggs on them was born:
Leftover Mexican food. Rice? Beans? Taco filling? Burrito half? Fajita veggies? Yes. just warm that stuff up, and put an egg on top. I like to do over-easy eggs because runny yolks coating my food are delicious.
Burger patties. I use Boca/veggie patties, of course. Bonus of you have a slice of cheese melted on top. Now, an egg right on your burger between the buns is good, but also you could make a patty with cheese and slap it right on your plate with an egg on top. Fried eggs are awesome for this.
Leftover fried rice, stir fry, or other take-out. Ok, so fried rice already has eggs in it, but if you put it on a plate and put a whole egg on top, it goes from side dish to whole meal. Bonus points for hot sauce or sriracha.
A BLT. Technically now a BELT, eh, whatever, it's like a breakfast sandwich of deliciousness. And yes, I make fake bacon for BLTs and it's awesome. I also like avocado on my BLTs, too.
Tuna salad. For this one, use hard-boiled eggs. Chop them up and add to your already made tuna salad. Then it's like a tuna-egg salad hybrid. And super yummy.
Any kind of vegetables, in general - especially the leftover kind. Grilled or sauteed, pretty much any kind of cooked veggies are awesome when combined with egg. If scrambled, think omelet, maybe add some cheese. Otherwise, warm up your veggies and plop a cooked egg (your choice of style) on top.
The "Bowl of Stuff" concept. I've written about this long ago, and it's not my invention (see Natalie at Bake and Destroy), and Natalie is a vegan so this egg concept isn't something she'd endorse, but I do think that if you are non-vegan, this would be delicious.
Shredded brussels sprouts + beans, aka brussels sprouts tacos. Another concept I utilize via the Bake and Destroy blog, I regularly cook shredded brussels sprouts with black beans and some taco seasoning. But I also discovered that cooking up an egg in the middle of it is a delicious option to the taco format. Again, not vegan, but inspired by vegan roots? Is that a thing?
Kale? Yep. Check this out here.
Baked potatoes. Have you ever had a baked potato as a main course for dinner? I have, and it's pretty flippin' sweet. Take it up a notch by adding an egg on top. Mmmm.
Egg pizza? Don't knock it til you try it. Here's one version. And another.
Risotto. I like that risotto is typically a side dish, but that you can entree-ify it by adding a dang egg on top. I'm not a super talented cook, so I'll buy my risotto frozen from Trader Joe's (like the mushroom or asparagus kind) and use that as a base.
Pita bread + avocado. You could also do this with toast or fancy bread, making it avocado toast + egg = yum. Here's a version you might like.
Quinoa. You know I love this stuff! I make quinoa fried rice for dinner (with leftovers as seen in my Bento report), and overnight breakfast quinoa. So if there's leftovers from another recipe, just pop an egg on top of it, and ta-da! Meal.
Grilled cheese sandwich. Oh man, yes. Iggy is going through a grilled cheese/quesadilla phase right now, so it's super easy to make one for myself as long as I'm making one for him. Might as well just use the same pan after the sandwich to cook an egg and put it on top. Just eat with a knife + fork, and it's all good.
Salads. Hard boiled eggs, people. It's always a bin at the salad bar, but we often forget while at home that this is a super yum way to add protein to a bowl of lettuce.
Stuffed peppers. I made this kind for dinner a few weeks ago (but with faux ground beef), and they were soooo good. I made enough to freeze and have two more dinners, actually. Now I'm thinking about making them again but this time with, of course, an egg on top.
(Faux) BBQ meats: there are many kinds of this, like "riblet"-esque sandwich style, or shredded style, or chunks of faux pork... they'd all be good with an egg up on it.
Spaghetti. Ok, so I haven't actually tried this one (I have pasta issues w/carbs and my weight-loss surgery), but it sounds uh-maz-ing. Knowing myself, I'd probably eat it every day if I could.
Waffles! Ok, so this is a little more breakfast-y than the others, but why not use waffles (heck even the frozen toaster kind!) as a base for an egg and make it your lunch or dinner. Typically we think of waffles as a base for something sweet, but it could just as easily become savory.
Ramen. I used to eat this all the time. As you're cooking your ramen, scramble up an egg in a bowl, and pour it into the broth so that it cooks in there. I'd also toss drained canned tuna in a bowl of ramen, too. Double protein!
Hamburger Helper/Tuna Helper. I actually will make hamburger helper, but with faux ground beef. Hey, sometimes you've gotta make your family dinner on the cheap. No shame. But if you have leftovers... try it with an egg on top! Now you feel fancy.
Biscuits/dinner rolls. Those kind in the refrigerated tubes at the grocery store. They're fun to pop. And you're probably already looking for an excuse to make them anyways. Or, you're lucky enough to have leftover ones from a family dinner or gathering. You can repurpose them into a meal by adding an egg. Oh yeah.
Chili. Chili is always good, especially in leftover form, but next time try it with an egg! My meatless chili recipe can be found here.
Pre-made Indian side dish packets. Like these from Tasty-Bite. You can find them at Trader Joe's or the ethnic food aisle at your local grocery store. Again, they are delicious on their own, but adding that egg can make it a meal.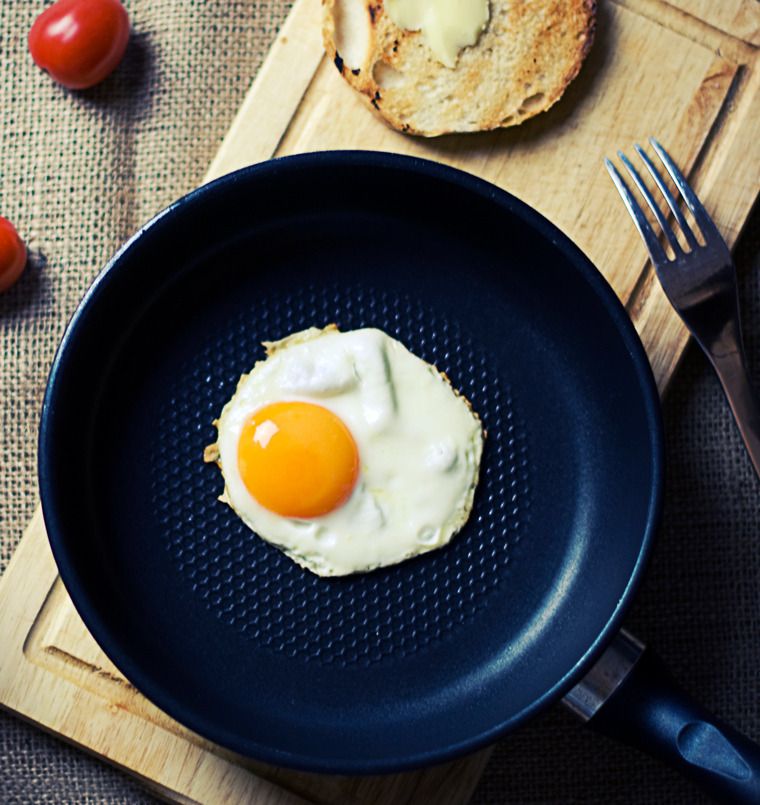 So, now you're probably needing to go buy some eggs, but since it's springtime, you're in luck, as they're typically on sale this time of year! Do you have any ideas this list is missing? Let me know!
Rock On,
Jen @ Hell Razor