dress - Pinup Girl Clothing / shoes - TUK via Modcloth / tights - idk? / cardigan - thrifted / necklace - Baccurelli / petticoat - Malco Modes (via eBay) / lips - OCC Lip Tar in Nylon
I lucked out a couple of weeks ago, Pinup Girl Clothing was having a 20% off sale, and I also had a 15% off code... so I bought a couple of dresses, naturally, including
this Amanda dress
in black and pink. I actually don't have a ton of pink dresses, even though I like pink, so this was a good piece to fill in some missing gaps in my wardrobe.
I had forgotten that since this was part of the Junebugs and Georgia Peaches Collection, it is a slightly shorter length. That was an awesome pleasant surprise when it came in and I tried it on, since that means not having to take it to the tailors - I could just wear it right away. Yay!
I also own the
Dee Dee Dress
in mint with black pin dots from this collection, and the length is also awesome there (don't think I've photographed it for the blog yet, so I'll put that on my to-do list!).
Although I love the dress as-is, short-sleeved, it is mega cold most days so I know that I had to have a sweater over it, but I don't have a pink cropped sweater in the right shade of pink (it's such a weird color to match!) - I have one that's too orange, and one that's too red. So I had to go with my "regular" length cardigan, which works just okay - I'd rather have a short version. Or next time pair it with a different color on top. Which is totally do-able.
The pink top of the dress provided the perfect backdrop for my
Baccurelli Lily Munster
necklace: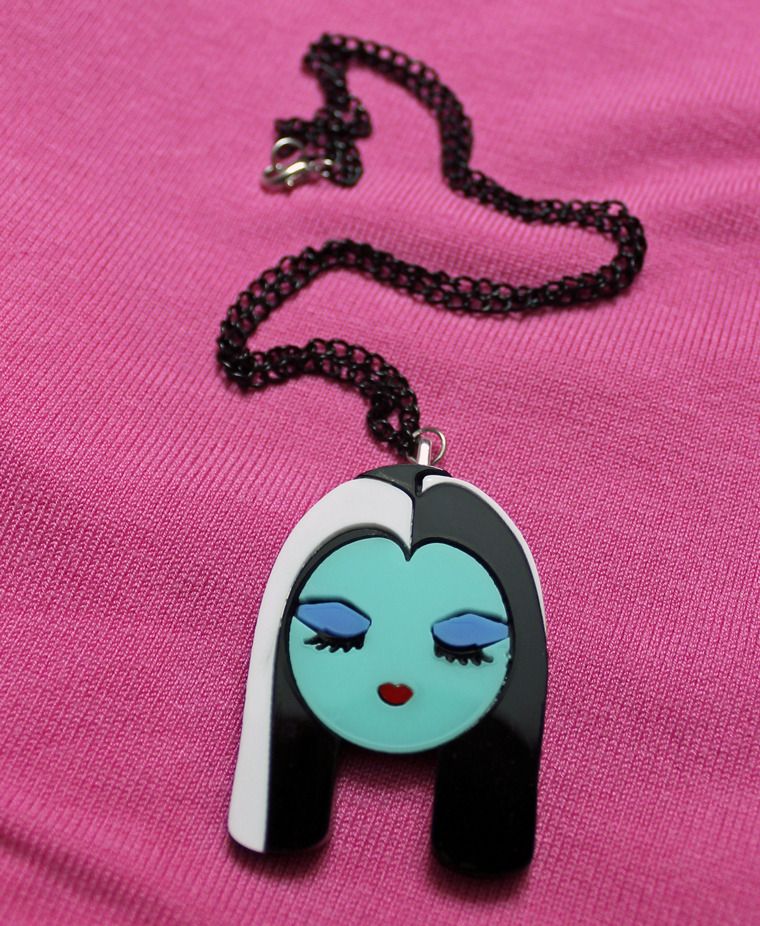 The only issue I have is that it flips on me occasionally, despite my best efforts. See below:
In keeping with the pink theme, I wore my pink petticoat under this dress, and just for fun, paired the whole ensemble with my donut shoes:
I got
these shoes on super sale from ModCloth
. They're TUK brand, and not super comfortable. I'm hoping that's because they're new. I've actually been having issues with a lot of my shoes lately not being very comfy. I actually purchased a pair of platform creepers today because I figured they'd be more comfy, as they're "flats," as opposed to my small-heeled shoes.
Any advice for breaking in shoes quickly?
Rock On,
Jen @ Hell Razor