Happy (late) Valentine's Day! I thought I'd share this OOTD today since it features my
super sweet heart-shaped glasses from Zenni Optical
. When I first saw super inexpensive PRESCRIPTION heart-shaped glasses I was all like "ok those are cool, but I don't need them..." and I was able to resist... for a little bit.
Then my fear of missing out got the best of me (what if they're only for Valentine's day, and they don't come back after this year, and then I wish forever that I had bought them when I saw them and they were so affordable?!!!) and I caved and bought them.
No regrets though, they're super awesome. They actually are offered in black, red, or white, but of course goth girls need black. And it goes with everything.
So, this outfit looks like one that I would wear any other day (and I totally would), but it was spirit day at school and the day was to wear all black! Woo hoo! So right up my alley. I wore my
Pinup Girl Clothing Jenny dress
with my Hell Bunny ouija cardigan (technically, my Hell Bunny cardigans are too big and I should have a size smaller, but I ain't giving them up) and a super awesome skull cherries necklace from
Luxulite
's Halloween collection.
I seriously love all things ouija-related. Things I own so far: two ouija brooches, ouija sweater, ouija phone case, ouija lunchbox, ouija swimsuit, ouija dress... it's a whole thing.
It's interesting how my fashion preferences adjust ever so slightly over time. I keep coming back to all-black everything, no matter what the style. So I may be totally in love with the circle skirt/petticoat/fit-n-flare 50's silhouette right now, but I love it in the all-black and Halloween-y theme the best.
My new favorite thing is
these bat creepers from Demonia
. I ended up buying them full price after searching to find them on sale anywhere else and had failed. Still absolutely worth full price. Available
via Amazon
!
I can't believe that these are my first-ever pair of creepers - why did I wait so long?! Now I want them in ALL THE STYLES. It's like the comfort of flats, with a goth style, and platforms for shorty girls like me! You can't miss! I'll for sure be on the eye out for more in the future.
Here's the Jenny dress sans cardigan. It's a spaghetti strap deal, and the torso is a little long on me, so I disguise it with the wide belt. Seems to work ok, but I am considering de-boning the dress (oh yeah it has boning in the torso) to see if it lays a little nicer on me. Because I'm short torso, the boning gets pushed upwards by my hips and it's slightly awkward. Not enough to stop me from wearing it though.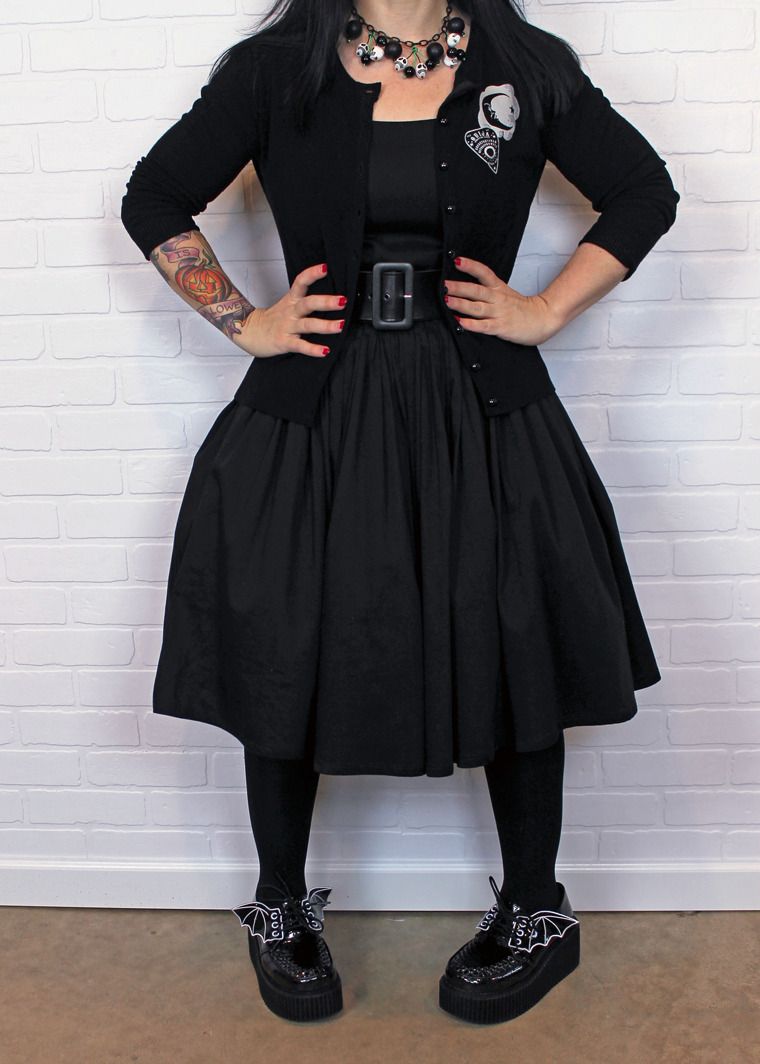 I am hopeful that soon we will be out of static electricity season and my petticoats will lay normal and stop acting like a jerk under my skirts. Ughhhh.
Rock On,
Jen @ Hell Razor