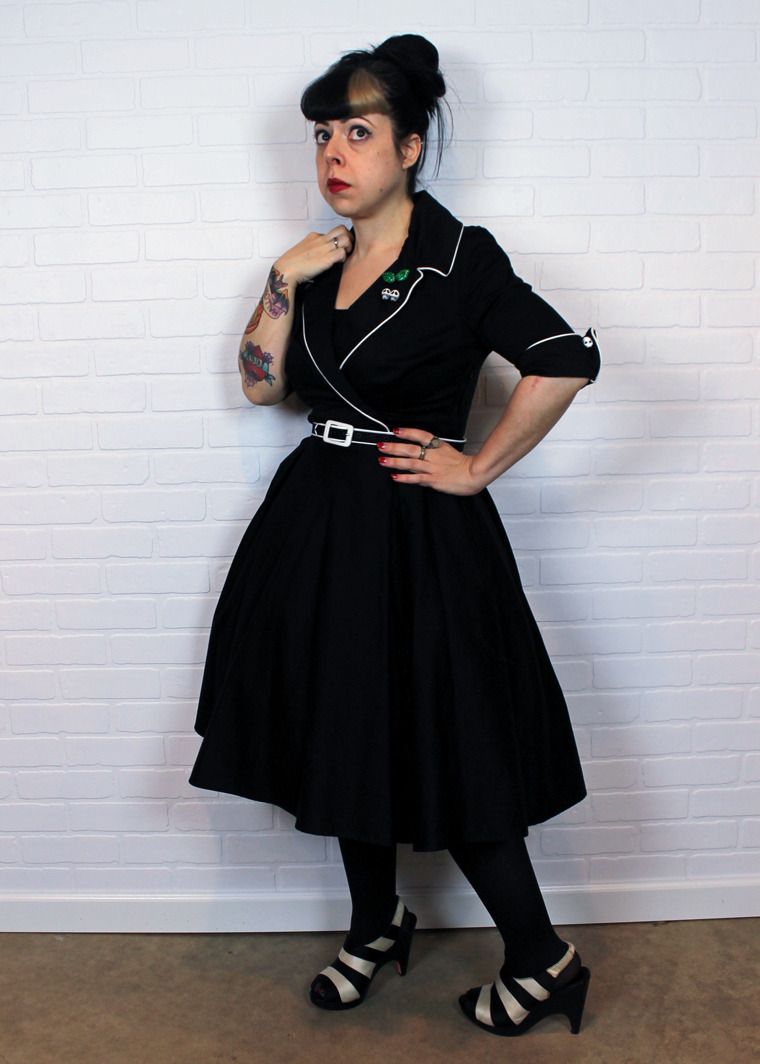 shoes - Alice + Olivia for Payless (via Poshmark) / tights - idk??? / dress - Pinup Girl Clothing / brooch - Luxulite / petticoat - Malco Modes
So, I have a bunch of dresses that aren't "new" (meaning I've had them for a while and just not photographed them as OOTD posts for the blog)... well, some literally aren't new because I purchased them in like-new or EUC (excellent used condition) from other buyers. But I want to make sure that I document them here. My black
Haunted Housewife dress from Pinup Girl Clothing
is one of those dresses. I've had it for a while, worn it several times, but just never got around to photographing it.
I seriously LOVE this dress. It mixes both of my favorite styles: pinup/rockabilly and goth. (By the way, I totally need PUG to get me an affiliate/referral account since I wear their stuff so much and people are always asking me in-person where I get my stuff, LOL!)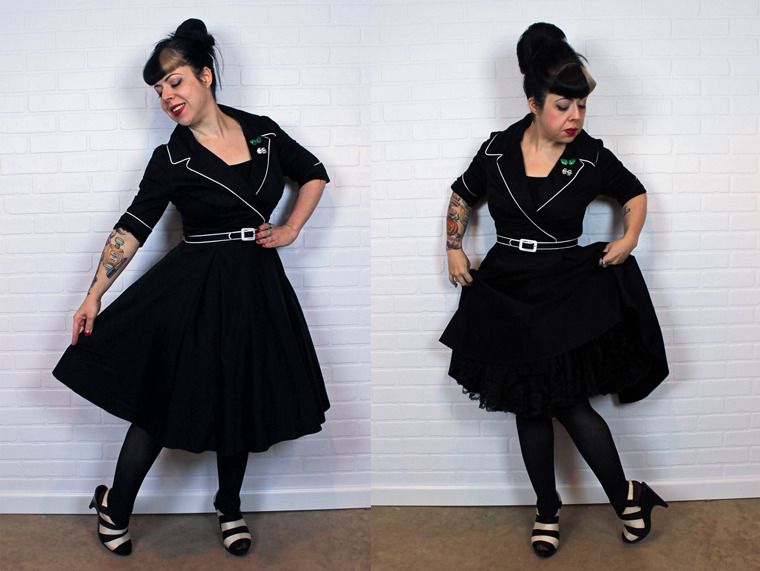 I wore this dress to a teacher institute day. Seemed professional enough - not as kooky as a novelty print, but still very true to my style. Sometimes when I wear my novelty prints to work, I'm good all day (eh, people are used to it), but then I stop somewhere out in public on my way home and I become hyper-aware that I kind of stick out like a sore thumb. People will actually comment on it. Despite my general appearance and the fact that I post photos of myself on the internet and discuss said appearance in depth, in person I'm totally socially awkward to the point where I know I can come across as awkward and aloof and even snotty. It's not intentional, I swear. It's just super self-conscious and hyper-aware, especially when people point out my appearance... I have trouble taking a compliment... ughh I swear I wish I was more naturally outgoing and friendly in person, I just have a lot of trouble doing it and it often comes out all wrong.
None of this is an excuse to not be friendly or outgoing. It doesn't make my awkwardness or pseudo-aloofness ok by any means. It's an attempt to explain why I might give off the wrong impression, but also an admittance that I am aware of and need to work on it. And I am. Baby steps.
So, enough self-help small talk.
I recommend sizing down on this dress, particularly if you are on the cusp of two sizes. I originally bought the red version of this dress a size larger and I was convinced that it wasn't for me, I just didn't look good in the particular style. But when the chance came to snag it a size smaller in black (my fave!), I did just on a whim and I'm so glad that I did!
It's a faux wrap-style with a side zip and a separate belt. The neckline is super low cut, so I actually have a black stretchy tank/camisole on underneath. So unless you want to give a free show, wear a thing underneath.
OMG - shoes! If these shoes look familiar, it's because they're
these
(and
these
) shoes... except they're NOT those shoes, they're the same shoes a 1/2 size smaller because I found them on Poshmark for a steal! Woo hoo! Now I can sell the too-big size 9's i
n my own Poshmark closet
. Have you noticed that I love shopping on Poshmark? I sell so much of my own stuff, and then turn the profit around to buy cool stuff in return! You can
sign up for Poshmark and use my code
:
PMSHD
and we'll both earn $$$ in bonus Poshmark credits. Sweeeeet.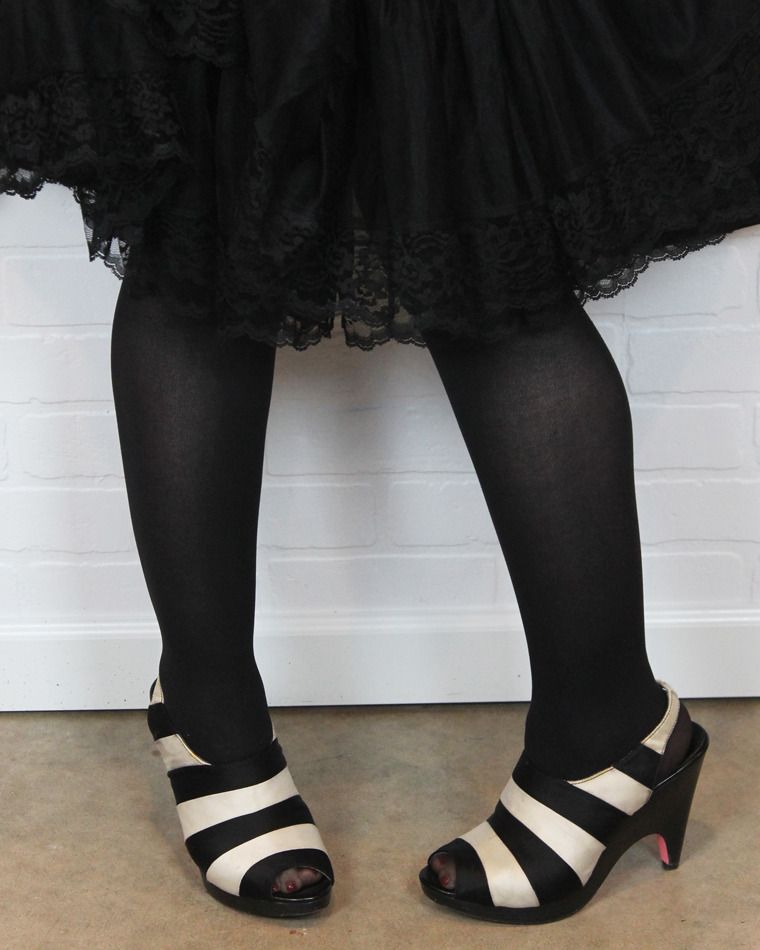 Alice and Olivia for Payless (these are from Spring 2010) is an awesome collection. In fact, I love when designers do collaborations for lower-budget minded folks, like
the Anna Sui shoes
I also snagged on Poshmark.
Speaking of Anna Sui, have you seen her
collab with Starbucks
? I was like SHUT UP AND TAKE MY MONEY! Fortunately, I got an email the day it came out, so I bought all the things except the bag, which was already sold out. But then my OCD grew and I got one via eBay for a reasonable price before they all shot up like crazy.
I took a couple of closer-up detail shots so you can see the awesome skull cufflink-like buttons on the sleeves of the Haunted Housewife dress, which I paired with a skull cherries brooch from
Luxulite
, one of my favorite brooch makers! There's a
Valentine's collection out now
and I'm desperately trying to resist... I've gotta get the shopping under control. Even though I'm a pretty good shopper and I can get stuff at decent prices, there comes time when I need to rein it all in, you know?
Have you gotten any awesome shopping deals lately? What do you do to resist the temptation to buy ALL the things?
Rock On,
Jen @ Hell Razor