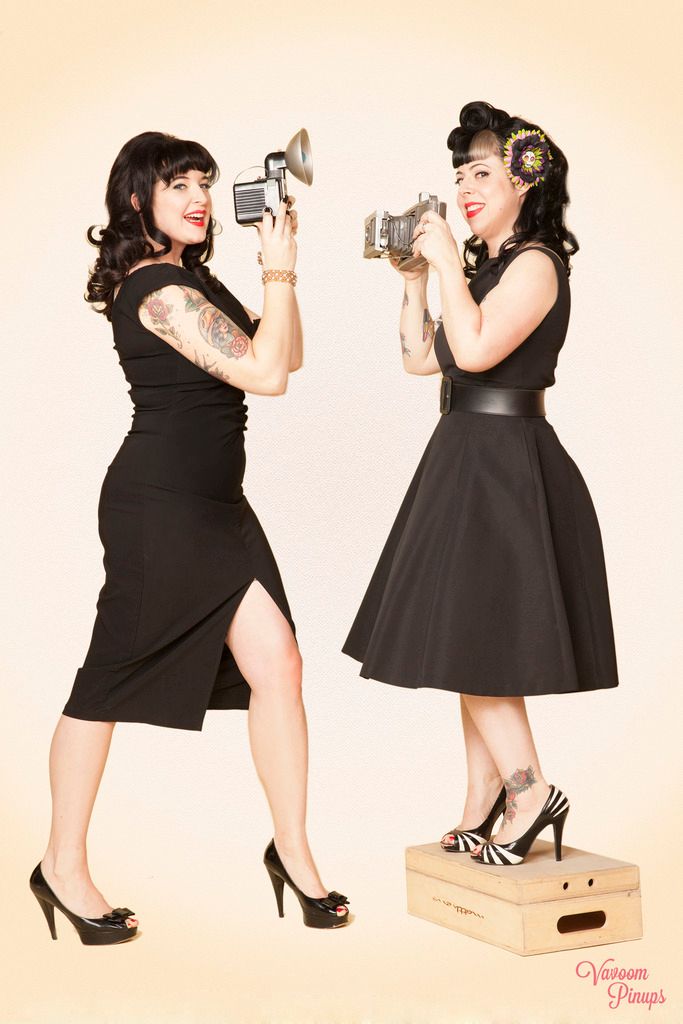 Have you noticed our new sidebar profile pic on the blog? It's from a photo shoot that Steph and I did with
Vavoom Pinups
in Chicago!
I'm a total home-body, so I rely on Steph to randomly text me with plans like "Hey wanna do a pinup photo shoot with me?" and I'm all "Heck yes!" and then it happens. This is pretty much how it happened
the first time
, too.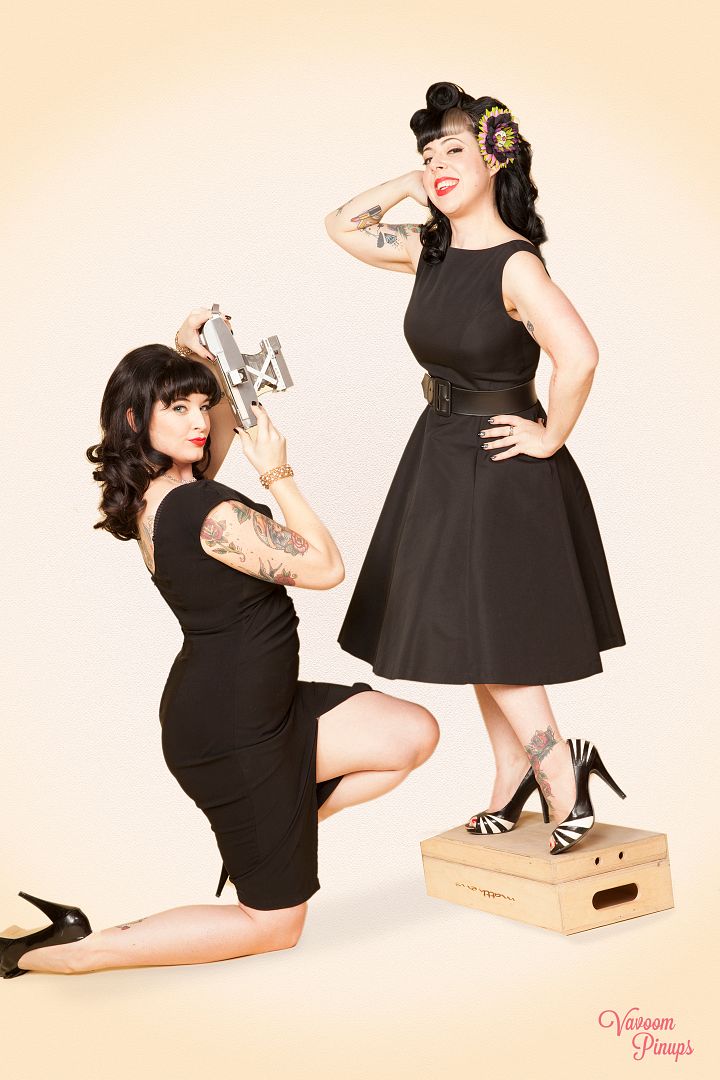 At Vavoom, you head over to their studio space, and you spend the whole day getting all prettified. You get to hang out in silky robes (no men allowed!) and have girl talk and eat snacks. Then you get to choose your looks. Steph and I each had two looks, plus a quick few shots together, which you can see above.
The pose coaching at Vavoom is totally amazing. When I saw my final pictures I was shocked at how good I could look! I swear it was almost like it wasn't even me... but it WAS me! I learned about stuff like how to shift my weight, bent or point a leg, or turn an arm that might feel totally unnatural in reality, but look awesome in photos.
The black dress above was actually from the wardrobe at Vavoom, as were all of the shoes that I wore. I loved this dress so much (it's Isaac Mizrahi for Target!) that I've been stalking eBay and other resale sites to find it in my size (I need an 8, by the way, if you happen to come across one...!) so that I have my own.
Not only is the wardrobe at Vavoom awesome, the hair and makeup were amazing as well! I've always wanted to do victory rolls for a shoot (yeah, I know, it's so obvious, but I LOVE the look so much), and I've only ever had them
when we renewed our vows in Vegas a couple of summers back
.
Side note: that Vegas trip was about one month prior to my surgery. It's amazing to see the difference!
I really wanted to go for a goth pinup theme in my shoot, so I picked my favorite Pinup Girl Clothing spiderweb print Heidi dress to wear. There wasn't much in the way of Halloween props at the studio (hey, it was January...), so we messed around with other options, like this netting that had a web-like effect: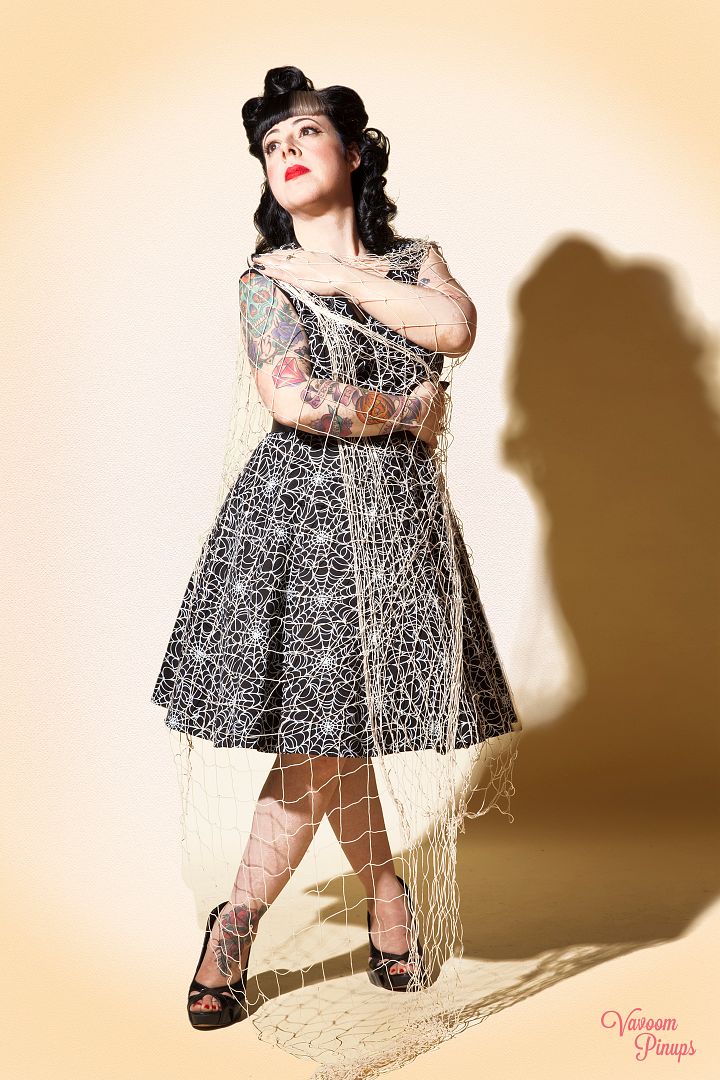 I also shot with some faux pumpkins, but those shots didn't make the final cut. There were SO many great shots to choose from, it was really hard to pick my favorites!
I ended up purchasing a deck of printed cards, which gives you 15 different photos of your choice, plus the digital files. The first thing people ask is how much this costs. It's not cheap, I can tell you that for sure. The shoot itself is one price... then you see your photos and fall in love with them, and then you'll need to buy products after that. One tip is to watch for special deals and packages through the studio throughout the year.
Is it worth it? Yep! Treat yourself.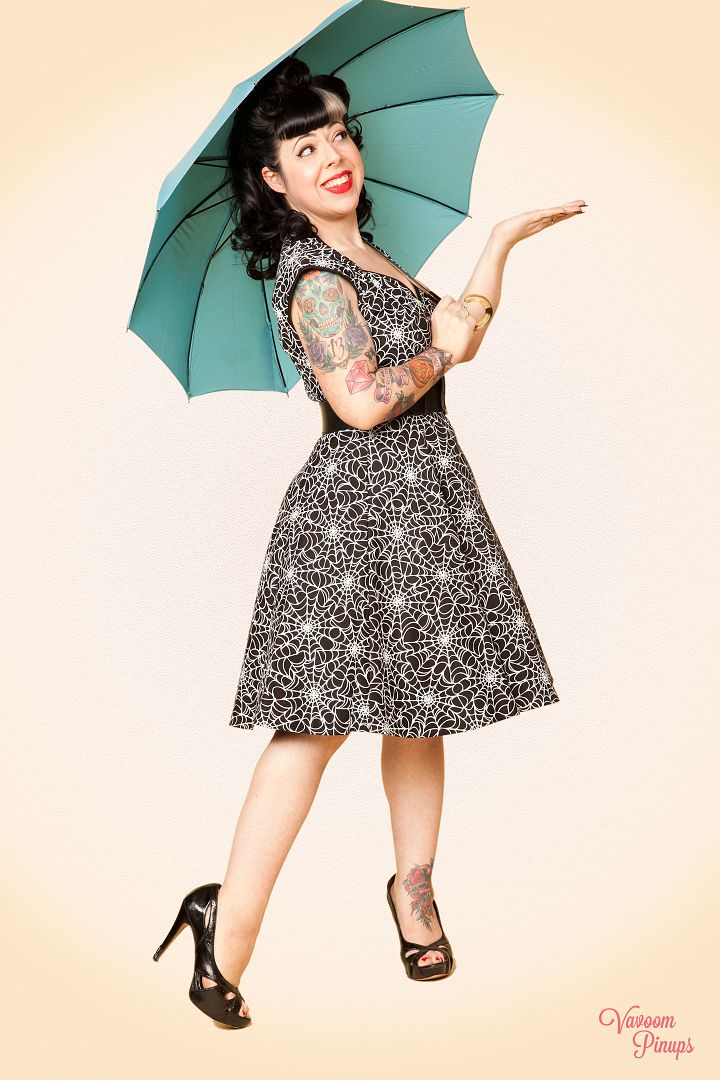 Unfortunately, the price will prohibit me from doing this again for quite a while (I've gotta save up some more money!), but I've already got ideas for the future!
I'd love to do a shoot including my tiny dog, Dio, and shoot photos in some of my vintage-looking eyeglasses. I'd also love to participate in a real Halloween shoot - like a witch on a broom theme, or a giant spider! I've got some goth parasols that would look great in a Halloween theme, too.
Vavoom Pinups
are located at 724 W. Hubbard St. in Chicago. You can contact them
via their website for more info or to book a shoot
!
Rock On,
Jen @ Hell Razor