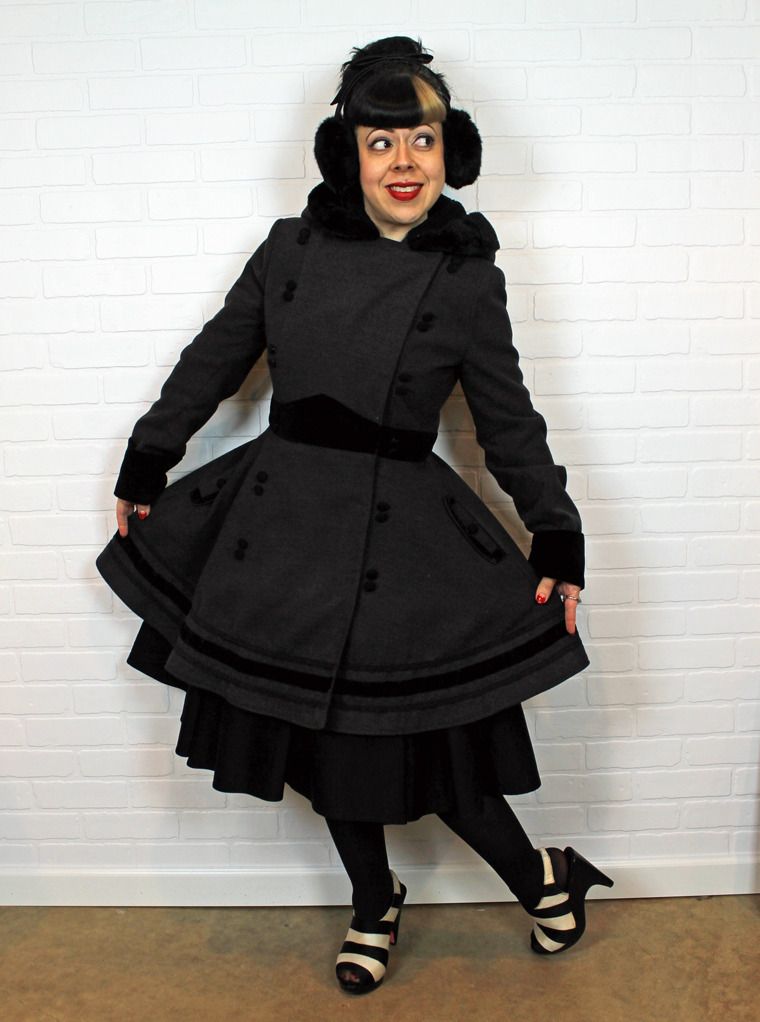 coat - Hell Bunny / shoes - Alica + Olivia for Payless (via Poshmark) / earmuffs - Kate Spade / tights - idk? / dress - Pinup Girl Clothing
Last year, I had an awesome military-style coat from Hell Bunny, the
Imma
. I was in love with it, but it was too big for me this year, and I needed to find something new. I decided to do a bunch of research first, and to find something that would fit all of my needs. Enter the
Hell Bunny Sofia Coat
!
I had a few requirements:
A hood! My last coat didn't have one, and I wanted one for rain/snow, or super angry cold days.
Not a tie-back/corset back. The Imma had a corset back, and I didn't love it.
Suitable for fitting over circle skirts with petticoats.
Length suitable for petite ladies (I'm 5'1").
Easy to close/take on and off. That meant I wasn't nuts about extra stuff, like belts. Too much work.
Looks cute closed or open.
Awesome retro/pinup style.
I also didn't want to spend too much. I know Hell Bunny would probably run me $100+, so I
watched eBay relentlessly
once I selected the coat I thought that I wanted. I also kept an eye out for my favorite retailers that sell Hell Bunny in case there was a sale/clearance. I ended up buying via eBay from an individual seller, and I got a great price, around $80 shipped. Woo hoo!
Here's the bad news: I didn't realize that the closures on the Sofia coat are small elastic bands that go around the groups of two tiny buttons down the front. Ughhh tedious. And then, to add insult to injury, the elastics started pulling out less than a month after getting the coat. Whomp whomp. However, I was able to easily and elegantly remedy this and IMPROVE upon the coat's design by snagging
some hidden snaps
and taking them to my tailor's to have them sewn on! The tiny elastics were simply snipped off. You can see the snaps in the photos above where the coat is open.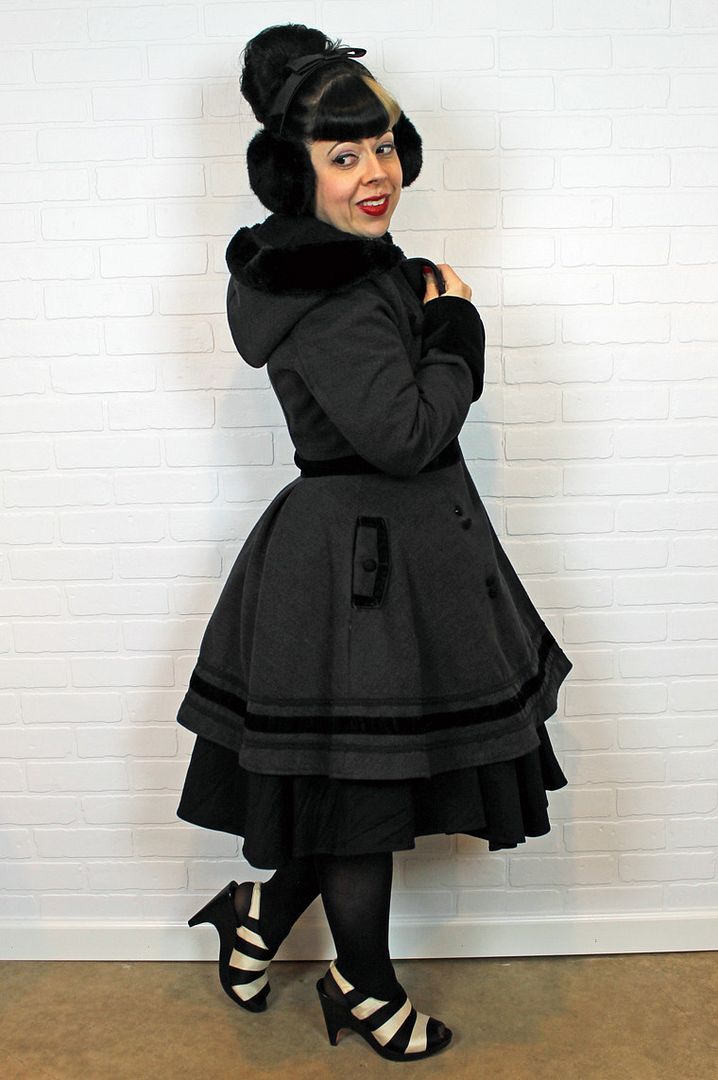 Because I had previously owned a Hell Bunny coat, I was able to make a pretty good guess as to what size I would need this time around. If you're in the market for a Hell Bunny coat, try to find somewhere that carries them (possibly Hot Topic?) and try on a few. Or, find a friend who has one, and try on theirs! I was able to sell my coat (it was seriously in like-new condition) and almost make my money back to pay for this one, so that was good.
Oh yeah, my
earmuffs are Kate Spade
, also snagged via eBay. You just gotta be patient, and good stuff seems to come eventually at a good price. I didn't originally have my heart set on Kate Spade... I wanted some Betsey Johnson earmuffs with a bow on them that I seemed to remember spotting a few years back? But for the life of me, I cannot find them anywhere. Maybe I actually made them up. But in my search for them, I came across these ones, and I love them, too, so that's cool.
Have you ever seen a clothing item or accessory that you've hunted for forever and now suspect that you may have made it up? I surprisingly seem to do this quite a bit, but it often leads to other awesome discoveries, so I guess that's ok in the end, right?
Side note: for full details on the outfit I'm wearing under this coat, see my previous blog post!
Rock On,
Jen @ Hell Razor