I love thrifting. So much so that we usually stop by the thrift store every week on Sundays after breakfast (it's our family ritual). A while back, I decided to start keeping a list on my phone of things that I'd like to purchase via thrifting, so that when I'm out I can have some specific items to keep an eye out for. After all, some thrifting trips are a bust, where others are an amazing fruitful treasure hunt! You never know.
One of the items that sat in my list for many months was a coffee table with metal legs. I'd had this project in my head for a while... I wanted to make a new coffee table for our living room with a rough wooden top, an industrial-type of design feel. Previously, we had one of those giant ottoman-type coffee tables (you can
check it out here
). It was getting kind of old and dinged up, so I knew it'd have to be replaced eventually.
While on one of our weekly thrifting trips, I spotted a wheeled metal coffee table with a thick (slightly chipped) glass top. It was marked $15.
FIFTEEN DOLLARS.
I couldn't believe it. But, I had to convince Todd that this nasty $15 table was actually our dream coffee table. I explained my plan, that we would replace the top with wood, and he went along with it. (This was not my first project where I had a vision and he was cool enough to just go along with it.) I wanted to make it look like a smaller, coffee table version of
our kitchen table
.
We convinced the staff at the thrift store to dispose of the thick chipped glass top for us, since we were paying the full asking price for the table anyways. So that was awesome. Here's what it looked like when we got home:
But now we needed to create a wooden top to fit this frame. Yes, a fancy reclaimed or old barn wood top would be amazing, but some of that stuff is expensive and hard to find! So Todd had an awesome, inexpensive, and effective answer: fence planks from the local home improvement store! They're less than $2 a plank - totally affordable!
Because our table had a thick frame around the top, we took advantage of this design by cutting short planks that fit inside the frame measurement, and long planks the length of the actual table top, which made the top flush to the edges.
Check out the layout for the table top below. You can see the the shorter horizontal planks do not stretch end-to-end, which allows for them to fit snugly inside the top of the table frame, thereby making our tabletop flush with the edges of the table: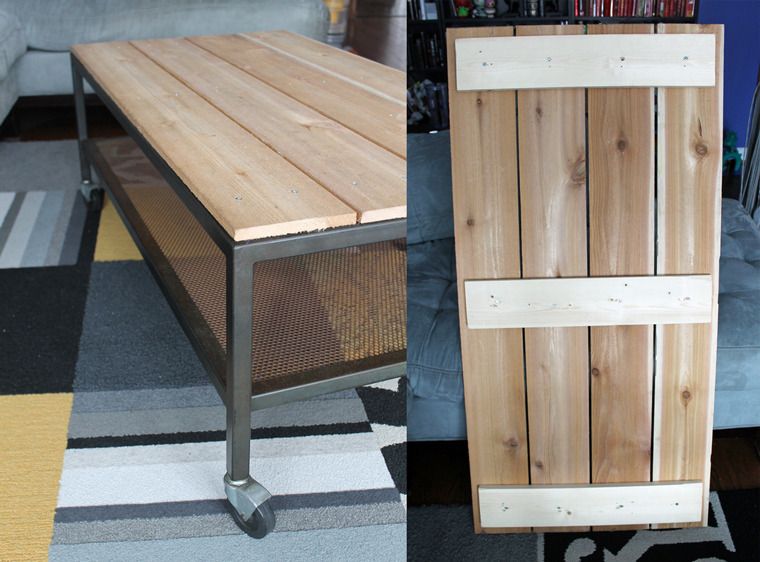 The width of our table worked out awesomely to fit four planks across. If you try this project on your own, you may need to cut down narrower planks on either side, depending on your table base width. The construction, however, once the pieces are cut, is super simple: just a few screws to hold the brace pieces to the long planks, and you're done!
Below, you can see how the bottom bracing planks hold the top together and also hold the top to the table when inset: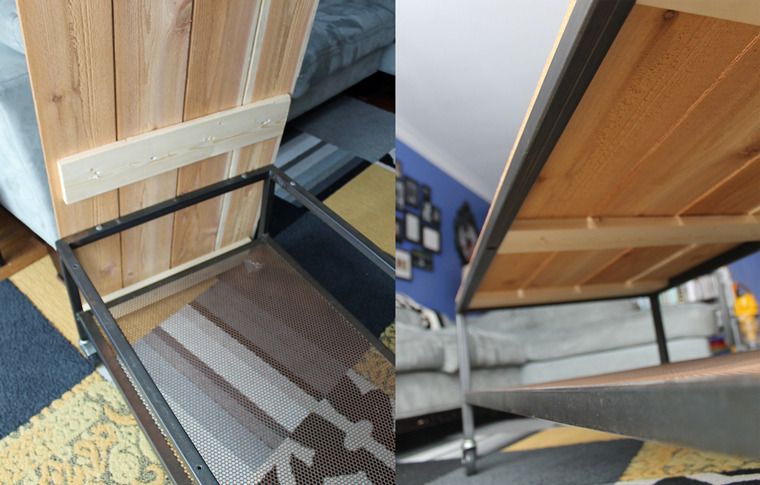 Now, if you found a metal table frame that did not allow for inset planks, you could easily cut long planks to create a top (still using brace pieces), but also add a small wooden "lip" around the bottom edge, which would lock a wooden top into place around the outside edge of the table base. Your tabletop wouldn't be flush with the edges, but instead overlap slightly.
So, it's great and all that I found this cool metal table base via thrifting, but what if you wanted to re-create this look in your own home? Maybe you don't have awesome thrifting luck, or you're more of the instant gratification type? Well, here's a similar idea using an IKEA table set: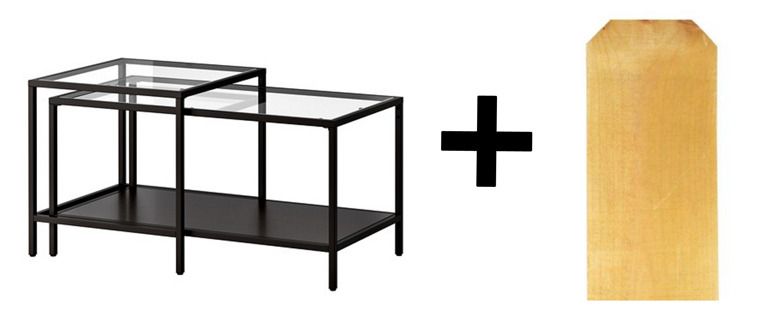 The
IKEA Vittsjo nesting tables
are made with a metal base and glass top, which would allow you to easily replace the top with wooden planks,
like these
, from Home Depot.
If you use the IKEA table set, you'll actually end up with two tables in the end! One longer coffee-table style piece, and one end table for a lamp or some beverages next to a couch or chair. Depending on the length and width of your table, your number of planks needed will vary. Also allow for trimming off the top "dog ear" end of your plank in order to have even pieces.
I'm super proud of this furniture piece in our home. We were able to recycle another old, ugly table into this sweet modern industrial design for next to nothing!
Bonus: our old ottoman table was an easy donation back to the same thrift store that we picked up this table from the following week. So another family now can enjoy our former coffee table while we enjoy our "new" one! Win win!
Rock On,
Jen @ Hell Razor