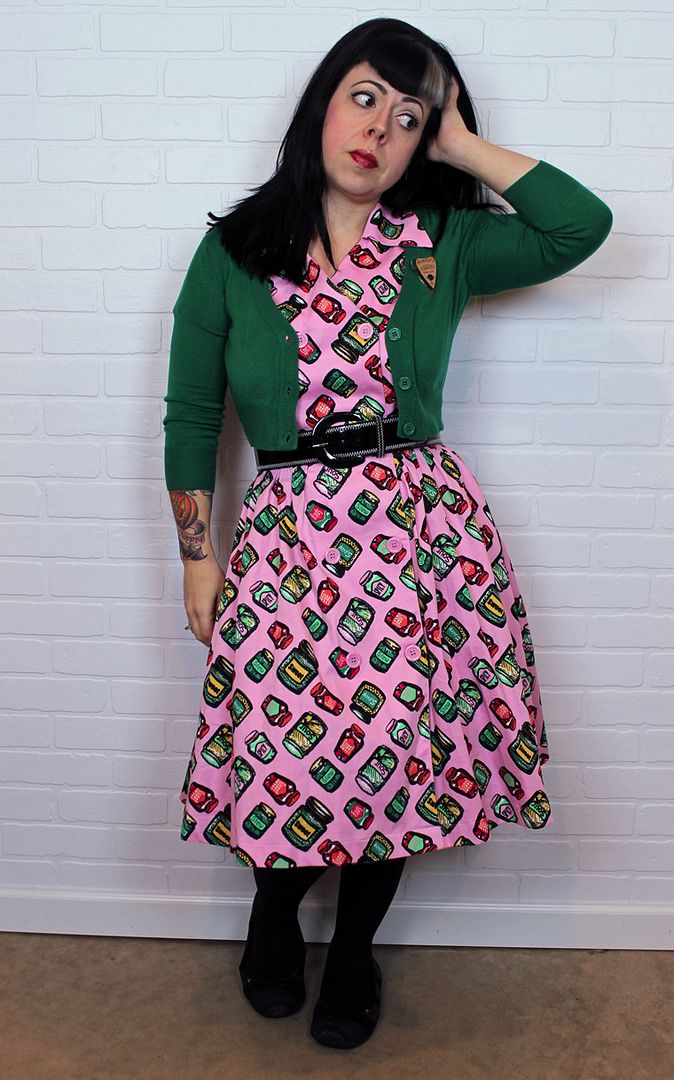 dress - Tatyana / cardigan - MAK via ModCloth / belt - thrifted / ouija brooch - Deer Arrow / tights - ??? / shoes - Dr. Scholls via Zappos / petticoat - Malco Modes via eBay
I saw this dress online and I had that "OMG I have to have that!" moment so I stalked it on eBay and was super psyched to get it at a good sale price (originally $100) and then like a week later it went on super super sale on the original
Tatyana website
. Such is my life. So although in the end I did get a good price, I didn't get as good of a price as I could have... oh well.
Tatyana used to be called Bettie Page clothing. So you get the idea as far as the styles you might find there. Definitely right up my alley.
So when this dress finally arrived it was even longer than this, so I had it hemmed. And I probably should have bought a size smaller (durrr as usual) but I wear a belt with this and it is ok. The first time I wore this I was kind of "meh" about it, despite loving it online because the shade of pink I thought did nothing for my skin (if it's too close I really dislike it) - but now here, wearing it the second time, I kind of like it. So maybe the green cardigan is what it needed. It's interesting what the right styling can do for a dress.
That being said, I need to go back to
this dress
and re-style in in a similar way with a belt and a sweater because I was feeling "meh" about that one, too. I bet I'll like it a bunch more then.
Isn't this pattern great?
Bonus points for it actually being called the "My Jam" dress, although when I really look at it, maybe it should be called the "My Pickles" dress?
And my
Deer Arrow ouija brooch
doesn't necessarily go with the pickle/jam theme, but I liked how it looks so whatever. And thrifted patent leather belt. I like the zig zag contrast stitching on it. Just different enough from a solid black belt to make it snazzy.
Sometimes I match my petticoats, like here: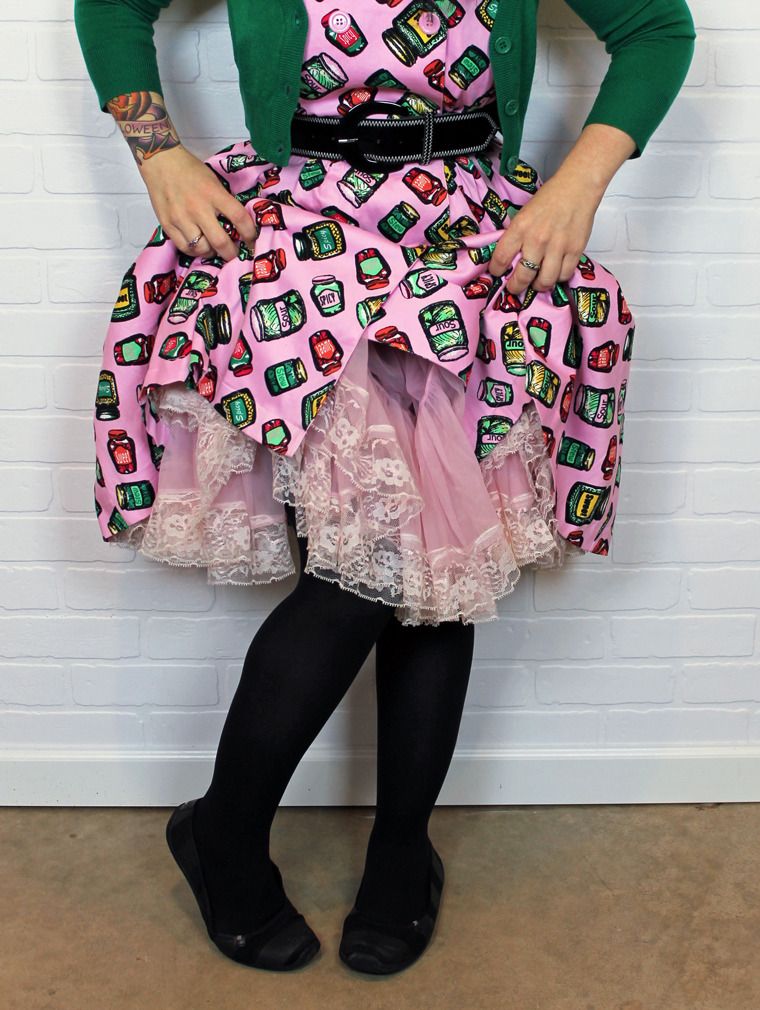 But sometimes I will purposely choose something contrasting. I only own four colors though (the petticoat I like only comes in four): white, black, red, and pink. I know that you can buy other colors in
other styles
of petticoat, but I worry they'll be puffy to the extreme, especially for a short girl like me... I don't want it to get hokey. If you look at the top photo of this post, I don't think that the petticoat is obvious, and that's what I kind of like about it, the subtlety.
I realize as I write these OOTD posts that I put a lot of thought energy into an outfit. Not sure what that means. Maybe I should post OOTD photos and talk about something completely unrelated. I'll get back to you on that.
Rock On,
Jen @ Hell Razor