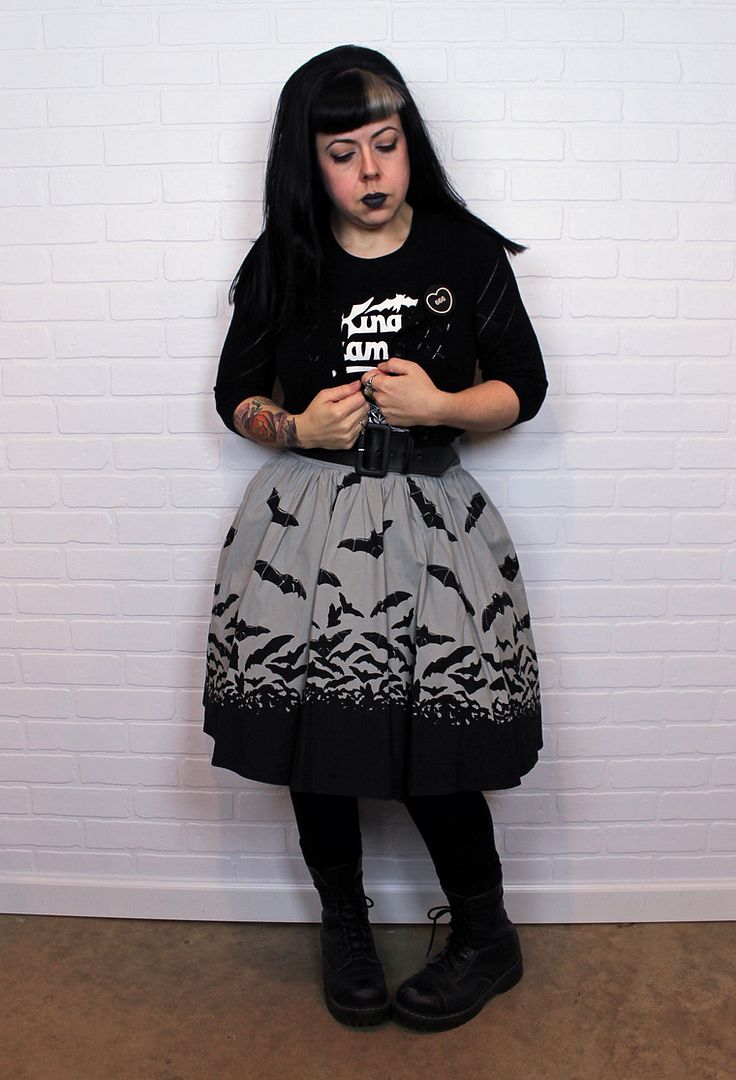 cardigan - thrifted / skirt - Sourpuss / shirt - King Diamond / brooch - For The Love of Vintage / lipstick - Nayeon by Kat Von D / boots - vegetarian combat boots by MooShoes / belt - Pinup Girl Clothing / petticoat - Malco Modes via eBay
This OOTD was something that I wore over winter break, when I was just getting over a cold and decided that I was going to actually put forth the effort and "get dressed" for the day, even if I didn't have anywhere to go.
The result is an outfit that might be one of my all-time faves and one that I think most accurately represents myself in fashion form. I wore this skirt in a
previous post here
. You may have also seen this skirt
on Meagan Kyla here
.
I was inspired to pair this skirt with a petticoat underneath when I saw
@munchkinbooo on Instagram wearing it in a more puffy style
(not to be a creeper but I think she is adorable and her fashion sense is spot-on), and I wanted to try it on me, too.
I also really like when I see girls wearing their circle skirts with t-shirts, and my King Diamond shirt is one of my faves (we even wore them
in our Christmas card family photo
!), so I decided to go that route.
Here you can see the black petticoat that I put underneath my skirt. I wear petticoats a lot, but only recently am I actually remembering to show you how I paired them up in my outfits.
I also decided to go ahead and throw on my combat boots with this outfit, but I am slightly disappointed to discover that they are actually sorta kinda too big for me. I need smaller ones... but you know how your boots get broken in and are in that perfect state of wear? That's how these are for me. And they have steel toes so I can kick butt.
I love the idea of black lipstick, but as soon as I put it on it's like, "oh no you don't - I'm gonna smear ALL OVER THE PLACE!" Such are my lipstick woes. But Annie gave me some lipstick advice last month and I'm going to actively try to wear lipstick NOT like a jerk. This one here is
studded kiss lipstick in Nayeon by Kat Von D for Sephora
. It's black, but with a gunmetal metallic sheen. I have an actual black lipstick that I purchased at Halloween (of course), but I haven't ventured there just yet.
You can see the slightly transparent fading of my lipstick already in the photo below: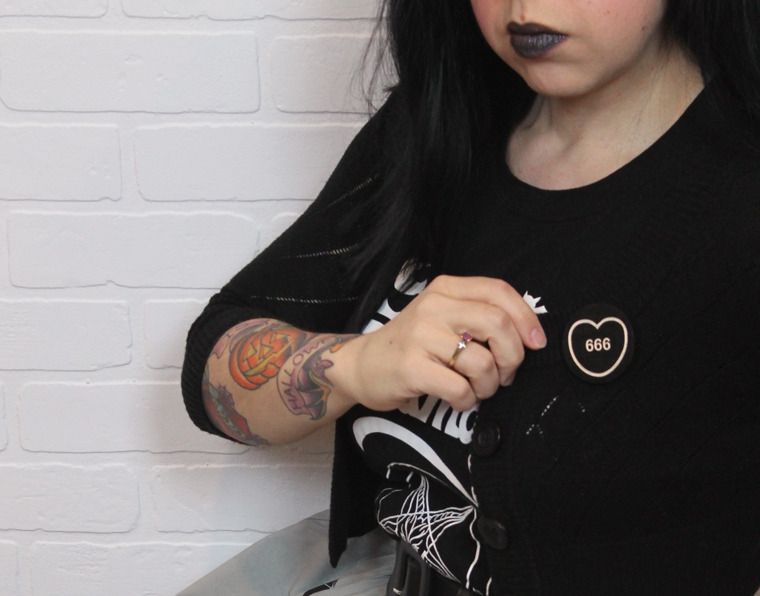 My brooch is from
For The Love of Vintage
, which I featured in my
brooch shopping guide
. I love this black heart brooch so much that I bought two more: one that says "goth" and another custom one that says "Hell Razor" which I think will be amazing for craft shows.
:)
Hey I thrifted this cropped black cardigan! Did you catch my post on
Pinup Persuasion all about thrifting
? I actually wrote it after the shopping trip where I scored this cardigan!
Lastly, I am practicing my scary threatening goth kid look. Still needs work.
Rock On,
Jen @ Hell Razor