This year I've decided that I will actually SAVE money! I'm sure that may be on your list of resolutions for this year as well...and if you're anything like me, it's easier said than done. Especially when there is a new lipstick to try out or a vintage bag that you just CAN'T pass up. That is why I've started my three part Pin Up Girl Style on a Shoestring Budget series. The first part being maybe the easiest of which to blow your money...Makeup!
The first step to great looking makeup is skincare. Taking care of your skin is the most important part of your makeup routine. I had recently run out of my fancy schmancy skin care and was looking for a cheaper, healthier, and effective alternative. I found this natural Everyday Coconut line at a local health food store (also available through Whole Foods). Each item (cleanser, toner, day moisturizer with SPF, and night cream) was $6.99 totaling $28 plus tax. I'm so glad that I decided to give this line a try! My skin is so soft and is loving the coconut oil (more on the Betty benefits of coconut oil to come).
The photo above is about $203.00 in cosmetics before tax (I filled a Sephora shopping cart for the total). These are all name brand items that I use on a semi regular basis. While I love the shiny packaging and luxurious look and feel of new cosmetics, I do realize that they can get pretty pricey REALLY fast. SO...I did a little experiment on the look of fancy vs drugstore cosmetics. Two of the photos below are the result of using the pricey items above and the other two items are the result of cosmetics I bought on the cheap at Wallgreens and Sally's.
Can you tell which photos are the fancy cosmetics and which are from the drugstore? The two photos on the bottom are the drugstore brands. The items i used are pictured below. (I did cheat a little with the eye primer and the mascara...only because I thought I had a Maybelline Volume Express mascara in my makeup bag...which turned out to not be the case. You get a similar result from either mascara). The Urban Decay eye primer is my all time favorite shadow primer and I feel like a primer (no matter where it's from) is a MUST for any eyeshadow. I DID buy this tube of primer at Nordstrom Rack for $9. Can you say DISCOUNT!? ;)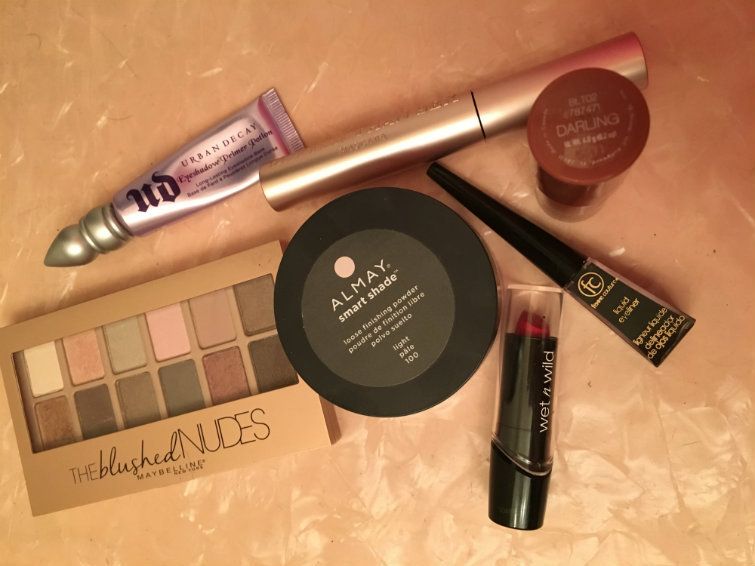 The total price of the drugstore cosmetics above (substituting the mascara) is $55.24 before tax. That means you save around $147.76 by stitching over to drugstore brands. You may need to do a few extra touch ups throughout the evening, but I think that saving $150 is worth the little extra effort.
Want more "Pinup Style on a Shoestring?" Check out
Part 2: Pampering
here, and
Part 3: Health and Well-being
here!
Until next time!
~Steph @ Calamity Layne