dress - Lindy Bop / cardigan - Sourpuss / glasses - Derek Cardigan via Coastal.com / belt - Pinup Girl Clothing /
tights - Kohls / shoes - old (unknown) / petticoat - Malco Modes via eBay
I'm relatively new to the
Lindy Bop
brand, although they've been around for quite a while and are known for being a more affordable vintage reproduction company. The first dress I bought from them was late fall this last year, and I gotta say, I was disappointed. The bodices seem to be for taller/longer torso-ed ladies, of which I am definitely not. My first dress was the "
Ophelia
" style - beautiful, no doubt, but not flattering on me.
Then I bought a striped "
Lana
" style I'd been eyeballing on other girls for a long time. It was on Amazon on super sale. But, too big. Because it was Amazon, I returned it and took a shot on the smaller size. Bingo! Now that I finally know that I need to size down in Lindy Bop, I'm all set. I promptly snagged this "Audrey" style dress (also
via Amazon
) in pink leopard print! I'm in love!
Side note: I still have to take my dresses to the tailors to be hemmed. Full skirts run me like $30 a pop. Sheesh.
Now that I know how much I love this style, I'm daydreaming about it in the
all-over cocktail novelty print version
!
Another piece I'd been thinking about for quite a while is this
cropped cardigan from Sourpuss
in pink leopard print. Not only was it already on sale, there was an additional discount code after the holidays so I applied it towards my purchase! Woo hoo!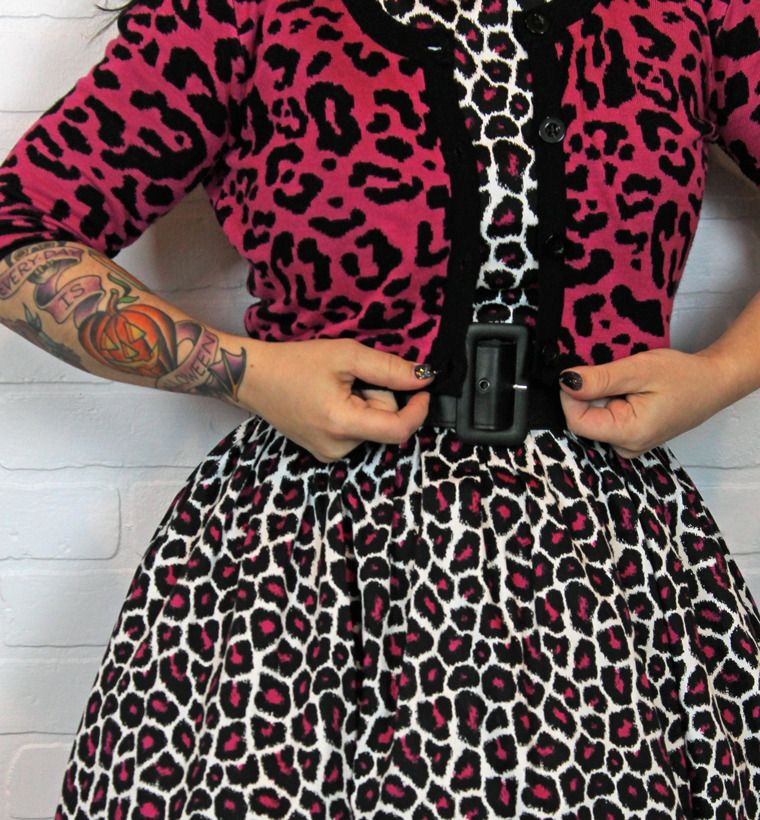 At the time that I bought it, I just knew that I loved it, but wasn't sure how I'd wear it other than with a black dress. THEN THIS DRESS CAME. Oh yes.
They're both pink leopard print, and not too different in pattern scale, but the pink background against the white background of the dress was just enough contrast to make the pairing work! There was also a little bit of "Whatever I do what I want!" that went with my getting dressed this day. It matched simply because I said so.
Secret of the day: my glasses (although super snazzy with this ensemble) were a necessity as I discovered a chunk missing out of my last right-eye contact so I had no choice but to wear glasses. Good thing I own like a bazillion pair. Currently lusting after
these
, btw.
I am still annoyed with static electricity in my petticoat. Spring get here quick! Part of me feels bad saying that because we've had a relatively mild winter, but ughhhh...
I went for total pink here. Pink eyeshadow, pink lips... ALL THE THINGS!
Rock On,
Jen @ Hell Razor