I'm going to share my version of the ever-popular brooch-board project, since I had some definite opinions on the "best" way to assemble one, and I also wanted to have one large enough to hold a bazillion brooches. My version has a sandwich of cork, batting, and felt to create a more "upholstered" design that helps support and display your brooches in a pleasing manner.
I wanted a material that I could push my pins into that would have enough support and cushion for them, but not be too soft or too dense that would cause me to get annoyed and just toss brooches into a drawer or on a shelf instead of using the board for its intended purpose.
So, if you're also a picky person when it comes to crafty projects and want to know my secrets, I'll share my methods with you!
Brooch Board Materials:
A sweet LARGE picture frame: get this at your local thrift store or a garage sale. Buy a big ugly piece of artwork, and pop the artwork out (including any glass) and toss it. You only want the wooden frame. If necessary, spray paint it. I like black or gold.
A piece of thin plywood (like ¼ inch), cut to size to fit the back/inside of the frame. Give yourself a little bit of wiggle room around by making it smaller, like ⅛ inch all around, so that when you upholster the board with felt and wrap it around, it'll still fit into the back of your frame opening.
Cork tiles (not the rolled stuff - that's too thin) - enough to cover one side of your plywood.
Exact-O or Utility Knife and straight edge (for trimming cork)
Felt (I like black) big enough to cover your plywood AND wrap around to the back, at least 1 inch all around.
Thin "low loft" batting, like for quilts. Usually comes in a small roll, or folded up piece, like this stuff from Michael's.
2-3 thin strips of wood, slightly longer than the width of your picture frame opening on the back. These are to secure the board to the frame (from the back side) at the very end. And maybe some short screws to hold them onto the frame.
A bunch of sweet brooches to display
Ok, here's the deal. I had a picture frame that I had picked up at the thrift store and was planning on bringing it to school so kids could hold it up and take photos of themselves in the frame. Then I stopped teaching art, and it was just lying around. I wasn't sure what to do with it. Then I was eyeing other people's awesome brooch boards (see some examples
here
and
here
), and thought, hmm, I can make one too… and maybe I can even improve upon the design?
Lofty goals.
Here's the issue with your standard fabric-over-the-cork plan: the fabric will "bubble" and sag eventually. Also, the cork tiles (although much thicker than the rolled stuff) are not very thick. I wanted something slightly more "upholstered" to grab my pins and keep them in a position so that they display well. I've read some other brooch board DIYs that don't include cork at all, but instead just use fabric over batting and/or cardboard. This might work okay for a small 8"x10" design, but definitely not for a big bertha board like mine. :)
So my design, although more complicated in overall construction, is sturdier and constructed to last over time. The larger your expanse, the more sturdy you're going to want this baby to be.
Here we go:
Double-check all of your sizes. Measure the opening of your frame from the back side (so it includes the lip of the frame), and make sure your plywood backer piece fits inside the back of the frame.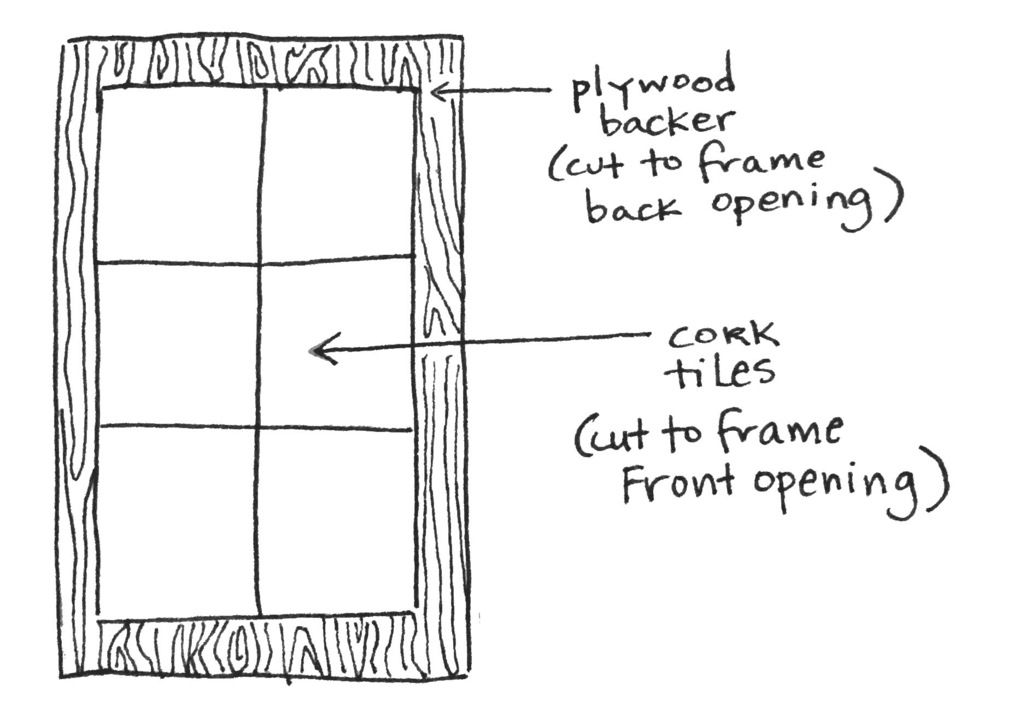 Then, measure your frame opening from the front. This will not include the lip of the frame. Cut cork tiles to fit this opening size using a utility (or Exact-O) knife and a straight edge. Dry fit the tiles on top of the backer board, and place the frame over it to ensure that the backer board fits behind the frame with the cork protruding through to the front. The backer board should be LARGER than the expanse of cork, and there should be a thin edge of plywood all around.
If all of your measuring is good and well, use spray adhesive to stick your cork tiles down to the backer board. Spray adhesive will cover the whole expanse evenly, and you won't have tiles curling up on the edges. You want a nice, even upholstered surface.
All good? Now you're going to cut a piece of batting to fit the size of the backer board (ish), so that it extends all the way to the edge of the wood. Once trimmed to size, give both the cork and the batting a spray of the adhesive, and stick them (sticky-sides) together. It doesn't hold completely, but helps to prevent shifting when you layer the felt on top in the next step.
Now you're ready to upholster! I highly recommend felt for this, as it's thicker, and can handle being stuck with pins over and over without creating visible holes. Cut your piece of felt so that it's slightly larger than the backerboard piece all around, maybe 1-2 inches? Lay it over the batting and cork layers, sandwiching the batting and cork between the wood and felt. Pull the fabric around to the back of the plywood, and use your staple gun to tack it in place, like you were upholstering a chair seat.
For the corners, think about wrapping a gift… fold the fabric over neatly, and tack it down with your staple gun. The staple gun helps to keep the fabric nice and tight.
Your upholstered backer board is now finished! Place the frame over your board and admire your work. Now, you'll need to secure the backer board to the frame. For this, I used some thin strips of wood and a couple of short screws. Overkill? Maybe. But if I'm going to do something, I might as well do it really securely and make it last: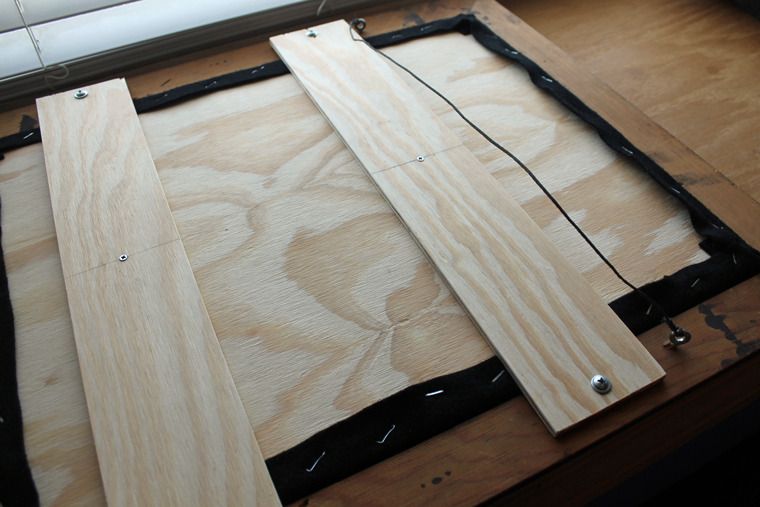 Add hanging wire to the back of your frame. This way, you can hang your board on two nails, spaced out horizontally on your wall. It's easier to level a frame when it's hung on a wire with two nails, and it's more secure to the wall - you won't knock your frame off-kilter every time you add or remove a brooch!
Arrange your brooches on your board in an eye-pleasing manner. You will need to insert most brooches at an angle into the cork; but the additional layer of batting and thicker felt help to prop them up to display nicely.
Is my version more work? Yes ma'am. It's not the 10-minute DIY that others claim to be. If you've read this far and you're thinking "oh geez I'd rather do the simpler version, this is overkill!" - I'm totally ok with that! To each his/her own. This is just another way to tackle the brooch board project in a way that I am very happy with. I do feel like it's really worth the extra effort! I'm always happy when I walk into my room and see my super cute collection on display.
** This post contains affiliate links and I will be compensated if you make a purchase after clicking through my links. **
Rock On,
Jen @ Hell Razor