Thanks to my friend Beth's new bento-lunch packing initiative (Hi Beth!), she has renewed some of my bento energy, and therefore, I have been busier than usual making cute lunches and actually remembering to photograph them. This is a bigger bento post than usual, so get ready!
There are, of course, some running themes in the food, as I am apt do do when packing for several days in a row. Gotta use up the leftovers! I've also been on a heart-shaped kick, too, which will be more obvious below:
This particular bento above was inspired by a delicious New Year's Eve treat of honey goat cheese spread on crackers and topped with dried cranberries. As I was snacking on it, I thought of how nicely it would pack into a bento for lunch!
Honey goat cheese and a heart-shaped grape garnish.
Dried cranberries.
Afore-mentioned crackers. Triscuits to be exact.
Mini Tupperware O'Vitamins.
Blueberries (in a heart-shaped silicone cup!)
Strawberries.
My favorite smoked string cheese, cut into chunks.
Cucumber slices
Tomato hearts on picks.
Quinoa fried rice with pineapple.
Almonds.
Smoked string cheese, cut into chunks.
Mini Tupperware O'Vitamins.
Quinoa fried rice
(well, quinoa in general - you saw my
breakfast quinoa
, right?) has become a favorite thing this month for me as well. The first time I made it, I followed the recipe exactly, but added pineapple. Later down in the photos you'll see my second batch that had faux chicken (I think it was Quorn). The next step is to try
cauliflower fried rice
, which I'm sure is good, but I like that the quinoa has protein.
And, oh yeah, HEART SHAPED THINGS: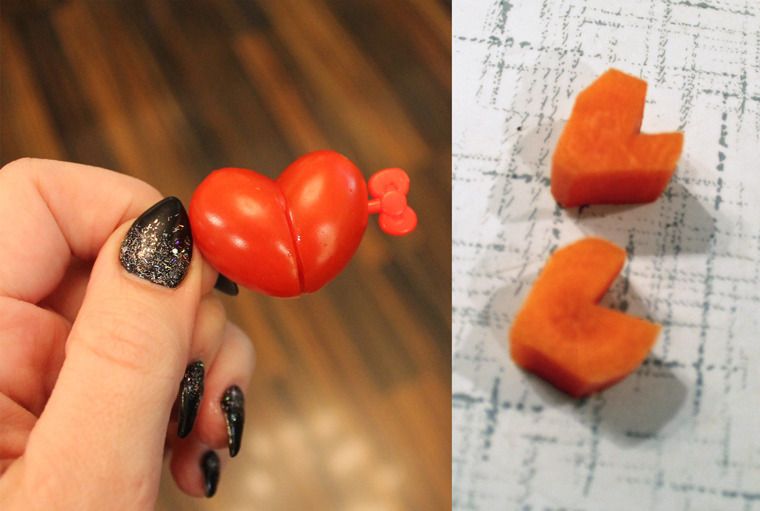 The trick for me here with the
tomato/grape hearts
on skewers is to use TWO grapes or tomatoes, and slice them so that they come together to form a heart. Just cutting one in half doesn't
quite
give you the right shape. Here are some
cute long food picks
, great for your own tomato hearts or mini bento skewers!
And although my carrot hearts are somewhat off, I'm working on it!
Here is one tutorial you could try
. Another version, more like the tomatoes and grapes, is
listed here
.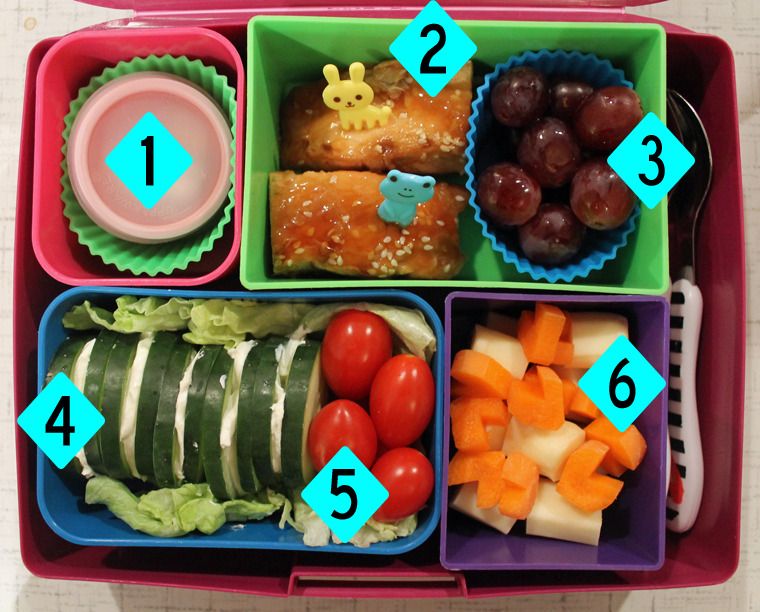 Mini Tupperware O'Vitamins.
Teriyaki Salmon (I buy this pre-made from my Mariano's deli... it's amazing).
Grapes. Not heart-shaped.
Cucumbers, sandwiched with jalapeno cream cheese! Lettuce just to hold it in place.
Tomatoes. Also not heart-shaped.
Chunks of smoked string cheese, with carrot hearts garnish. Ah, there's the hearts.
The concept behind this lunch was "choice." As in, the hummus and cream cheese were interchangeable with the pepper strips and/or Triscuits. Because it's hard the night before to know how you're gonna feel the next day at lunchtime.
Hummus.
Jalapeno cream cheese.
Triscuits.
Mini Tupperware O'Vitamins.
Heart tomatoes.
Green pepper strips.
(Not on the numbered list, but also for lunch, off to the side, in the black and white holder: hard-boiled egg.)
This cute two-tier strawberry bento box was a present from Lisa.
Mini Tupperware O'Vitamins.
Hard-boiled egg.
Smoked string cheese chunks.
Apple, splashed with lemon juice to try to avoid browning.
Peanut butter (I bought the Skippy "natural" version with honey! Yum!). Oh yeah, in a heart-shaped cup.
More silicone heart cups! Also, here are the
tiny cutters I use for cheese shapes
.
Mini Tupperware O'Vitamins.
Canned Jackfruit, cooked in taco seasoning.
Refried beans with cheese garnishes.
Cheese (cheddar slices in flowery-star shapes, and smoked string cheese chunks).
Triscuits (for the jackfruit and beans).
Broccoli (cooked, leftover from the previous night).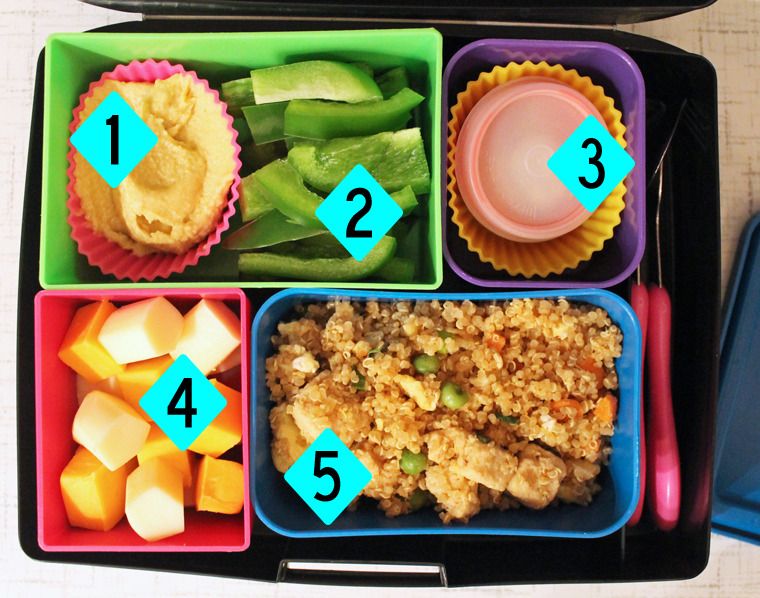 Hummus.
Green pepper strips
Mini Tupperware O'Vitamins
Cheese chunks: cheddar and smoked string cheese
Quinoa fried rice with faux chicken. So good!
The Bento Report is a regular feature on the blog where I show you what's in my lunch for a few select days over the past couple of weeks. It's informational because I am a post weight-loss surgery patient who is also a vegetarian/pescetarian, but also fun because I love the idea of bento lunches and have fun making my lunch look cute and/or making it fit into unique lunchbox container constraints.

You can view past posts of my Bento Report series here. Information on where I buy bento boxes and accessories in this post here.
Rock On,
Jen @ Hell Razor