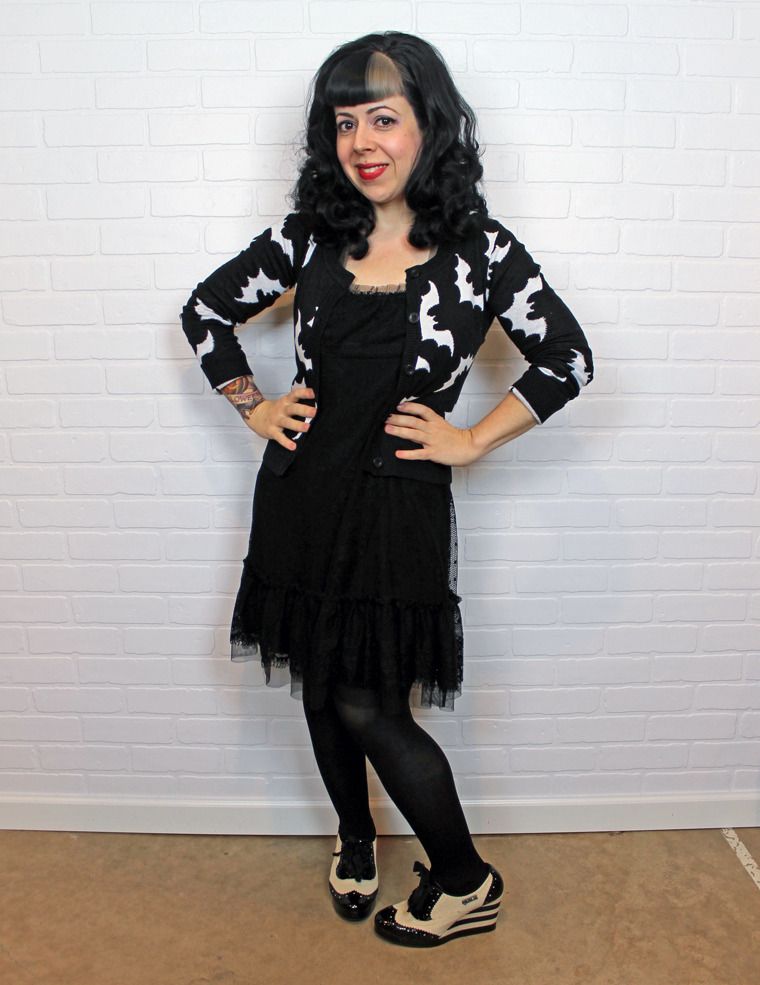 shoes - Anna Sui for Hush Puppies (via Poshmark) / tights - ??? / dress - Anna Sui for Anthropologie (old) / sweater - Sourpuss / earrings - Rocksbox
Is there anyone out there who actually has only one day of Christmas gatherings? If that's you, I am horribly jealous. My introvert personality yearns for a short, small celebration... if that at all. I had the opportunity to have four days in a row of stuff to go to. Lucky me. Fortunately, we were able to pare it down to only two days, with one day of rest in-between. Still too much for my tastes, but way better than the alternative.
So, yeah, it's January 6th now, but this was my "Christmas" outfit for our final day of gatherings. Hence my rambling about days of celebration and such. Maybe you're an introvert like me and you get it. Or, you're an extrovert and you're reading this, thinking that I'm a total freak. But that's ok. You (extrovert reader) get your energy from being around others, so of course you'll think that I'm weird. But for introverts, our energy gets totally sapped up and depleted from being around others. This is why I blog. I do it by myself, in my studio, and I can just ramble without anyone telling me otherwise. And by the time my post goes "live," I'm far far away.
:)
So, I should probably talk about my OOTD, since that's kind of the point of this post...
This sweater was snagged from
Sourpuss'
end-of-year sale! I know I had seen
Meagan Kyla
wearing it somewhere, and I really wanted one of my own. I was worried that it was a Halloween special, and that if it sold out, it might never come back, so I was super excited to get one at a discount. This sweater is special because of its cropped/not cropped length. It's not labeled a cropped sweater (and it's not as short as ones that are labeled as such), but it's definitely shorter than other sweaters, like Hell Bunny styles. Great for the petite girls like yours truly.
My dress is super super old. Want proof? In my first-ever outfit post (sort of) in 2011,
I was wearing this dress
. LOL. I love it so much that I never let it go through my pregnancy and weight gain and now it's BACK.
Some people like to say that it's dumb to save your "skinny" clothes, because they theorize that if you ever lost the weight and could fit back into them, that you'd want to celebrate by buying new clothes and not having to wear your "old" ones.
But they are wrong.
I love my clothes, and I totally go back to them and wear them if I can. My Anna Sui dresses were always my "goal" dresses, and I couldn't wait for the day to get to wear them again.
This particular dress was from the Anna Sui for Anthropologie collection way back when. I know that she still has pieces in collaboration with Anthro now, but this one is my favorite. It has gotten so much wear over the years.
Want to know a secret? When I put this on, I discovered a long vertical slit in the lace top layer! I was crushed. But I took some black thread and carefully repaired it by hand using tips from
this blog
. It's pretty much unnoticeable now unless you're really searching for it! The black-on-black definitely helps, though.
I tried my best to photograph the lace details on this dress. I love Anna Sui's goth-doll aesthetic.
My favorite part of this outfit is my new shoes! I totally scored them on
Poshmark
and ended up paying like $5 out of pocket for them! I didn't even know that there was an
Anna Sui for Hush Puppies line
, but here they are: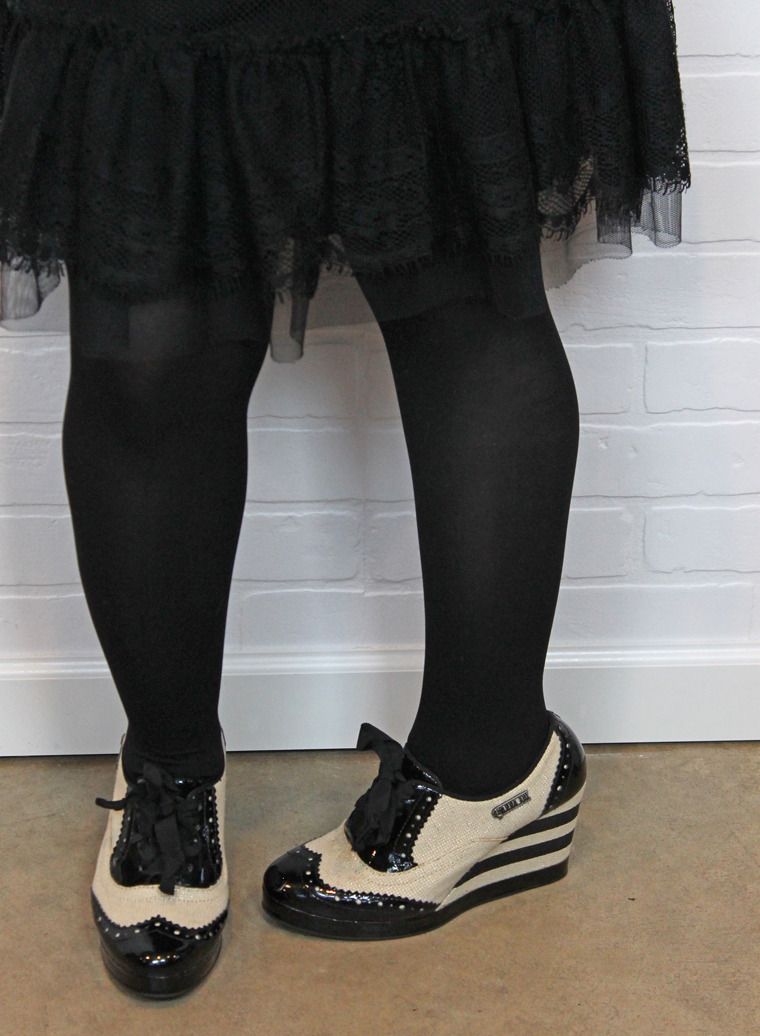 I should be clear: the shoes weren't $5. They were more like $45, but I had enough money socked away in
my Poshmark account
from selling other clothing items that I was able to redeem it towards these shoes, and I am so happy! I feel way less bad about buying stuff if I know that I'm not spending much, and that I've gotten rid of other stuff in exchange for it.
Bonus: the wedge style of these shoes makes them super comfortable. Yay new work shoes!
If you are interested in
joining Poshmark
, please use my code: PMSHD to save $10 - I will also get credit for referring you when you make your first purchase, so we both win!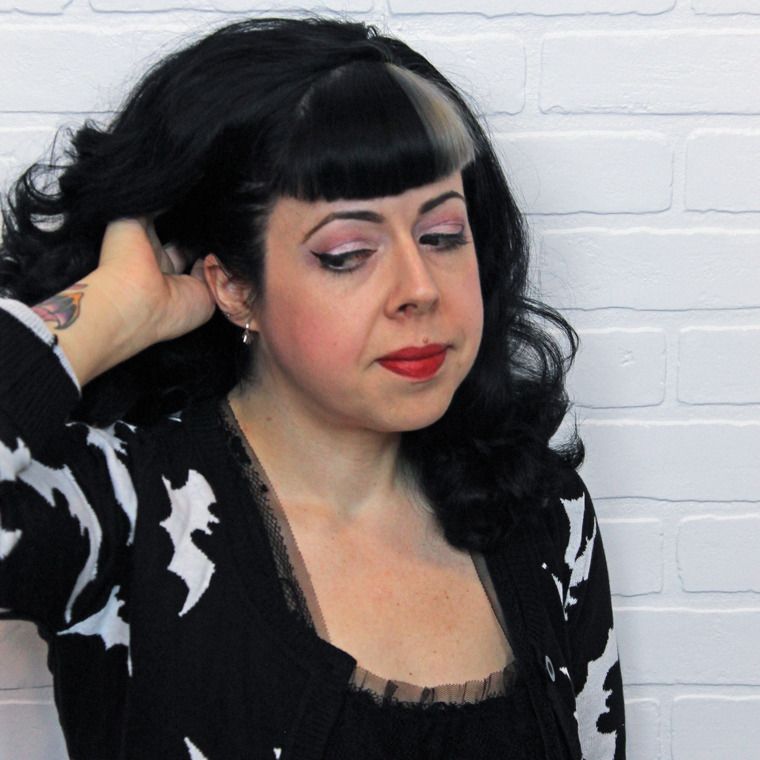 On this day, I was also working on setting my hair with my
Hot Sticks
. This was a little too curly for my tastes, so I'm still kind of getting the back and forth (what's too small, what's too much) of how large to section my hair and what size curlers to use. I guess I'd rather have too much curl than too little, but I still haven't quite caught the hang of it yet.
P.S. Can you also tell that I've been working on my eyebrow skills? I'm super jealous of girls with awesome arches, so it's one of my (newest) goals to master.
Rock On,
Jen @ Hell Razor