I have too many pillows in my house. I'm not sure how they all got here, but it's a thing. Yet, I keep finding myself drawn to cute pillows every time I go to IKEA or HomeGoods or Target… and then I have to remind myself that I don't NEED new pillows, I have a large assortment of cute ones at home already.
Since I don't really need to buy new pillows, but I want to change things up, I came up with a way to use my existing pillows and make them feel new again: pillow covers using thrifted sweaters! It's a great way to "winterize" your decor using your already existing home decor - on the cheap!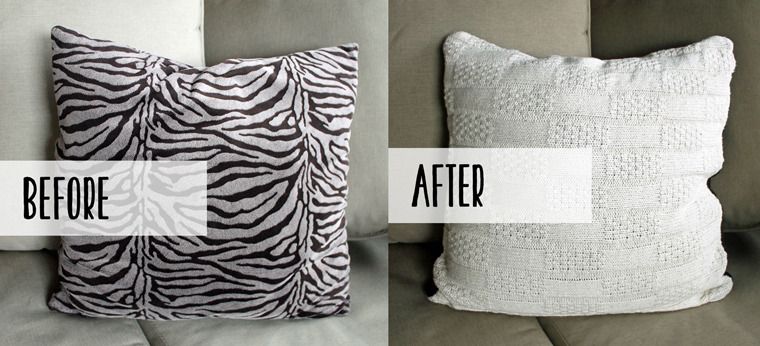 We're going to make these pillows like envelopes, so that the covers are removable and washable, and so that you can use the pillows contained within as-is (in case you used couch pillows that you might want to also return to their original state later on).
Here's what you need:
Existing decorative throw pillows, any size (I prefer square ones. Don't have any pillows? Lucky you! Go ahead and purchase whatever you can find on sale - the cheaper the better, or even just grab some of those plain pillow inserts - Crate and Barrel has 18x18 ones for only $12!)
Sweaters, thrifted, 2 per pillow - one for the front, and one for the back - large enough in width and length to cover the span of one side of your pillow
A sewing machine, and thread to match your sweaters
Straight pins
Good fabric scissors
A measuring tape or ruler
For the sweaters, I like to find ones with interesting knit cable for the front side, and a soft flat knit for the back side. I stuck with creams/whites/grays for my pillows shown here. Felt nice and wintery.
Here's how it works:
The front panel of the pillow is a square. Give yourself an extra inch beyond the actual pillow measurement for seam allowance. So, if you have an 18x18 pillow, make the front panel 19x19. This gets cut from sweater #1, your "front" side sweater. As long as you can get one solid piece the size that you need from your sweater, it does not matter if the edges are all "cut" edges, aka frayed, because they'll be hidden inside the pillow seams.
The back panel is a little more complicated. Your end measurement is still 19x19, but your back panel is made up of TWO pieces overlapping, which creates the envelope-like opening. I use sweater #2 for this, and I use the bottom of both the front and the back of the sweater to create the overlapping edges, since the bottom of the sweater is already finished nicely and will keep its shape.
You'll want to make your overlap on the back side 2-3 inches total. So, for your 18x18 pillow, you'll need two pieces of fabric cut from the bottom of your sweater, 19x11(ish) each. You'll overlap the two pieces so they form a 19x19 square. The bottom (finished) edges of the sweater will serve as your overlapped edges.
To see a video of the basic envelope pillow cover construction (including the overlap on the back), you can check out
this tutorial
(she uses decorator fabric instead of a sweater):
One time I made a sweater pillow cover and I did NOT use the existing finished edges as my overlap. I instead hemmed two sections of sweater. It worked, but the hem is all wiggly and weird and loose-fitting. I'm not nearly as happy with it: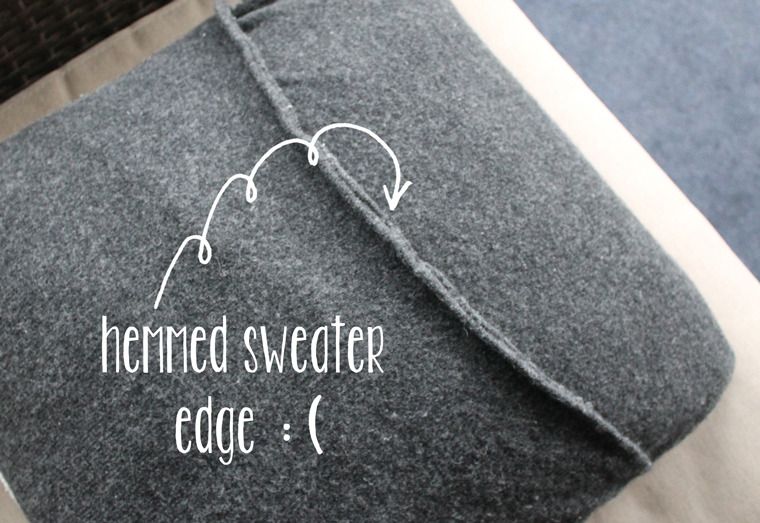 The easy part comes once you have your panels cut to size. Lay the front panel and the back panel together, with right sides facing inwards. Pin all four sides, and sew ALL the way around!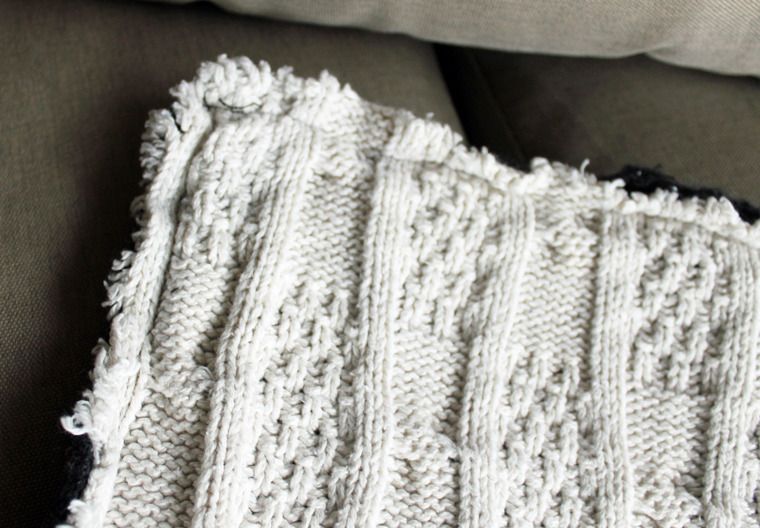 Once this is done, use the overlap opening to turn the entire thing inside-out, which is now actually right-side-out, technically. Then insert your pillow.
Enjoy your new pillows by flopping them onto a nearby couch or bed. Sit on said couch or bed with a cup of coffee and read (or watch Netflix, I won't judge). Feel like an awesome domestic goddess.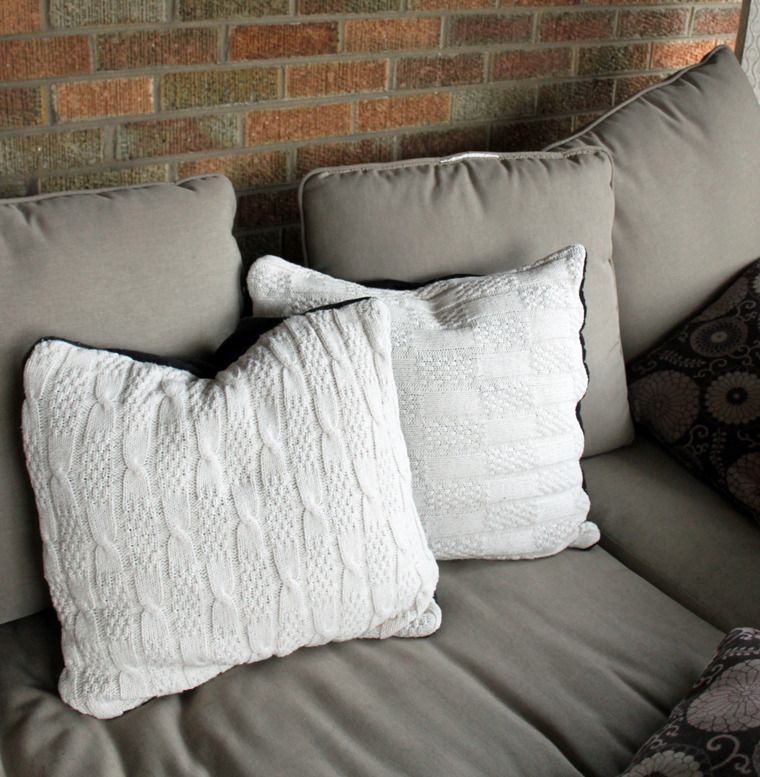 Yayy! You did it!
Rock On,
Jen @ Hell Razor