Ooooh, Black Friday scores! Today's OOTD post features an awesome skirt from
The Oblong Box Shop
, where I had been eyeing this puffer fish skirt for what felt like for-ev-er, but I actually (!!!) had restraint and waited until their Black Friday sale and picked it up at an awesome discount! Woo hoo!
Oddly enough, I don't think I ever posted an OOTD with my first Oblong Box Shop skirt -
the Halloween print circle skirt
- which is probably one of my all-time favorite skirts along with my
Deadly Dames monster print
one. I loved the fit and length of my first OBS skirt so much that I immediately put the puffer fish design on my wishlist, along with the
Moais in Space
design (which I scored via
Unique Vintage
at an amazing price!). I'm dying to get my hands on one of the
Hotrod Pinstripe
skirts, but they've been out of stock forever, and I'm unsure if they'll ever really come back...
Oh yeah, and another design coming out soon is a
Mid-century Modern Furniture patterned skirt
! Dying.
So, today's outfit is also a triumph of thrifting awesomeness, too! I first showed you my thrifted Clarks super comfy shoes
here
. But in this OOTD, I also have a sweet thrifted orange belt! Now you might be thinking what I was thinking... "When will I ever need an orange belt?" But here you go. The lesson here is that when you find an awesome belt at the thrift store for only a buck or two in a color you do not already own, snap that up. Because you never know when it might be totally awesome.
Also, Halloween. Save your orange for pairing with black, and there you go, Halloween.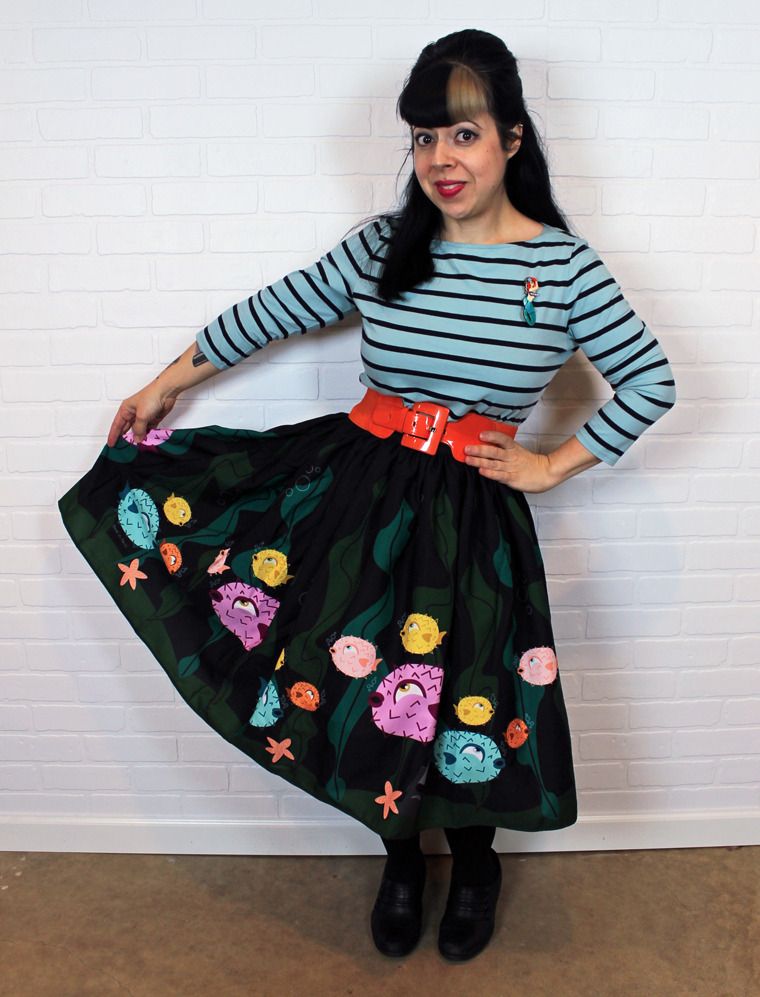 For all girls looking to sport a vintage-y, pinup-y, 50's vibe in your wardrobe, you kind of need to pick up the Target boatneck shirts in all colors. Like the belts, you never know when a color might come in handy. In my case, I was all "but I don't wear blue or navy!" and then I got this sweet underwater puffer fish skirt within days of also scoring the (also blue) Moais in space skirt. Thus necessitated a blue shirt. Thanks, Target!
After wearing this outfit, I did actually go back on the OBS store and purchase the matching
puffer fish brooch
(because NEED), but on this sad day without a coordinating puffer fish brooch, I donned my Erstwilder mermaid brooch, which aligns with the under the sea theme here.
I can tell you that I get more inquiries about my skirts when I'm wearing an OBS design than any other. So if you dislike holding up your hem so that people can see the design and doing a little twirl to show it off, stay away from these skirts. But I kind of like it so I can deal.
:)
Rock On,
Jen @ Hell Razor