dress - Target / scarf - Target (last year) / boots - unknown / tights - unknown / bracelet - RocksBox
So, even though I tend to lean towards a more retro/circle skirt silhouette as of lately, I never lost my love for the "all black everything" philosophy. In fact, some of my favorite retro pieces are my all-black dresses (which, come to think of it, I haven't done OOTD posts for! ah, to add to the "to-do" list...).
When I spotted this a-line black tunic dress at Target with bell sleeves and lace trim, I couldn't walk away from it. I mean, Target has the best prices ever for clothes (I think every one of my boat-neck tops are from there), and every so often you can come across a gem like this. Even though I chose a monochromatic goth theme with this, you can really style it an endless variety of ways by adding pops of color or pattern...
I've had a long-time habit of collecting black wardrobe pieces (for your consideration:
almost one year ago from today
), so I had older all-black accessories already, like black boots and textured black tights to pair with this dress.
Sorry about the bad photography here. My remote is weird and eats batteries like there's no tomorrow, so I've been using the timer, and therefore my photos are too dark most of the time and get grainy in post-production when I attempt to fix it.
I picked up this awesome deconstructed woven black scarf last season at Target, and it's another one of those amazing pieces that are a-typical of Target (like this dress) that show up randomly and I snatch it up right away. I just love the decay-ing post-apocalyptic vibes that this type of construction in clothing give off, but I can't afford most designers that work in this style, like
Sisters of the Black Moon
or
Ovate
. One of my most favorite fashion bloggers is
Faiint
. I only wish that I could afford half of her stuff. So good.
I guess this is my goth-on-a-budget look then, right?
I attempted to take a photo of the lace detail on the bell sleeves, with only some success. Photographing black is hard. #gothproblems
I
talked about RocksBox
a few weeks back, and I've had kind of "meh" feelings about it... until this last box. Check out this amazing phases of the moon bracelet!
I spotted this bracelet in the wishlist section of RocksBox, so I added it to my list, hopeful that it might actually make its way to me. Woo hoo! This is one of my favorite new pieces. It's by
Jenny Bird
. Want a free month of RocksBox? I have a special referral code for that! Enter
jenniferlebanxoxo
when you sign up at
https://www.rocksbox.com/
to get your free trial.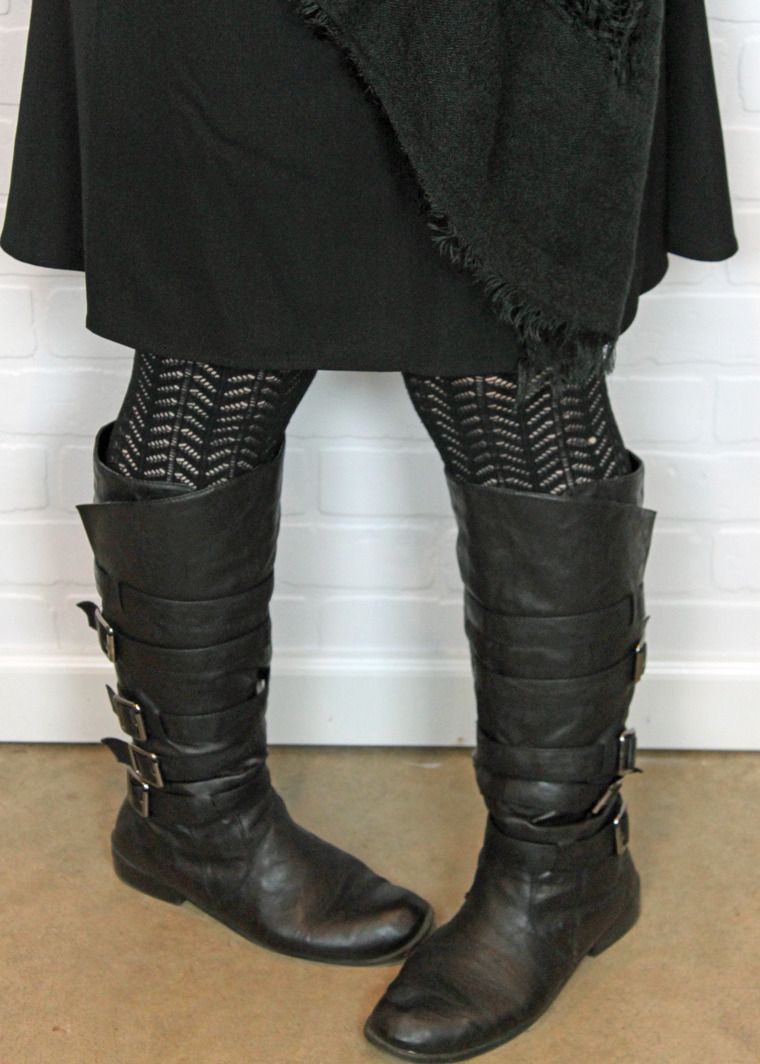 I truly do not remember where I got these tights from. If I had to guess, I'd say Kohls. They're a pretty standard textured tights, so I think finding a similar pair wouldn't be too hard... which I will need to, since this pair snagged and already has a tiny hole on the right, if you look closely at the photo above. :)
Coincidentally, this was the last time that I wore these boots. They were several years old, and I realized that they were peeling and falling apart on the opposite zipper side (not shown here). Shame, I did love them and the multi buckle design. I was able to find another pair similar enough though at - where else? - Target!
Rock On,
Jen @ Hell Razor