I have a tiny master bedroom. It's one of the very few things that I don't care for in my house (and I love my house, so even saying this is kind of nit-picky), but I've found some good ways to work around it, and I thought I'd share some of these solutions with you.
Our bedroom is a square. It fits our queen sized bed, and two nightstands against one wall. The wall directly across from it can fit a couple of narrow dressers, but nothing deeper than that. The other two walls on either side are taken up by a large bay window, and a closet that at one time had sliding doors:
I don't care much for sliding door closets, and I think I've removed them from every room in my house (evidence here and here [studio and Iggy]). The same goes for the master bedroom. Several years ago, we replaced the innards of our closet with an
Elfa system from the Container Store
, and I've been super happy with it. Well worth the splurge! We were able to remove our dressers from our room completely and just use the closet system (including drawers) instead of a dresser.
Over time though, my wardrobe has grown… errr… significantly, and I've been trying to find ways to make use of the wall at the foot of the bed that has relatively shallow space. I also wanted it to look good! So it sat, empty, for a long time. I knew that I needed shoe storage (for a while I had a long bench with storage in it and I shoved my shoes in there), but I just couldn't find anything that worked for our needs.
So, one day I was walking through IKEA (as I am apt to do, for real), and a series of wall shelving caught my eye, enough that I photographed the arrangement to show Todd later at home for consideration in our room. It was the
Besta storage system
, and I really liked how you could customize the sizes (width and heights) of your cabinets, along with some fun door options, like pink. And it didn't have to be fully covered with doors - I liked the idea of mixing some open shelving with cabinets, and some drawers, too!
We measured out our space, and set a plan for what to buy and how to arrange the cabinets. We even used the
Besta planner
to lay out our design online before purchasing, so we knew exactly what to get and what to look for (and how much we would expect to pay!).
We chose to do a layout that was symmetrical, with a space in the middle to hang our small (yep, very small) flat screen television so that it had a clear path of vision if you were laying in bed. There are three columns of cabinets, total. We placed a tall cabinet on either side, with some open shelving, some cabinet doors, and a drawer. The middle cabinet has a drawer on the top and bottom, and short shelves to hold shoes in-between.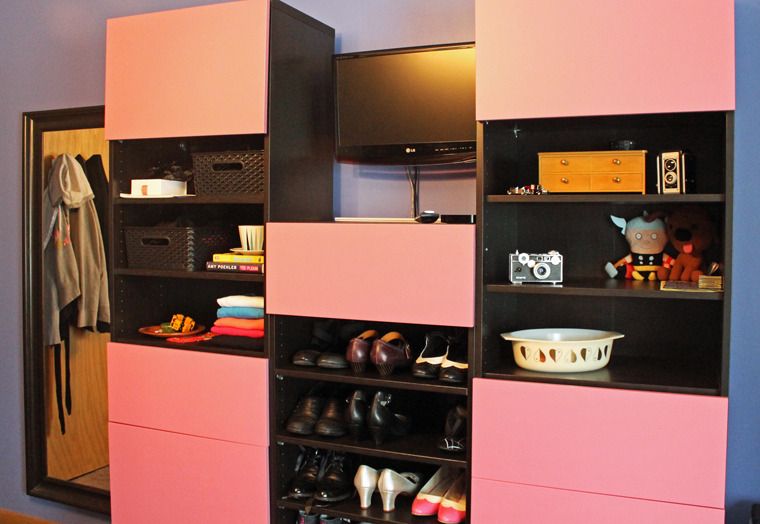 So, as you can see, this storage system is far from a traditional "dresser," but can still function very much as one. I use one of my drawers to hold belts, and the others for out-of-season clothing items, or lesser used bulkier items, like sweatshirts, to make room in my closet for the things that I use more frequently.
The upper cabinet in my storage system is perfect to hold my petticoats! I store them 2-per bag in these
Pinup Girl Clothing
totes that were included in my orders a while back. They're the perfect size!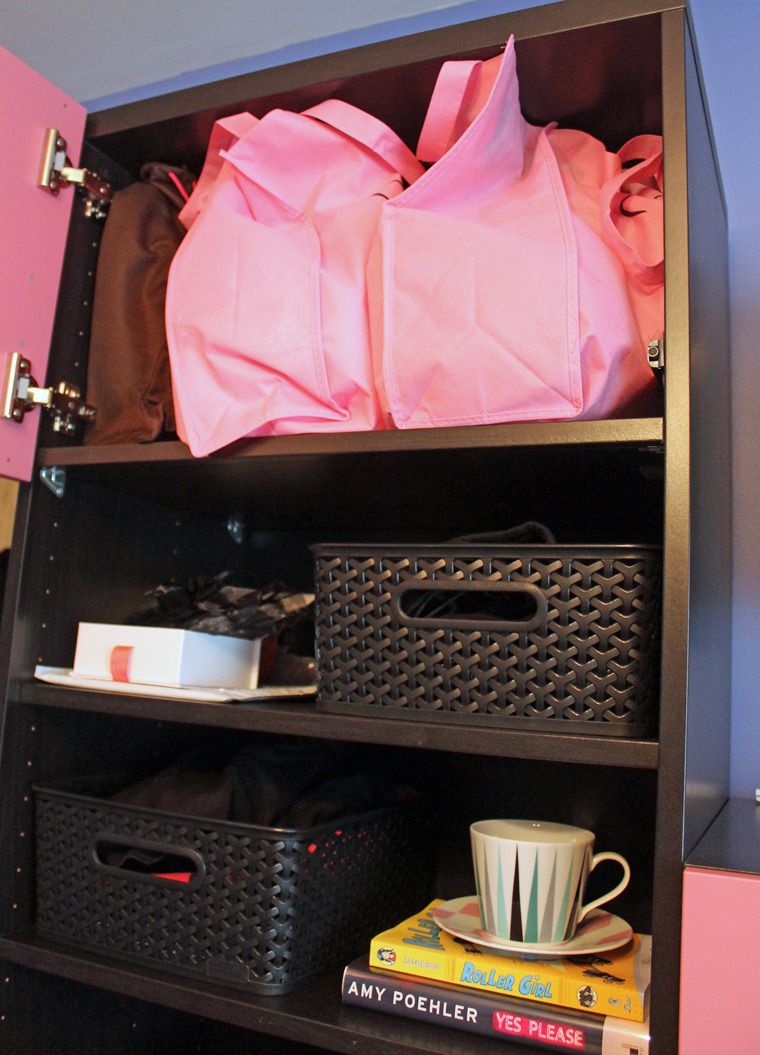 The lower cabinet in this shelving holds my ever-growing cardigan collection. I know I've talked about thrifting them in the past, and now I have a rainbow of both standard and cropped cardigans as a result: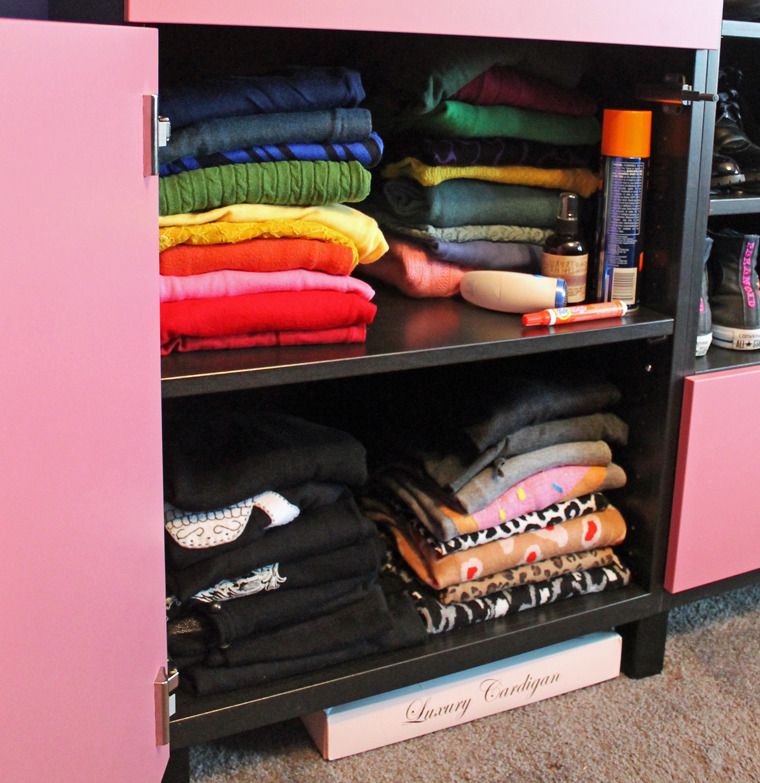 Yeah I know, it's kind of nuts, but now I have the storage for them, and I pretty much always have the color I need when I need it, so that's awesome…
I really love the open shelving for shoes here. It is really helpful to be able to SEE everything laid out, so when I'm getting dressed in the morning, all of my options are right out in the open, and I'm more apt to wear a wider selection of shoes than I would otherwise. Of course, my latest issue is now having more shoes than I have space for shoes, so I may need to re-arrange my shelving in the near future… either by adding other shelves, or by paring down the shoe collection! The other "con" of this type of storage is that I do have to dust the shelves frequently, but I think that's a small price to pay for the convenience. I mean, who doesn't like to look at shelves filled with pretty shoes?!
The lesson here is that furnishings intended for one kind of space can often be MORE functional than the things (in this case, a dresser) that are supposedly designed for it. So be open minded. Search kitchen solutions for living room options, and vice-versa. Use an outdoor piece for the indoors. As long as the item is solving a problem (like storage) in a way that works well for you and your space, go for it!
What I especially like about our cabinet storage "wall" is that it is not very deep, and gives us walking space at the foot of the bed. We even have a little room on each end of the cabinets for a full-length mirror (also via IKEA) on one end, and a small collage of framed pieces at the other end, including my new brooch board! My version of this popular DIY project is coming soon...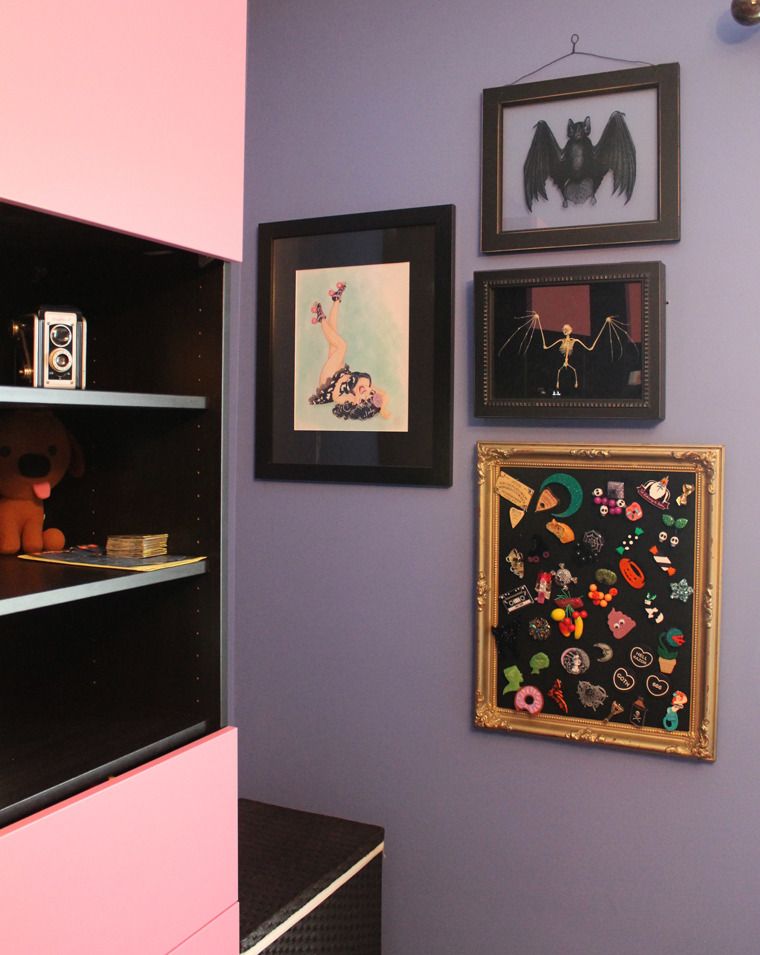 Rock On,
Jen @ Hell Razor