skirt - Lady Jojo's / belt - Pinup Girl Clothing / tights - Kohl's / shirt - thrifted / shoes - BAIT Footwear / bracelet - vintage / brooch - thrifted / lipstick - MAC Von Teese / petticoat - Malco Modes via eBay
So yeah, technically it's after Christmas now, but I had this OOTD from before the holiday and I figured that I'd better post it now before it's ridiculously late!
Tartan feels like cold weather to me, and even though it's been unseasonably warm in Chicago this year, this outfit was kind of a forced attempt to feel more Christmas-y. This skirt was purchased from
Lady Jojo's boutique
online. I love that you can customize your length (this is the "short" length btw!) and that the skirts have pockets in them!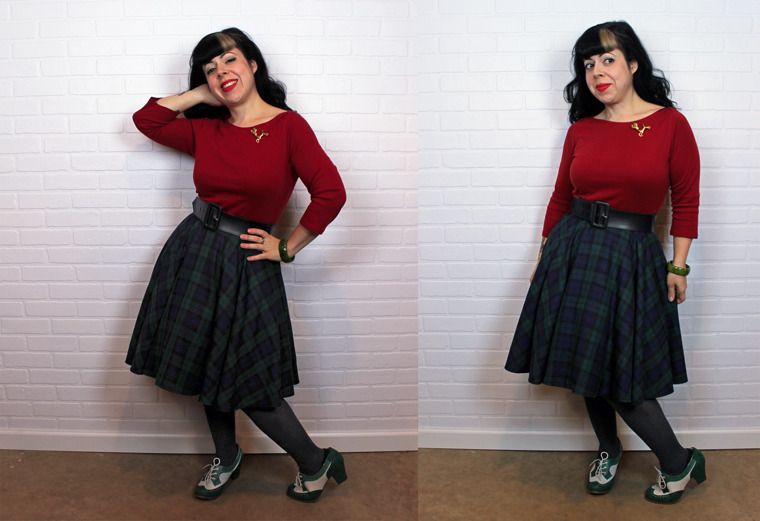 I snagged this red boatneck top at - where else? - the thrift store! I saw another lovely lady online post a photo of herself wearing a red shirt with green tartan and I thought it was brilliant. I love that these pieces can all be worn separately and not look like Christmas, so everything is very versatile.
For extra Christmas-y goodness, I paired the dark green of the skirt with a red petticoat:
Freaking festive, right?
I talked about my
BAIT Footwear
shoe purchases on Black Friday
in a previous post
, but here are one of the actual pairs that I got in the sale: the style is called
Remmy
, and I've been eyeing them for quite some time. I just thought that a green spectator was a break from the norm (black/white), but that I'd probably have enough stuff to pair them with to justify the purchase. Turns out they're perfect for all holiday themed outfits. Bonus!
Not only did I snag my red shirt at the thrift store, my gold reindeer brooch was also thrifted! I'd been window shopping for holiday brooches from contemporary sellers, but I was unsure about putting forth money on a brooch that I'd be getting limited wear out of (it's not like my Halloween brooches that I wear year-round). Then I spotted a whole tray full of brooches at the thrift shop - nothing over $5 - so I snagged this cute gold reindeer and a white snowflake. I did forget to get OOTD photos of that day... maybe next year?
Here's a close-up of the BAIT Remmys. I do love them, and they're quite comfortable! They don't seem to have the break-in time that other BAIT shoes do, like the Idas or the Iones.
Oh, I forgot to add that this was the day I tried out my new hot rollers - they're
Hot Sticks by Conair
, and I've seen several pinup hair videos/websites talk about using sticks over hot rollers - even Dita Von Teese recommends stick curlers in
her new book
! I'm pretty happy with them, actually. My only complaint is that you get so few in the set. I think that I may order a second set in order to have enough for my thick hair.
Side note: does anyone know of a good heat-setting spray? I've been searching without success so far. I'd love some recommendations! My hair pretty much always falls FLAT within hours of setting it. :(
Speaking of Dita Von Teese, my new lipstick is MAC Von Teese, and I really love it! I really want to be a regular bold lipstick-wearer. I have a hard time remembering to re-apply it, and to not touch my mouth/smear it. I think the habit of wearing lipstick just develops over time, kind of like cat-eye liner. I know not to rub the outer corners of my eyes because I'll smear my liner, so I instinctively stay away from touching it.
Got any lipstick-wearing tips for me?
Rock On,
Jen @ Hell Razor