cardigan - Wheels and Dollbaby Dita cardigan via eBay / skirt - Pinup Girl Clothing / tights - Ross / shoes - Chelsea Crew via eBay / belt - Pinup Girl Clothing
Oh boy. I belong to this group on Facebook of lovely ladies who enjoy the same fashion styles as I do, and (I can try to blame them, but it's all me) got me hooked on the idea of owning a
Dita Von Teese cardigan from Wheels and Dollbaby
. The current color to pre-order is a gold metallic version, and the color before that was a dark wine/red. Neither of these were really my thing. So, like the good shopper that I am, I put an alert on eBay for the Dita cardigan, and waited. And waited. And waited.
The ones that came up either weren't my size, or sold for well over $200! Oh geez. I was pretty sure I was never going to own one. And then this light pink one came up for sale:
...In my size! For a price pretty close to the original retail price! I decided not to bid, but to watch, and maybe, just maybe, swoop in and bid at the end if it wasn't jacked up in price.
And I missed it. Doh! The auction ended. I totally missed the opportunity, probably I think because it ended while I was at work and I simply forgot. The weird thing was, no one had bid on it! It went unsold! I messaged the seller, told her that I was interested, and inquired if she would re-list, or do a buy-it-now for me. She opted to re-list, which was cool, but now I had to wait another 3+ days or so...
I placed my bid immediately, and just crossed my fingers that no one else would bid (like last time), and the eBay gods must have been smiling upon me, because no one else did bid on it, and she was MINE!
I was pretty convinced that the fact that it was pink would mean that it would go high in price and I would never actually own it. But sometimes things just work out!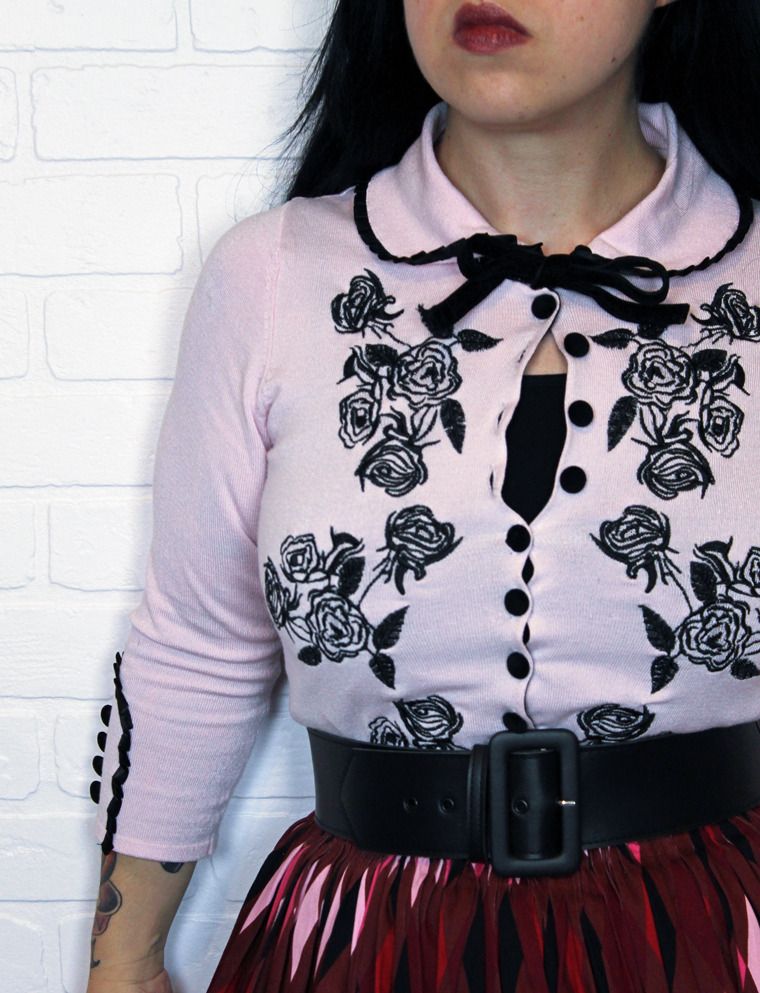 Bonus: it arrived in the original box! Many sellers do not include the box, to save on shipping. But now I am a nerd and I store it and keep it in the original box in my cabinet.
Hey, surprised I actually wore it out in public for fear that something might happen to it! I asked my Facebook lady-friends for advice on how to style this cardigan, and the suggestion to pair it with my chocolate harlequin Jenny skirt from Pinup Girl Clothing was tossed out. Genius!
Because the background of this skirt is a warm brown-ish, I forget that there is also light pink and black in this pattern. It goes very well together. I was also thinking that black and white patterned skirts might pair well, or I also have a pair of Deadly Dames capris in black that I could make snazzy with this cardigan.
Lastly - my shoes! These are new, also via eBay. They're Chelsea Crew Lorittas, recommended by my Facebook ladies for comfort and long-wearing-ability. After road-testing them, I agree! I wish that they were easier to find, and in a variety of colors. I had to do an eBay alert for these for several months before I snagged them, too.
People have been stopping me at work lately and asking if I make my own clothes, to which I usually reply, "I wish!" and then I have to tell them that I'm just a really good online shopper. This is the perfect example.
Have you snagged any awesome items on eBay, either for an incredible price, or an item that you had been in search of for a really long time?
Rock On,
Jen @ Hell Razor