shoes - vintage / tights - Ross / skirt - Pinup Girl Clothing / shirt - Target / cardigan - Sourpuss via eBay / belt - Pinup Girl Clothing
The
black and white striped Jenny skirt
is the first skirt I ever purchased from
Pinup Girl Clothing
, but I don't think I've ever posted an OOTD with it here! It's made of a heavy canvas-y material, different from the other Jenny skirts. I took it to the tailor's and had it shortened... I do love it, but I also noticed that it's the shortest of all of my Jenny skirts. Hmm.
The heavy material makes it difficult to lay nicely, I think. It gets crinkled and hangs funny. But I forgive all of these things because it is my all-time favorite of all of the Pinup Girl Clothing skirts. Close second: spiderwebs, monster print, venus flytrap. :)
On this particular day, I designed my entire outfit around the fact that I had this new Sourpuss cardigan (scored via eBay) with ROLLER SKATES on it! Did I mention that I tried out for the
Chicago Outfit Roller Derby
and made it?! Well, I'm still a newbie on my probationary period, but gimme a month to get all of my requirements in, and then I'm 100% legit!
So now I need ALL THE ROLLER SKATE THINGS. Of course.
I've been digging the shorter, cropped cardigans lately but this one was too cute to pass up. Sometimes I try belting my skirt over the cardigan. Mixed results. Not sure if it's a solution yet. I suppose I should just button this and tuck it in. That'd probably work well.
Watch out for my crazy big eyes. Whoa.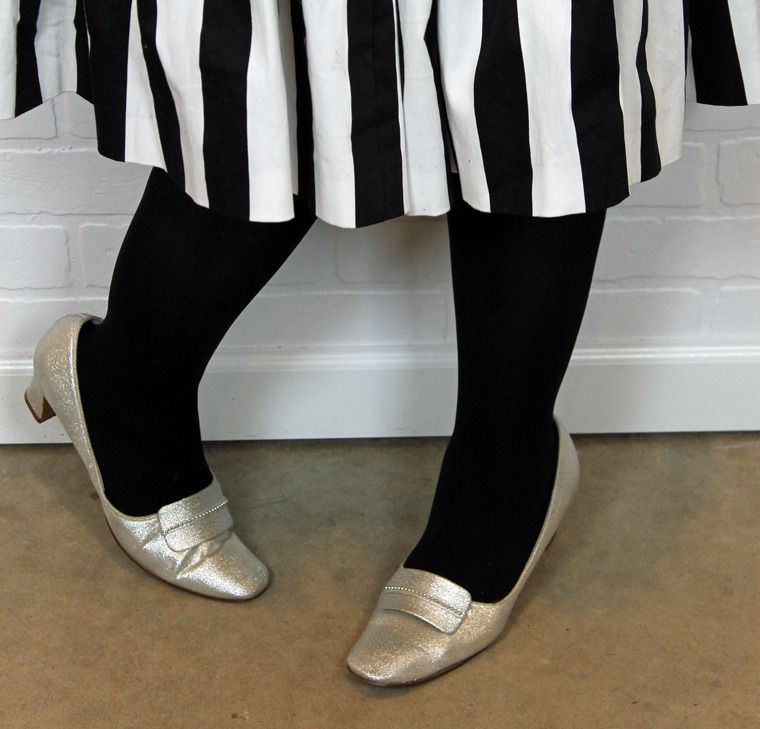 I did a trade with Steph for these vintage silver shoes at our last vendor event! I love them, but now that I'm looking at these photos, I'm not sure the black tights are working with them. Maybe they're more of a nude hose type deal. It's not bad this way, but sometimes looking at something later on gives you a different perspective.
I found some nail decals from Halloween at like 50% off so I put them on even if they only lasted a day or two. They cost like a dollar, and looked pretty good for that short time. I don't make it a point to grow out my nails, but I get lazy and they grow long so I leave them. Then I break one and just cut them all down again. It's a cycle.
Rocking my lazy day hairdo. Kind of a messy bun/half ponytail job. Megan gave me a really good trim on my bangs so they always make any hair look decent. :)
Rock On,
Jen @ Hell Razor