dress - Golightly (Pinup Girl Clothing) via Depop / shoes - Kenneth Cole via Zappos / cardigan - thrifted / brooch - Luxulite / belt - thrifted
So, the latest development in my shopping addiction are phone apps where people sell clothing, like
Depop
and
Poshmark
(
use code PMSHD for $5 free when signing up!
). I found this dress on Depop, and it's an older, rarer one from Pinup Girl Clothing. I could not resist the pattern... and I had money in my PayPal account, so it was like free then, right? I think so.
I apologize for the lack of sharpness and detail in these photos, but I took them outside as it was getting dark. I was also trying to get photos taken in-between Iggy photobombs. This is real life.
In the above photos, we had to hold up our "flowers," aka leaves, for the camera. The helmet is because he was riding his bike. The sandals are purely high fashion, of course.
The pattern on this dress is amazing. One day I will probably have a sacred heart of some sort tattooed on me. I guess this dress gives me lots of design ideas! I love that it's on a black background, too, so it coordinates with pretty much everything else that I own.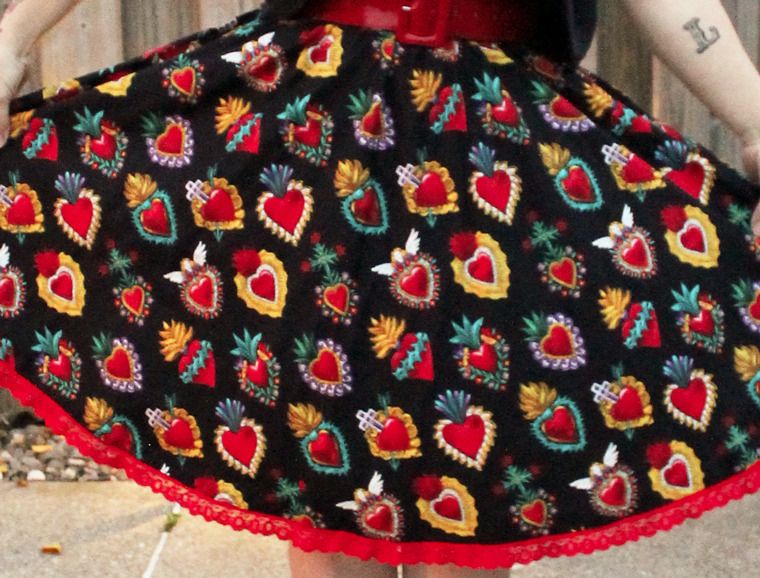 I did wear a petticoat under this, but the red ruffle you see in the photos is actually sewn on the hem of the dress. I found it kind of interesting, as I probably wouldn't have added it if I was the original dress designer, but I don't mind it. I just think that if you wanted to add a little peek-a-boo ruffle via a petticoat on your own, you could. It's not necessary to add it to the hem.
I wore a red patent thrifted belt and a thrifted cropped sweater. I've been slowly replacing my rainbow cardigan collection with cropped versions, as I pretty much just wear them over dresses and skirts, and I am quite short, so the cropped versions just look more in proportion for me... you know, like a regular sweater on an average height girl...
Hard to see in these photos as they lack clear detail, but I'm also wearing my
Luxulite
skull cherries brooch. OMG have you seen her
holiday collection
? I'm not a Christmas-y girl, but ooooohhhh... trying to resist!
The weather by me is officially getting too cold to go bare-legged for much (if any) longer. Tights season, here we come!
Rock On,
Jen @ Hell Razor