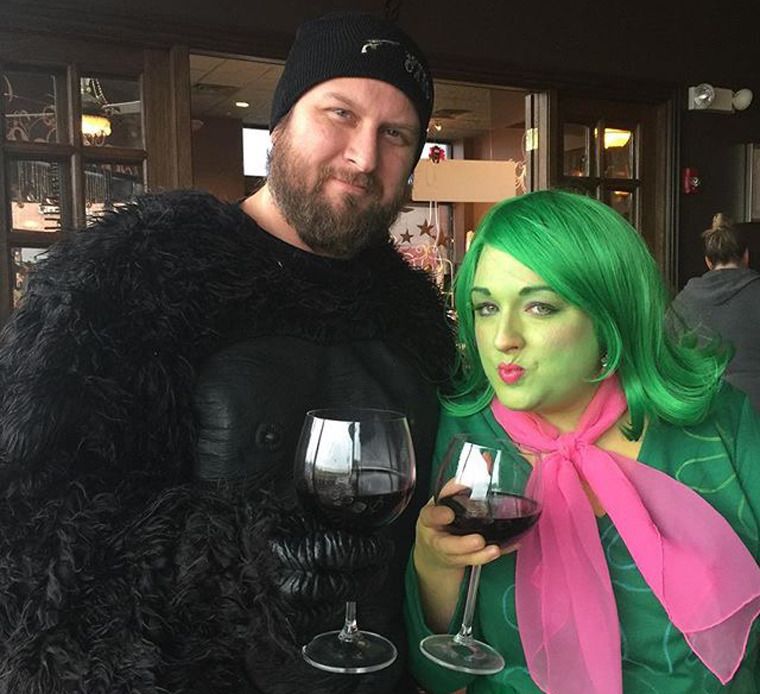 Todd and Lisa enjoy a glass of Sexual Chocolate wine. Seriously, it's the name of the wine. Awesome, right?
I love looking at other people's Halloween photos. Seriously. When Facebook is usually annoyingly full of photos of people's kids or self-righteous posts about how we should "be" on any given holiday (thankful, remembering, honoring, not losing sight of, boycotting, celebrating, etc etc etc), the Halloween photos do not get old. I love them. So, if you're like me, here ya go: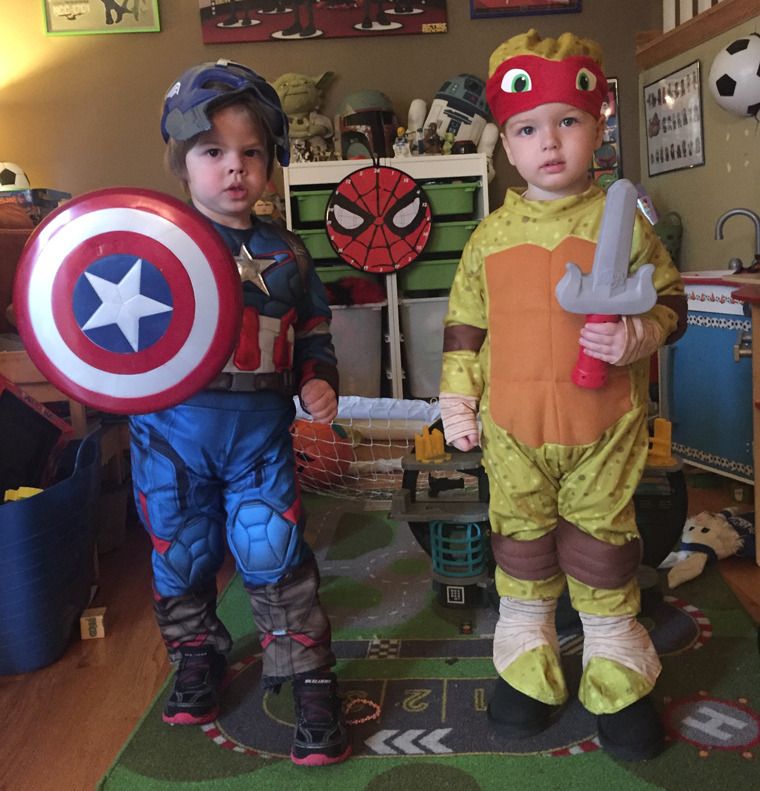 Iggy and Gunnar 2015
Halloween weather this year SUCKED. Big time. Like, not even wanting to go outside to trick-or-treat sucky. Cold AND constantly raining (not just drizzle), AND windy. Like makes-you-want-to-yell-at-the-sky-like-an-old-man suckiness.
We went out to Lisa's house where we were (in theory) going to trick-or-treat at the outside mall by her, but the weather killed it. Also, very few stores were actually participating. What? When I worked in retail in high school and college, there weren't even special holiday events like this one, but we ALWAYS had candy for Halloween. I wasn't even aware that it was something that you could opt-out of... hmmm.
So, we went to
Anna Shea
(home of the Sexual Chocolate wine - see above) and ate chocolate and I had a Nutella latte. Yum. That kind of made up for it. No, it did make up for it.
Iggy was Captain America for the second year in a row. Super original, dude. I think that superheroes were probably the #1 highest selling costume this year, since pretty much every other kid I saw was wearing one kind or another. The next popular? Probably Ninja Turtles. Oh, hi Gunnar...! :)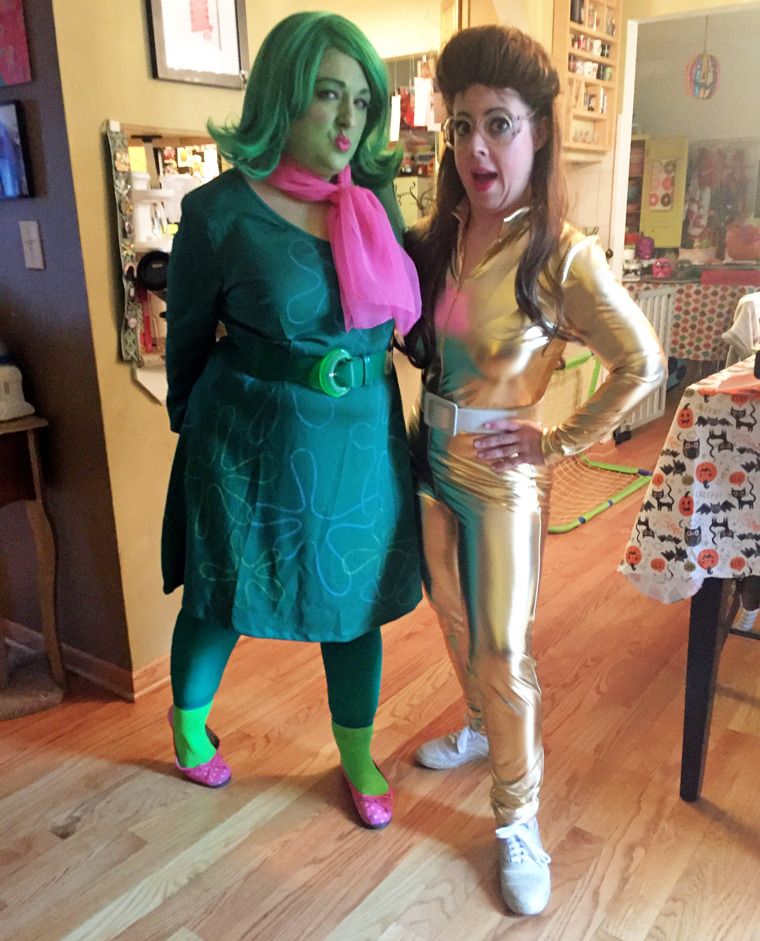 Me and Lisa. I made it my goal to try to get a good double chin in pretty much every photo I took on Halloween.
I had been planning my costume for months now, and I knew full well that most people would probably have no idea
who I was
, and I was right. However, there was one lady I saw at the outdoor mall thing who freaked out when she saw me and was really excited, so it basically made my day. Also, my friend Erin on Instagram told me that I won Halloween. Double bonus.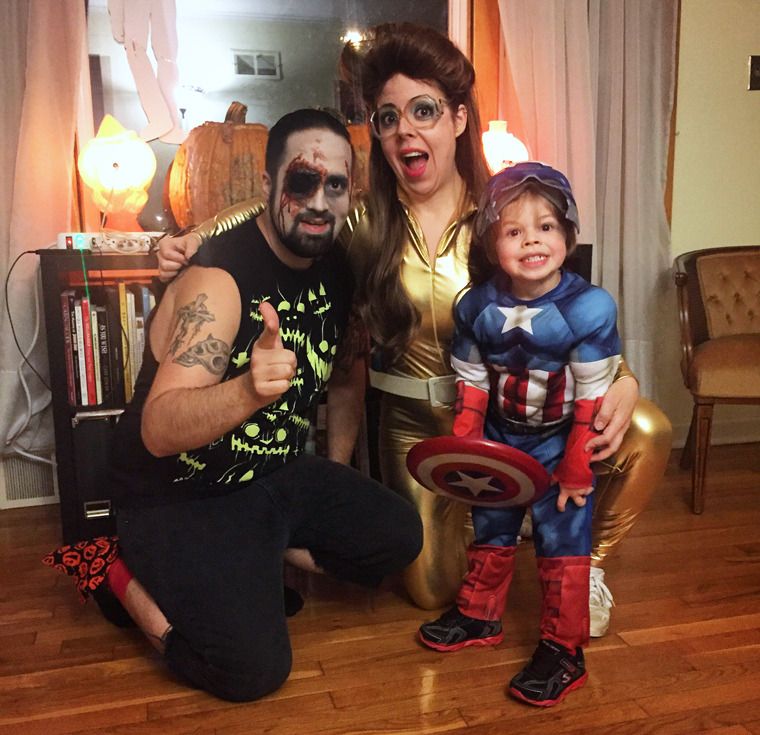 Me and Sam and Iggy
We went to Sam's house in the evening and I was a nerd because I did not take more photos but there were tons of great costumes that I did not capture, including Annie's "Nun crying blood" costume which was pretty flippin sweet. Also Sam's friends who dressed up as Daria and Jane. Note to self: take photos next year, jerk.
So, outfit details: my gold bodysuit is from
Fantasy Costumes
in the city, but I've seen this thing online as well. My belt is thrifted, and my wig is from Amazon... it's actually the second wig I had to buy, as the first was too curly and short. Let's just say that I almost had to dress up as Richard Simmons due to wig #1. Wig #2 had to be specially styled by me in order to get just the right bouffant. It was quite difficult, actually.
My glasses were like a dollar at Savers, and I popped the prescription lenses out. It was probably the best part of the costume, in my opinion. My shoes, of all things, were the most difficult. I wanted gold sneakers, like Keds, but they are not widely available nor are they cheap. So I decided to buy inexpensive white shoes from Target and spray paint them gold. When I got to Home Depot, they had this cool gold glitter spray paint, and who doesn't like gold glitter?!
Bad idea.
It covered pretty dang well, but proceeded to shed and flake away all day, leaving a glittery magical trail everywhere I went. I'll be cleaning this up for weeks. When I walked in the door at the end of the night, I immediately removed them and threw them in the garbage. Lesson learned: spray paint glitter is evil. Don't use it.
The side-by-side comparison.
So, I'm already brainstorming ideas for next year. One option is for all three of us to dress up as Weird Al Yankovic in Hawaiian shirts and accordions - hey, I could probably get a use out of that curly wig, after all!
Yet another option is to paint my bodysuit red and carry around two ski poles. Stupid sexy Flanders. "It's almost like I'm wearing NOTHING AT ALL, NOTHING AT ALL, NOTHING AT ALL...!"
Hope your Halloween was a great one!
Rock On,
Jen @ Hell Razor